Airtel is getting generous by offering 14GB of 4G Data for just Rs 147. Seems like the competition in Telecom sector is just getting tougher day by day, Read further to know about Airtel's offer.
It's been just a few days since Reliance announced their Prime Membership Offer that will give Reliance Jio users similar benefits of Happy New Year Offer (Unlimited Nationwide Calls/SMS and 1GB/Day 4G Data) for a monthly recharge of Rs 303 for the next one year.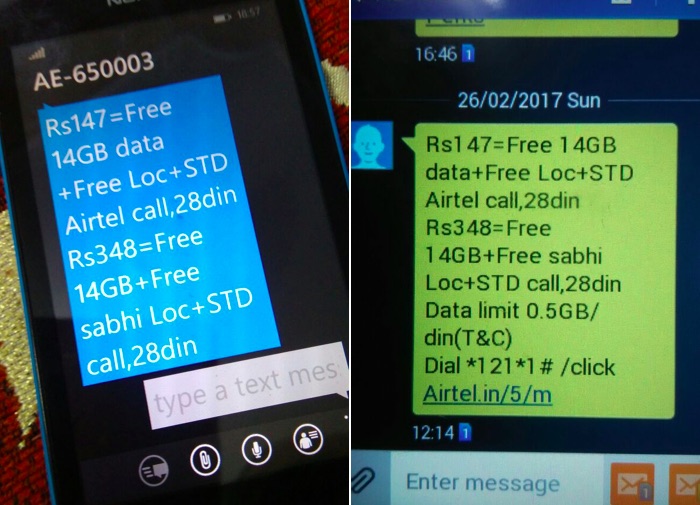 Jio has been offering 1Gb per day from last 2 months, and it was 4GB prior to that, and Airtel did it's very best to make Jio stop giving free offers, but it seems TRAI is not interested in listening to what Airtel has to say.
Airtel just reported huge losses in the last quarter of 2016. and it was, till now, expecting that things will be healthy again once Jio's Happy New Year Offer ends on 31st March, which isn't really the case here.
So Airtel was left with no choice but to offer something competitive. Hence they came up with these two offers.
For Rs 147, you get Unlimited STD/ Local Calls to Airtel Network, as well as 14GB of Data for 28 days (with a limit of spending 0.5GB per day)
For Rs 348, ou get Unlimited SDT/Local Calls to any network, as well as 14GB od Data for 28 days (with a limit of spending 0.5GB per day)
These Plans fro Airtel is not as attractive as Jio's Prime Membership Offer, but it's still better as per Airtel's standards and will certainly help them retain their customers, because, calls on Jio was still not dependable (I use Vodafone for calls). Hopefully, it will get better in next few months, but then again, we will see more exciting offers from all the telecom operators. 
The competition will always benefit the end users. What's your move Vodafone?