Airtel just announced a new data pack for Rs 1495 with a validity of 90 days. And various publications are calling it Jio effect. Read this post to know what exactly this Free unlimited 4G data pack for 90 is.
When Reliance Jio brought the Jio Welcome Offer with unlimited data, calls, sms and premium jio apps access, it was turly unlimited, except a 4GB High Speed data limit per day (and 128kbps thereafter).
People got sad, cribbed, and even complained about Jio not giving turly unlimited preview offer (which they got for Free).
Because Jio potrayed itself as a revelution (and it still is), but different people have different definition of revolution.
Now Airtel also brings a 90-day pack for Rs 1495 and calls it Unlimited 4G offer, a sort of counter attack on Jio's Preview Offer that's also roughly for 90 days.
Is Airtel '90-day Unlimited 4G offer' truly Unlimited?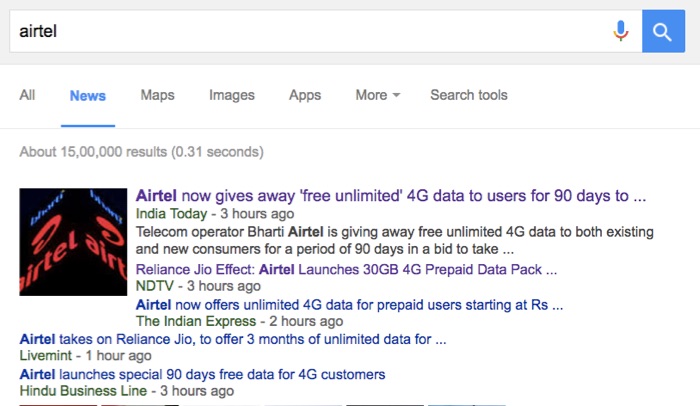 If you belive these headlines from top publications, some calls it free unlimited, and for some, it's just unlimited.
But is it actually truly unlimited? We all know how airtel is, there. a weeks ago it offered 5G Free Data, and it turned out to be Night Data, which I am sure 90% of the poeple won't utilize.
Anyway, let's get back to the 90-day Unlimited pack from airtel. It's not truly unlimited, there is a data cap of 30GB and thenthe speed gets reduced to 64kbps (which is as hopeless as booking a train ticket on IRCTC) 
So, Airtel is offering 30GB of 4G Data for Rs 1495/- with a alidity of 90 Days, which means you can roughly get 300MB/Day. It doesn't look impressive when you see it this way.
And I am still not sure if there is any other limitation, like some of it's data is meant for night usage etc.
But for now, Please airtel, stop making fool of yourself by calling it a Free unlimited data for 90 days to get back on Reliance Jio.