Amazon's Audio Book services are quite popular in markets like the US, but like many other services, it was not available in India.
Well, times are changing, and many services are being made available in India as well. The recent edition is Amazon Audible.
The Amazon audible services are launched in India at the subscription price of Rs 199 per month.
Users will be able to get a taste of it with a 30 day free trial when they sign up for the first time. However, when I opted for the free trial, I was able to get 90 Day trial by verifying my Credit Card on the Amazon account.
Amazon Audible has over 200000 Audiobooks to offer to the Indian customers who can download the audio books on their smartphone since the apps for Android and iOS are available from the respective app store.
Since it is just the start of the Amazon order services in India there are are a limited number of Indian audio books for the time being, which will be eventually growing with the addition of both International and local content on a regular basis.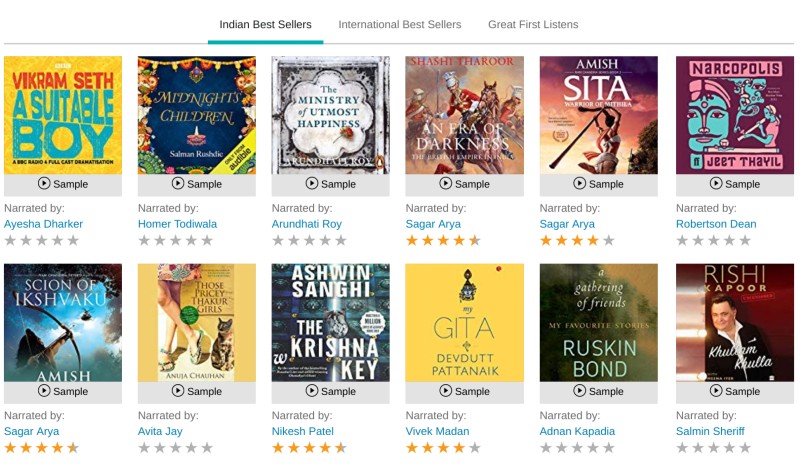 And like the Amazon Prime membership in India, the audible membership is also offered in India at a lower price.
While it is available in the US for $14.95, which is converted into Rs 1000, is almost 5 times the price of what the services are being offered.
The concession price comes with a limitation,  subscribers in the US are entitled to three titles every month the Indian subscribers will be restricted to just one.
You can sign up for a free trial of Amazon audible and use free credits to purchase any audiobook you want and you get to keep the audiobook even if you decide to cancel your subscription.
Long-term membership options are also available and you can pay Rs 1345 for six months package and an year long package will cost you around Rs 2332.
Listening to audiobooks is much more convenient and faster way to finish a book, I have already written about how I am able to read a book three times faster than normal, thanks to the text to speech feature in the Moon Reader app you can read more about it here.
If you want to subscribe to Amazon audible you can use this link