Amazon Fire TV Stick finally launched in India and with its launch, the Indian consumers have got quite a few options to choose from if they want to consume content from their favorite internet services on the bigger screen in the house.
There were quite a handful of options already available so what's the need of Fire Stick? Does it offer anything extra over others like Chromecast or Teewee? we find out in this post.
If we talk about the Chromecast by Google, it's in its 2nd generation, Chromecast 2 is currently available in the market for Rs 3999/-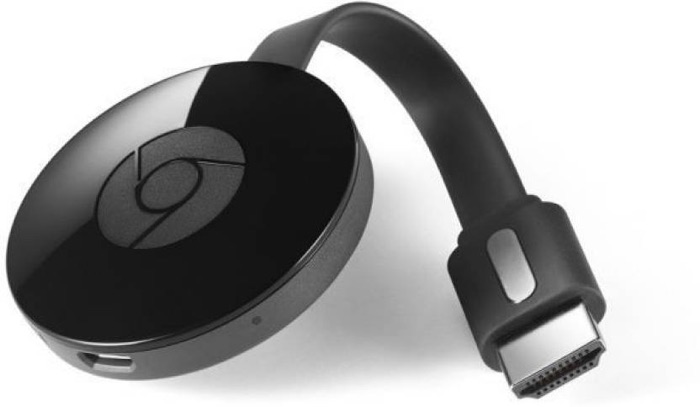 Chromecast 2 has a beautiful design though it will be plugged into your TV's HDMI at the back and you will barely see the device. The single HDMI will also power the device and your smartphone is the remote from where you can play online as well as offline content to your TV via your home Wi-Fi.
Teewee 2 is also quite similar to the Chromecast, in fact, it was the one that first offers the Offline files playback support. Teewee 2 does everything you can do with Chromecast, but there is more control since it has an app for Desktop as well so that you can play videos from your desktop to your TV.
Teewee 2 also gets powered via the HDMI slot itself, but a separate wire is given in the box to power the device.
Though it may not be as polished as the Chromecast, both in built quality and the software, it is made purely by Indians for Indians. And it priced accordingly as well. I checked the price on their official website and it's Rs 2399/- but it's quite a task to buy one since it's sold out at all the places.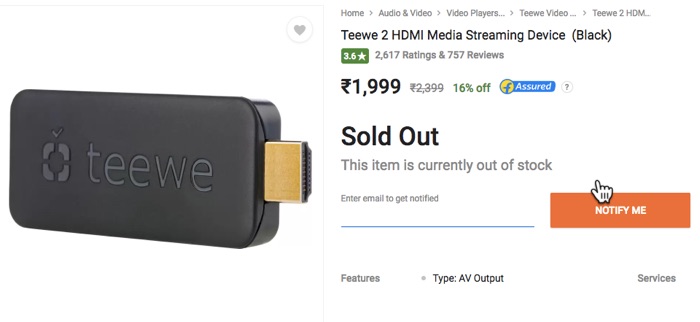 Now let's talk about the newly launched Fire TV Stick by Amazon. Priced at Rs 3999/- the device is a direct competition to Chromecast 2.
Though the Fire Stick is available in the US at a much lesser price, their competition with Chromecast 2 gave them a luxury of keeping the price a bit high in India.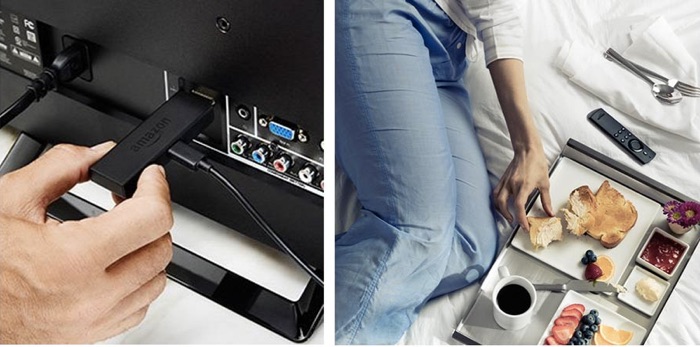 But they are bundling up quite a lot of freebies to make an enticing offer such as
1-year Subscription of Amazon Prime Video for non-prime members or Rs 499 cashback for prime members,
100GB Free for 3 months on Airtel Broadband & Airtel 4G Home Customers
Eros Now Premium Subscription for 3 months
Gaana Premium Subscription for 6 months.
There are quite a few more advantages of the Fire TV stick over the Chromecast or Teewee. It doesn't require a Smartphone or any other device to control as it has got its own Remote.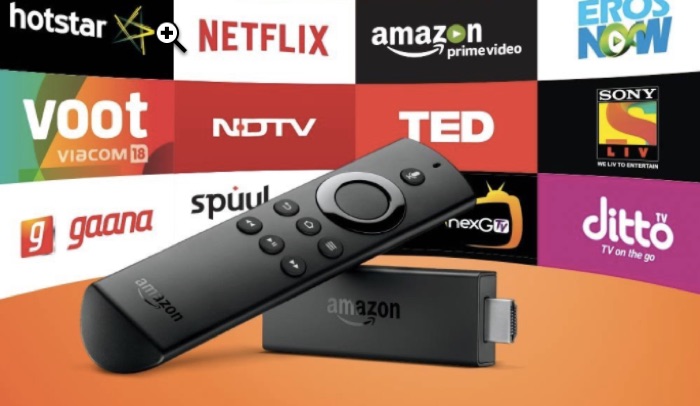 The Fire TV is based on Android on which you can also sideload apps and use them on TV. Apart from that, if you are an Amazon Prime Video subscriber, it's the only device that will stream it to the TV.
Apart from the Amazon Prime Video, there are a lot of services that are supported by the Fire TV Stick and makes it quite the device you can actually use.
➤ Buy Amazon Fire TV Stick 4K from Amazon.in