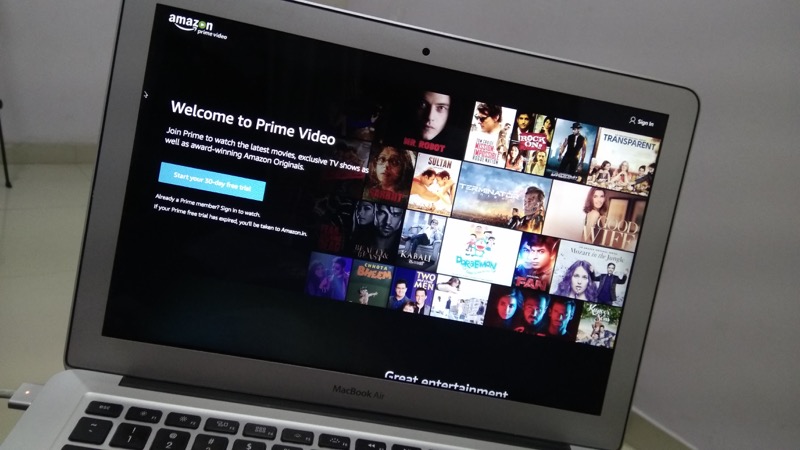 Amazon's very own On Demand Streaming Service, the Amazon Prime Video has finally been launched in India.
The Prime Video service will be availalbe to all the existing Amazon Prime Members in India, you just need to install the iOS or Android app to your respective iPhones or Android Phones.
Amazon Prime Membership, which was launched earlier this year, gave early access to the Daily Deals, offered Free Fast One Day and Two Days Delivery, Free Delivery for products of any value (less than Rs 500 orders are charged delivery fees for non-prime members).
The Amazon Prime Video was also promised to be included in the Prime Membership.
Now, for new members, Amazon Prime Video is available for a One Month Free Trial so that they can get a taste of what this service is all about.
Cheapest On Demand Movie / TV Shows Streaming Service in India
With a tag of Rs 499/Year, Amazon Prime Video is easily the cheapest Streaming Service in India.
Netflix, which was launced in India last year, offers their services for Rs 650/month for the base plan, which goes higher if you choose high definition streaming and more devices to use the service on.
Even the homegrown service like Hotstar charges Rs 199/month for access to premium content. Though they do have an Ad-Supported plan, but the video watching experience sucks.
Then we have newly availalbe Jio Cinema from Jio (which is all rage in the country right now) it doesn't offer a lot of choices, for Content, expecially the US TV Shows.
Amazon Prime Video would costs just Rs 50/month, which is peanuts considering the catalog of content being offered. Plus, you also get all the benefits of prime membership.
The original price of Amazon Prime is Rs 999/ and Rs 499 is just an introductionary offer for the first year. But since it's been just few months since Amazon Prime is available in India, we will have to wait till next year to see if Amazon really starts charging Rs 999/Year. Even then, it is going to be the cheapest streaming servie  in the country.
How to Get Started with Amazon Prime Video
If you are already a prime member, and have the Amazon app installed on your phone, you just need to install the Amazon Prime Video app from the iOS or Android app for your phone, you are signed in automatically, start watching local content instantly.
If you are a non-prime member, you can get started with the one month free trial, no harm in trying. :-)
Availability of Movies & TV Shows in Amazon Prime
Even though it's been just a few hours (at the time of writing this) Amazon Prime Video has launched, one look at the Bollywood Movies Catalog tells me I've already got some movies that I haven't watched.
There are some movies that are available in the Ad-Supported Plan of Hotstar or Jio Cinema, but again, the app is much more polished than Hotstar or Jio Cinema.
My Thoughts
There are some of my favourite shows that are missing from the App and some of them are obviously not going to be added in the app since they are exclusive to other services. But I'm not complaining since I'm using Amazon Prime for Free  Fast Deliveries  and this is an added bonus.
Get started with Amazon Prime Video with One Month Free Trial