When Reliance Jio made JioFi available, it was only offered via exclusive offer to HP users. But Reliance has extended the offer and now anyone can buy this Portable Hotspot device from Reliance Digital stores.
The device looks pretty much like Reliance (Anil Ambani's) 4G Wi-Pod. Which has a battery of 2300mAh and can allow connection to up to 31 devices.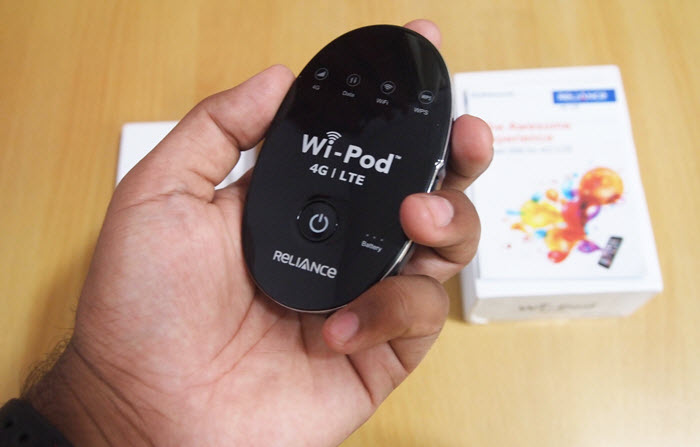 At the time when you are reading this, Reliance has opened more options to get the Preview Offer from Reliance Jio that will give you Unlimited Access to High Speed Internet, HD Videos & Audio Calls, SMS and Access to Premium Jio Apps for 90 Daysl
So you must be wondering that, if you can get the Preview Offer for Free if you own one of these Samsung or LG phones) or,
Why would you be compelled to buy this JioFi Hotspot for Rs 2,899/- If you can get a LFY phone for Rs 3,100/- which can also be used as a Hotspot as well as you will get a phone also.
Well, there are few reasons which are in favour of this little device instead of the cheapest LYF phone.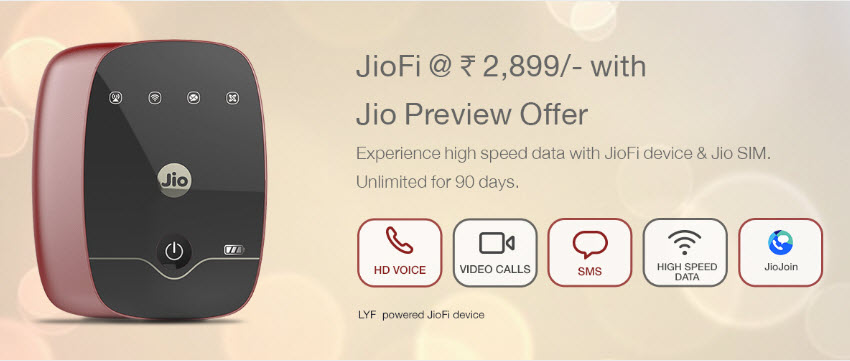 Relinace JioFi has a nice Wi-Fi range.
The number one reason is the Wi-Fi range. There is no doubt that if you ever buy a LFY phone, you will most likely use it as a hotspot, to connect your smartphoen or tablet PC.
Let me tell you I"ve used it like this myself. The range is not that great. The connection works great If the LYF phone and I are in the same room, but as soon as either of us leaves the room, it starts getting disconnected.
I've used the Reliance Wi-Pod, and have also got the 4G Wi-Pod which still not activated (but that's a different story) the Reliance JioFi looks the same with similar specs, it seems both theAmbani Brothers have ordered the Portable WiFi Hotspot from the same company.
Only Free Unlimited Data is Great About Reliance Jio
I say this because I tried taking advantage of the unlimited calling of Reliance Jio but I wasn't pleased, The phone hardly connects if you are calling someone who has a phone number other than Reliance Jio itself.
So, I see myself using yhe LYF phone less and less for calling and just use it as a WiFi- Hotspot.
Also, you can still install the JioJoin app on your smartphone and make unlimited calls without switching to the Reliance Jio SIM if you use JioFI.
It's Little Cheaper than the Cheapest LYF Handset
Again, this is one not a big point but the JioFi is Rs 300 cheaper than LYF FLAME 5 Handset. If you think Rs 300 is not a big amount, you can actually buy a phone for much.