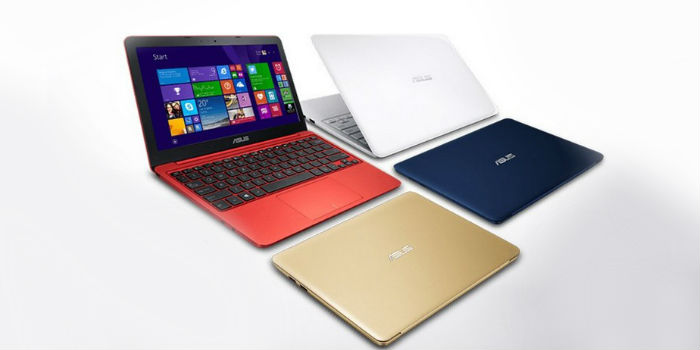 The 11.6 Inch Laptop, the Asus EeeBook X205, which was launched in September 2014, has now been launched in India. EeeBook X205 is powered by Windows 8.1 and priced at Rs 14,999/- which is super competitive looking at the current prices of 11.6 Inch Laptops Available in India, the Acer Aspire V5 131 we reviewed last year around Rs 23,000/-
If we go back few years in the Past, Asus was the one which initiated the low-cost PCs under Eee PC line in 2007, but those were really painfully slow PCs. Thankfully the era of Netbooks is over and these 11.6 Ultra notebooks can actually get your work done.
The 11.6 Notebooks is a new line of ultra-portable PCs made popular by Chromebooks which are powered by Chrome OS and mainly require a frequent internet connection. The Chromebook C720 (11.6 inch notebook from Acer) is available for Rs 15,999/- on Snapdeal.
While Chromebooks have started to gain some traction worldwide, people in India, where Internet Penetration is still low, prefer to use their PCs offline and want to install applications like MS Office, Photoshop etc. Asus EeeBook X205 has been priced smartly to compete with Chromebooks of the same size, and people will be inclined more towards the Windows powered EeeBook X205 because of the reasons stated above.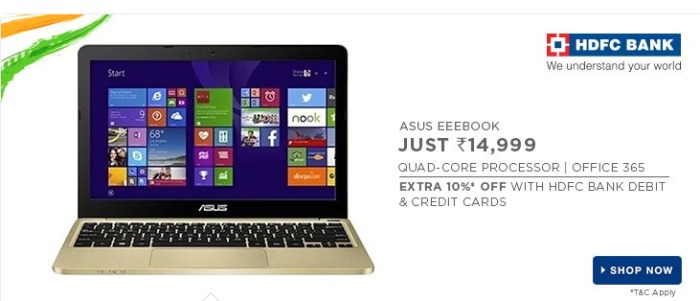 Asus EeeBook X205 is available on Flipkart ar Rs 14,999/-
If we talk about the performance of such small laptops, one cannot expect a powerful machine priced this cheap, but it is a very affordable Laptop for college going students and people who have to travel a lot for their work as it can run all the apps a Windows powered PC can, give an amazingly long battery life and is a very lightweight machine ( under 1kg).
Below is the key specs of Asus EeeBook X205
Dimensions / Weight
11.3″ x 7.6″ x 0.7 / 2.2lb (>1kg)
Resolution
11.6-inch HD (1366×768 pixels)
OS
Windows 8.1 (Full Version)
RAM / Internal Memory

Cloud Storage

2GB RAM / 32GB Internal (up to 128GB via microSD card)

500GB Asus / 1TBOneDrive

Camera
0.3 MP Web Camera of Video Conferencing
Connectivity
2 USB 2.0 ports, micro HDMI port, Bluetooth 4.0, and Wi-Fi connectivity
Battery backup
12hrs of Moderate Browsing / 11hrs of Video Playback / 13hrs Music Playback
Asus EeeBook X205 is available on Flipkart.