Hello online shoppers,
You must be aware of the Amazon's BigIndianFestvial that is currently going on Amazon.in. thanks for their aggressive promotions, EVERYBODY knows about the Apni Dukaan Stuff.
And, on the other hand, Flipkart has also got a similar thing going on to rival Amazon, and they are calling it Big Billion Sale.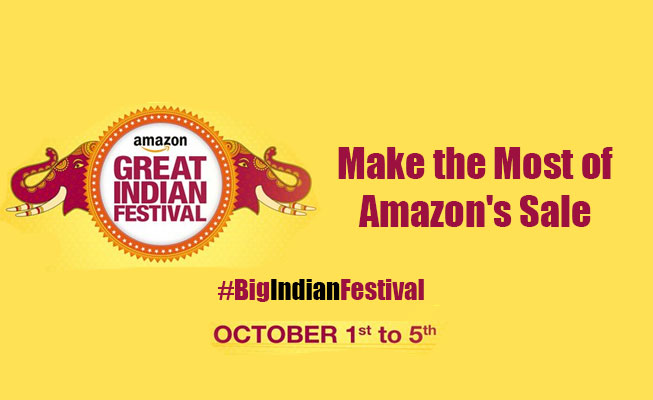 Here are few things you should keep in mind to make the most of the Amazon's BigIndianFestival Sale.
#1. Don't buy the things you don't want
This is the number 1 advice I would give to everyone ahead of these sales. Do not be an impulsive shopper, don;t buy things you don't need because
they are cheap.
To make it easier for you to understand this point, Let me give you an example.
You might be browsing the Amazon.in site and see a beautiful diamond studded necklace that is on sale with a 50% OFF, and you are a single male who doesn't have a GF. Stop recalling any girl you know whom you can gift it, it will be a waste of your money even if you pay 50% less for it.
Instead, make a lit of things you consume on a monthly or weekly basis or maybe do on a seasonal basis. For example, Clothes, Shoes, Personal Care products, maybe even innerwear. Get them if you are getting the right deal ( and if you've got the money)
#2 Don't forget to Compare the Price on other Sites
If are getting a deal under the BigIndianFestival doesn't mean it's the best price you'll pay for that product. Always make sure you check out other sites, like Flipkart, Snapdeal or even Ebay.in to check the price and availability.
You will be surprised to know that the killer deal you are getting isn't actually a killer deal at all.
#3 Don't get fooled by the Maximum Retail Price and Offer Price difference
These are especially the point these eCommerce sites have got a lot of flack for in the past, but they haven't learned yet and keep indulging in things like these.
@amazonIN Why you do so? Sale or fooling people? Price hike, then reduce. Don't give discount but kindly don't fool around. #AmazonSale #bad pic.twitter.com/7cN09oq2EI

— Mohammad Saif Khan (@shrib_alam) October 1, 2016
What they do is, they increase the price of a product by 20, 30 or even 50% and then show a discount of 20, 30 or 50% which makes the product being sold for its original price.
I've seen people freak out to see the difference in the offer price and the maximum retail price.
How to check the price? Use the #2 advice, go to other sites and see it yourself.
#4.
Don't Place Order from Site, Use the App
Because the cashback and discounts are a bit extra on the app, they (Amazon.in) want a permanent space on your Mobile phones, in the homes that you will shop again from the Apni Dukaan, and that's why they give you some extra discounts.
Tip: You can use the computer to browse through the sites because it is easier for comparison, check out deals etc, and then later place the order from the Mobile app.
#5 Don't select Cash On Delivery, Use a Prepaid Method
There is a big rush on the online sale festivals like these, and sometimes they take more orders than can handle. The end result, they cancel the orders.
Mostly these orders are Cash On Delivery since they haven't got the money. For another customer who has sent them the money, becomes their priority.
So, if you got your hands on a really sweet deal, make sure you make the payment in advance to maximize your chances of getting your hands on the product.
Bonus Tip: If you have got the Amazon Prime subscription, it's the best time to use it, since you can buy the product of any price range without paying delivery charges.