I have been using the Reliance Wi-Pod from last few months, and I find it the best Wireless Internet solution in India as of now.
I have written a review of the Wi-Pod which you can read here.
In this post, I am going to show you how you can check the data usage of Reliance Wi-Pod.
If you use Reliance Wi-Pod, I am sure you will find this post useful.
How to check data usage in Reliance Wi-Pod.
When using an Internet connection with limited data, we all would like to know how much data use consume so that we can adjust our browsing accordingly.
If there are few GBs left at the end of the month, we can treat ourselves with a few episode of Game of Thrones by watching them online.
I too wanted to know the data usage for reasons similar to what I've mentioned above.
Ideally, there should be an app that could be installed and will give some information regarding the internet usage. Like Airtel and Vodafone both have apps that are quite useful.
I didn't find any such app in the Play Store from Reliance. Neither there any option of checking data usage on their website.
I did find an app named Reliance Pro 3. It does not form Reliance but it did make my life easy, as it provides information about the Reliance Wi-Pod device. But it still doesn't give you information on the data usage.
A workaround to know the data usage in Reliance Wi-Pod
Finally, I found a way to keep a tab on the data usage via their website. Reliance.Home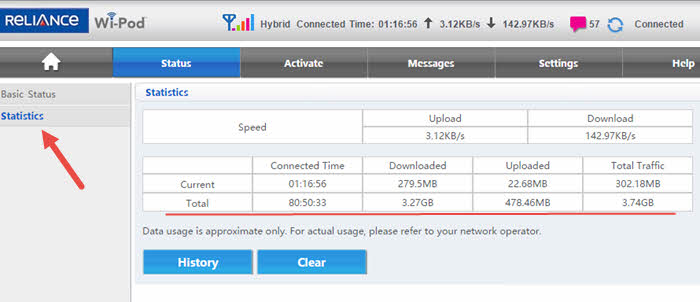 It still isn;t the best way to check the data usage, but as no other way is available (or at least I don't know about it) This would give you some idea about how much data you have consumed. When
How to check data usage?
When you connect your desktop to your Reliance Wi-Pod, open type Reliance.Home in your browser and hit enter.
Then Click on 'Status', and log in. Usually, the Username and Password is Admin.
When you are logged in, click on Statistics, which will show you the Download, Uploaded, and Total Traffic
It will show the current data usage as well as the total. You can clear the data statistics every time you recharge your Prepaid Reliance Wi-Pod or when your next billing cycle starts. 
By doing so, the Total Traffic would show the data used for your current cycle.