WhatsApp has been introducing tons of features for its Indian users. The most awaited features like Group video calling, Payments etc, were already made available on WhatsApp.
Now the recent feature that offers anyone to check IRCTC train status on WhatsApp.
This feature is actually made available by popular ticketing platform MakeMyTrip which has partnered with Indian Railways to offer this service on WhatsApp.
The service enables anyone to check the PNR status of booked tickets and the Live Running status of trains.
How to check IRCTC train status on WhatsApp
To get started with this feature you need to save the official number of MakeMyTrip which is 7349389104.
After saving this number in your phone book, it will be visible in your WhatsApp account as well.
Tap on 'Send a new message' on WhatsApp and search for MakeMyTrip contact, then you can send a message, such as, ' PNR status for 0987654321 <– type your own PNR number
You will get a reply from the MakeMyTrip contact, with the following information.
The train name and number
Station for boarding and station for the boarding
Booking status, current status, and, charting status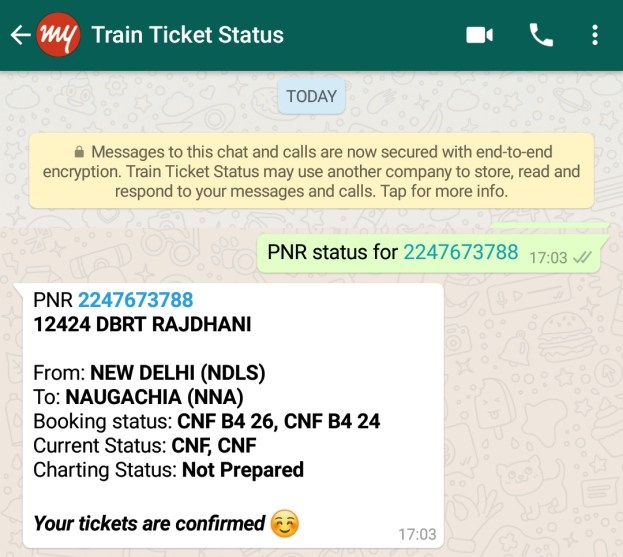 Similarly, if you want to know the live running status of any train you can send a message like this
'Live train status of 12345 <– type in the train number.
You will get a reply from Make my trip contact in a few seconds with the following information.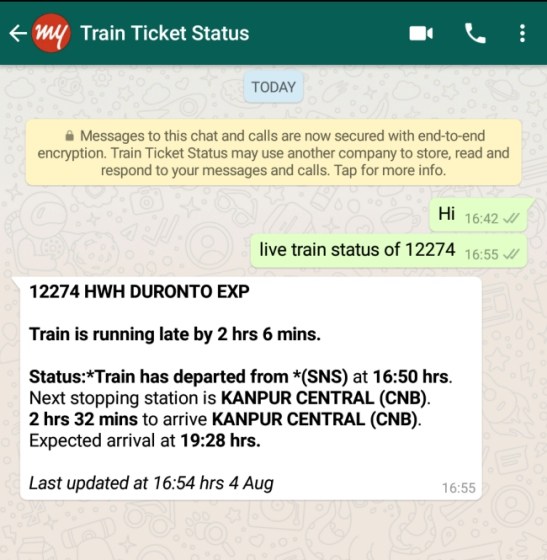 This is just a few or services that have appeared on WhatsApp currently. WhatsApp will be offering more features as more businesses start to set up their business WhatsApp account.
In another news, WhatsApp might be charging money from businesses if they want to reply back to their customers 24 hours after receiving the message.
For now, you can enjoy the convenience of knowing about the status of your ticket all train via WhatsApp
Read this article to know more tips and tricks about WhatsApp to make the most out of it