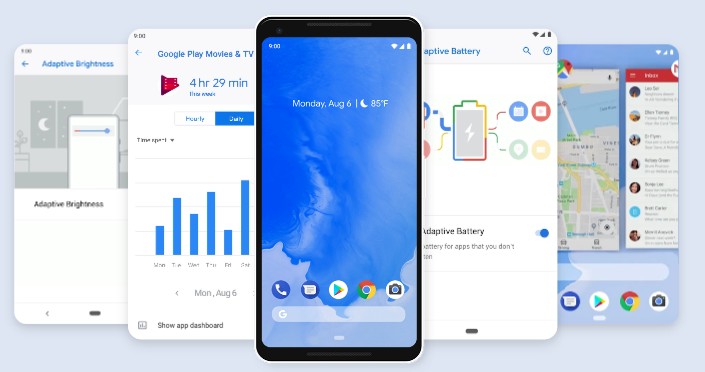 Google has finally released the version 9 after Android operating system the Android P, it is named it Pie.
So we have Android Pie, and it has finally been made available to the pixel devices.
And soon all these smartphones will be getting the Android Pie update.
In this article we are going to list out some of the best features Android Pie brings to the operating system.
1. Gestures, Gestures, Gestures
In 2017 Android smartphones at started adopting a new aspect ratio of 18:9, some even went beyond that to make their smartphone taller.
Having this new aspect ratio meant that they need to get rid of the navigation buttons, and the justice had to come in for different kind of navigation actions in the Android.
Now that mostly all the Android Smartphones are adopting this new aspect ratio and getting rid of the physical navigation buttons gestures are more important and thankfully we have it in Android 9 natively.
Though you have the option to use on-screen navigation buttons, you can also choose to have just one tiny I can at the center of the bottom, tapping which will take you to the homepage.
If you hold it down it will open Google assistant, swipe up for the new overview screen.
It is simple and clean and its kinds of adjective once you start using it.
2. A better Overview of the recent apps
In earlier versions of Android, the recent apps will start to horizontally then, Google started stacking them vertically, now it is back to making horizontally with some really nice improvements.
Now the overview screen has got the search bar along with the ability to get the list of all the apps in just one gesture.
Also, pixel phone users can easily copy anything from a nap just from the overview screen, so you no longer have to switch between adjusting to copy and paste a simple text.
3. A Smarter Battery
Google highlights that with Android 9, it has put all its knowledge of machine learning into the OS so that the OS along with the Android device can understand how you use your smartphone and add apps to your usage patterns.
It that's the way you use your smartphones, how much brightness you use, etc.
It is definitely going to extend the battery life to some extent.
4. Improved Notification Panel
The notification panel has improved quite a lot in the last few versions of Android, the Android 9 version add some more finishing touches in small tricks to make it even better.
You already have the ability to reply to messages from the notification area, but now there's smart reply is also work there, giving you auto-generated smart replies you can choose in a single tap. This makes replying corresponding to simple messages easier.
5. Native Notch Support
Many would argue that does not actually feature, but looking at all the smartphones considering it one. Google has also decided to put this support for the not literally into the Android 9.
And if you talk about the leaks surfacing about Google pixel 3 XL, there are chances that the smartphone will be coming with a notch.
Having this natively means, it will be supported by a wide variety of apps and their different actions.
6. App Actions
Just as we talked about in the future number 3 about battery Google has put their knowledge of machine learning in action, not just in the battery department but also how you are going to use your Android device.
So the new app actions will help you take your next action faster by automatically popping up option based on your activity.
Machine learning will come into play to predict 'Actions' you are about to perform.
For example, it can understand what you do next after your alarm goes off in the morning. Maybe give you the option to open the News app, or Google Maps for navigations etc.
7. Digital Wellbeing
With Android 9, Google aims to address the mobile addiction using a feature called Digital Wellbeing.
It is a dedicated area without dashboard that will give you an accounting of how many minutes we will spend on each app on your smartphone, how many times you are picking up your phone and unlocking it etc.
You can also allow it to remind you of taking a break or set time limits and get alerts when you are reaching them.
So, these are 7 of the most interesting features that are brought into the Android 9 or Google Android Pie. A few of these features or not complete solutions, but it is an ongoing process and they will be improving with time.
Since it's just a few devices that will be running Android 9, and as more smartphones adopt this new OS, we hope these features will start getting better as Google learned more and more about how people are using it.
Here is a list of Smartphones that will be getting Google Android 9 update soon.