Google has recently done a redesign of their Gmail, both on the web and on smartphones as well.
One of the features the new Gmail brought is called 'Smart Compose' and as the name suggests, it uses machine learning and artificial intelligence to figure out what your sentence is about and tries to come up with options so that you can compose your emails faster.
It might not be that handy on a PC but it is a really useful feature to have on your mobile where you have a tiny keyboard to type.
The smart compose feature was exclusive to pixel smartphones but now it has expanded to several others, meaning the majority of the Android users will be able to get a taste of it.
And for a lot of people it might not be that useful, maybe you use different language to type emails, in which case smart compose isn't very useful.
Even when you are typing in English, the 'Smart Compose' feature doesn't guarantee the most accurate predictions, thankfully there is a way to disable the smart compose feature on Android smartphone. And this can be done from the Gmail app itself.
How to turn off Gmail smart compose on mobile?
Open the Gmail app and then tap on the three horizontal lines on the top left-hand side, when it opens several options, tap on settings, and then tap on the email account you want to disable the smart compose feature.
Scroll down to find the 'Smart Compose' option and uncheck the box. Once you can check the box by tapping it, you can tap on the back button on your smartphone or use the gesture to go back. The smart compose feature is not disabled on your Android mobile.
How to disable smart compose on Gmail for the web?
Open Gmail in your browser, then click on the gear icon on the topic right-hand side, click on 'Settings' from the options that appear in the box, scroll down to find 'Smart Compose' feature and choose ' Writing suggestions off' and go back.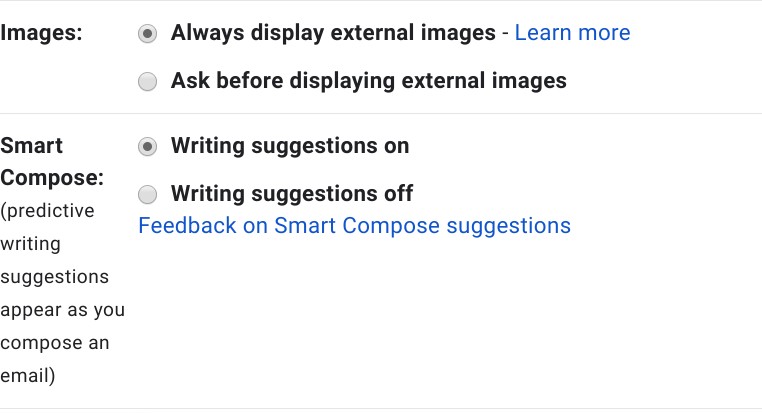 The Smart Compose feature on Gmail for Web is turned off. Check out Gmail section for more articles related to Gmail.
Also see,