With potentially the userbase of over 2 billion, all the big Game Developers are aiming at the Android platform, and finally, the Call of Duty game is also available for the Mobiles.
Call of Duty is a popular First-Person Shooter game has been available for PC and income source for a long time. It is finally available for mobile platform.
The mobile version of Call of Duty brings classic maps and multiplayer modes including Free for all, Team Deathmatch, Frontline, Hardpoint, Domination, and Battle Royale
How to download Call of Duty APK for Android Mobile
Fortunately, unlike the Fortnite for mobile phones, the Call of Duty game for mobile phones is listed in the Play Store. So, it's as easy as installing another app on your Android mobile phone from the Play Store.
Install Call of Duty Mobile from Play Store
Here is the link to the official listing of Call of Duty mobile.
But, some users have reported that they are not able to install the Call of Duty Mobile on their mobile phone, because it is not available in their regions.
If it happens to you as well, you don't have to worry. There is another method for playing the Call of Duty Mobile on your Android mobile phone.
You can sideload the APK file of Call of Duty mobile game by downloading it from the trusted source.
There are two of the most trusted websites for downloading APK files for Android mobiles and will look for the download file for Call of Duty Mobile game, on both of them.
Fortunately, both the website hosting the latest APK version of the Call of Duty Mobile and you can use either of the sites to download it.
Download Call of Duty mobile from APK Mirror
Download Call of Duty mobile from APK Pure
To make sure you download the latest version of the APK, check the most recent date of the file, which will be written in front of the download link.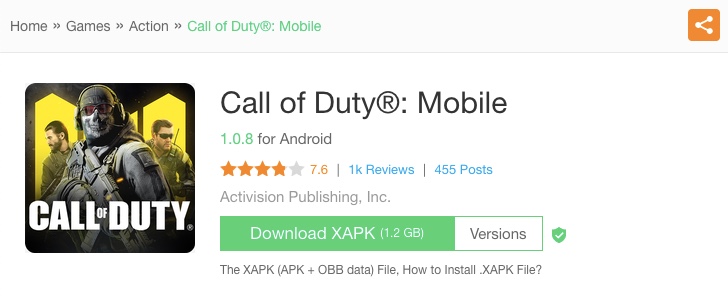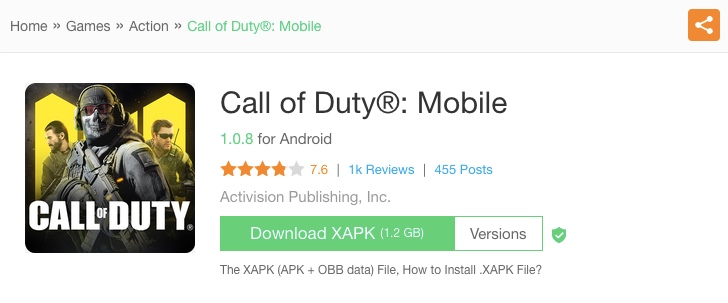 If you are downloading the Call of Duty App from APK Pure, the downloaded file contains the APK as well as the external data files (OBB), needed for the game. It's called XAPK.
You can use the APK Pure App to install the downloaded file easily for mobile, to play the game.
Check out this link for more information regarding how to install the downloaded XAPK file.
Promotional Video of Call of Duty Mobile