Reliance Jio has raised the content consumption in last few months, thanks to their amazing offer of Free 4G Internet.
Apart from offer Free Internet, there are also a few more things Jio Offers, which is rarely talked about.
And that is, it's set of Premium Apps that gives Premium Content as a part of their Offer.
Update: With Jio's new offer, Dhan Dhana Dhan, Happy Hours (2 Am to 5 AM) that provided truly unlimited, has been stopped. While you can still download Movies in Jio Cinema for offline viewing, it will be counted in your daily limit of 1GB or 2GB depending on your plan. More info here →
Jio Cinema is one of the popular apps which has new movies to its catalog (and much more added on daily basis) In fact, it's one of the most frequent apps in my phone, and I did mention it in this post as well.
While many people enjoy the daily 1GB Free data (and will continue to enjoy it until 31st March 2017). 1GB is sufficient for them for normal usage. But if you want to Watch a movie in Jio Cinema ( or any other app) 1GB isn't much. And this is the reasons the Internet is filled with bogus tricks to bypass the 1GB/day limit.
99% of the tricks share is shady and I don't recommend them, but here is a much simpler way that will let you Warch Movies in Jio Cinema without doing anything at your end.
Watch Movies in Jio Cinema without Using Daily 1GB Data in Reliance Jio
Many people don't know that Jio Offers Happy Hours (2 AM to 5 AM) during which, the data consumed is not counted in your daily limit of 1GB).
SO, you can either stay awake the whole night to enjoy Happy Hours or simply update the Jio Cinema app, which now has an option to Let's you Download Any Movie or TV Show during the Happy Hours so that you can watch it, any time you want without spending your daily 1GB Data.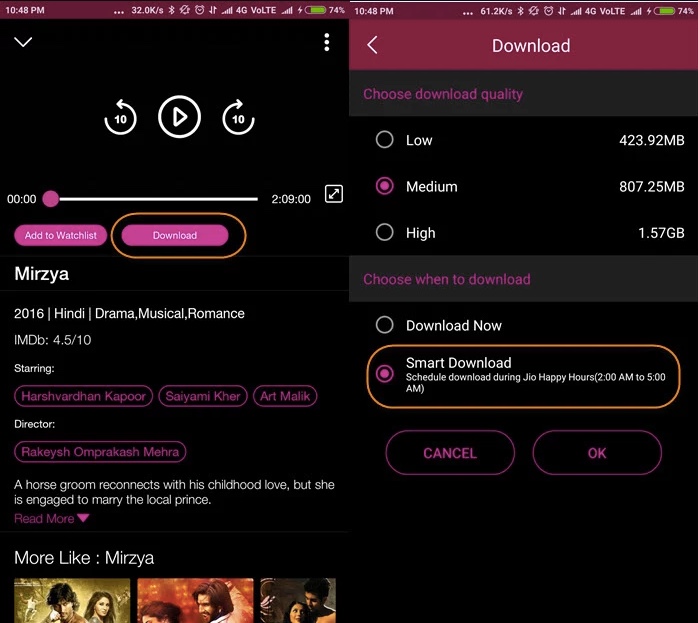 Download anything without using without Using Daily 1GB Data in Reliance Jio
Well, if you are not interested in Movies that are available in Jio Cinema, and want to download from somewhere else, be it movies or anything. You can still make use of the Happy Hours, without really staying awake the whole night.
There are Download Manager apps in Play Store that have the Schedule feature where you add URL of the file to download and select the day and time for starting the download.
This will help you download anything during the Happy Hours so that it is available by the time you are awake.
UPDATED
This article has been getting a lot of visitors from people who are searching for different questions related to jio cinema I would love to answer all of them below.
Can we download movies in jio cinema without using 1GB data?
Jio has revised its plans and made it more affordable so it has canceled its previous offer of giving unlimited usage between 1 a.m. to 4 a.m.
Can the movies downloaded in jio cinema moved to PC?
Jio cinema does not offer direct download which means you won't be able to access the exact file and it is only playable on the jio app. So the short answer is no you cannot move the downloaded movie to PC.
If you want to watch movies on PC, you can use the Amazon Prime video, which is an online streaming service by Amazon and is free for Prime Members.
The Amazon Prime membership includes free fast deliveries of products bought from Amazon, an early access to exclusive deals. The prime membership also offers the recently launched Prime music. The prime membership can be availed by paying Rs 999 annually.
The movie watching experience is better on Amazon Prime video in comparison to jio cinema, you can join it today by following this link