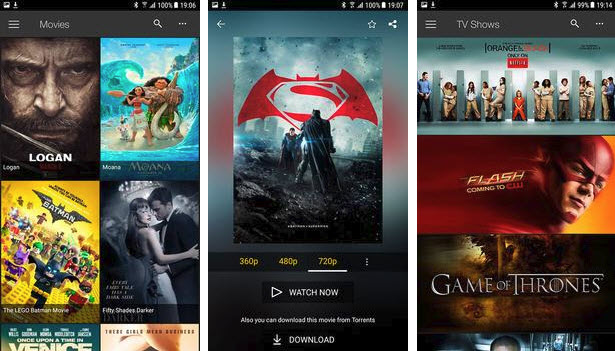 So, I have recently shared different ways you can watch a specific TV series online for Android users
And in those options, one of the options was watching it in the Showbox app, which is popularly known as an alternative to the not shut down Terrarium app.
Showbox offers thousands of your favorite Movies and TV shows that you can stream online on your mobile phone for free. It also includes an inbuilt video player, or you can choose a video player of your choice.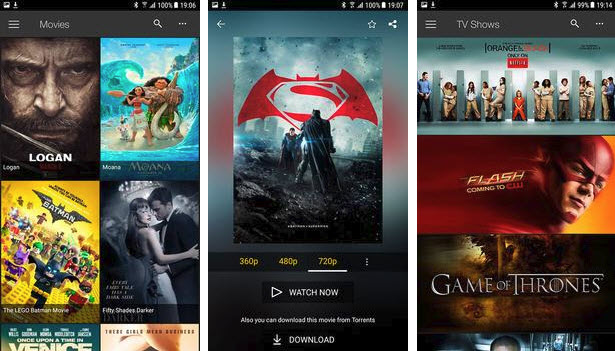 The good thing about this app is that you don't have to pay anything and you can still screen content from services like Amazon Prime, Netflix, Hulu, HBO etc. You name it, Showbox got movies from different movie studios. The only thing you need is a high-speed internet connection.
It turns out that a lot of people are looking to download and install Showbox app on their mobile phone since it is not available in the Play Store.
And the reason is it is not available in the Play store is because it does not comply with the policies of Google Play Store.
But the great thing about Android Smartphones is that you can sideload the APK files of Android apps that you can download from the internet.
Note: While installing an APK file on your Android Mobile, it might ask you to check the 'install from unknown sources' to let it install. You can uncheck the option from the settings after you are done installing.
It might be a good thing that you can install Showbox on your Android mobile phone but downloading the APK file from shady sources can lead to data theft on your smartphone, or it can do more damage.
Download Showbox App
So let's see how you can download Showbox APK file and install it on your Android devices for watching movies.
The recommended source that I would mention is APKMirror which hosts a lot of Android APK files on its website, and it is one of the most secure sites available for downloading APK files.
Sadly APKMirror does not host the Showbox Application, which brings us to the second most popular websites for downloading APK files, the APKpure.com.
Click the link to download Showbox APK on your mobile. The app will notify you whenever there is an updated version of Showbox app available, you just have to download and update the app.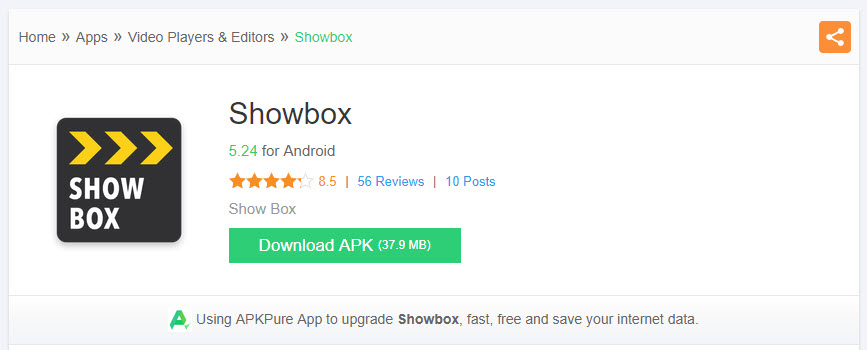 After you are done installing, you can search for your favorite content. There is a Movie tab as well as TV Shows tab from where you can search for your favorite Movie or TV show.
I downloaded and installed the app to write this article, and I found the streaming does not work as expected for some TV shows and movies, the good thing is that the app gives you the option to download the TV show or Movie which is one of the best features of Showbox app.
Download Showbox App for Your Smart TV
If you like to watch a free movie or TV Show on a big screen, you can install the Showbox app on your smart TV as well, if it is based on Android OS.
But the thing is it will not be optimized for a big screen Experience so the interface will be like you see on your mobile phone.
If you are okay with it, you can follow this process.
Enable installation from unknown sources
Since your Android TV is based on Android you can only install apps from the Play Store by default so you will have to enable the option to install APK files. You can find this option under the settings and restrictions or something similar to that on your TV.
If your Android TV has got a browser you can skip this step, if you don't have a browser on your TV, download and install ES Explorer from Play Store.
Once the ES File Explorer is installed open it and go to 'Favorite' tab in the left panel and click on 'Add'
Enter this URL address, "https://Showboxupdates.com/Showbox-apk-download/" in the Path field. (Without the Quote)
When you click on add it will be added to the Favorites from where you can click and download the app;
Once the APK is downloaded, you can navigate to the download folder in ES Explorer to find the Showbox.apk
You can click and install the app on your Android based Smart TV and Enjoy free movies and TV Shows on the bigger screen.