We, if you are a regular here, you must be aware of our love for Evernote. We have spent several hours writing about it, educating people who make the best use of this amazing app.
Even when, a few months ago, they decided to limit their Free plan to be accessible on only two devices, we are not so angry about it, because, hey, we too want them to be making money for making this amazing app.
But, now, the Employees of Evernote can actually read any Note saved by the Evernote users, be it Free or Premium, it really is a scary thing.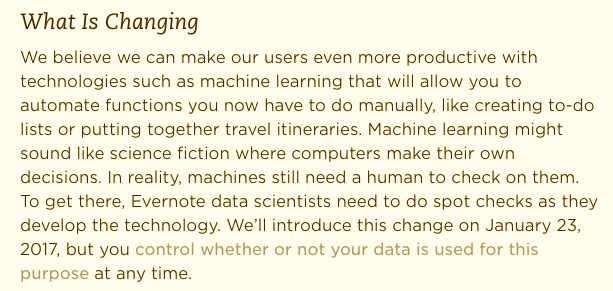 Though they have now made it an option so that people can opt-out of it, but still, you need to be educated regarding this in order to opt-out.
In addition, we will make machine learning technologies available to our users, but no employees will be reading note content as part of this process unless users opt in. We will invite Evernote customers to help us build a better product by joining the program.
So, hearing them make it an opt-out thing might make a few people happy, but it raises trust issues among some loyal users like me.
So, I am, once again, pointing you to those articles which will tell you how you can move to either OneNote or Google Keep.
OneNote is pretty similar to Evernote and you can simply export your notes from Evernote and import them to OneNote. But if you are looking to use Google Keep, you will have to do it manually since Google Keep doesn't offer any option to import notes (not at least right now, maybe in future)
I know these other services are not as efficient as Evernote is, but with some changes in the habit of using these apps should make you efficient once again. Give it a try.