Just when I started using Evernote more than just taking notes, they have announced a few changes in their product by limiting Free account users to use Evernote on just 2 devices and increasing the price for Monthly and Yearly Evernote Premium & Evernote Plus plans.
Undoubtedly the Paid Plans offered a lot of features like ability to upload Larger files which have a monthly limit of 60MB for Free accounts, Ability to access Notebooks offline and a few more fancy stuff,
I was still able to Free account without any problems because I mostly save text notes and the 60 MB Monthly limits were also okay for me.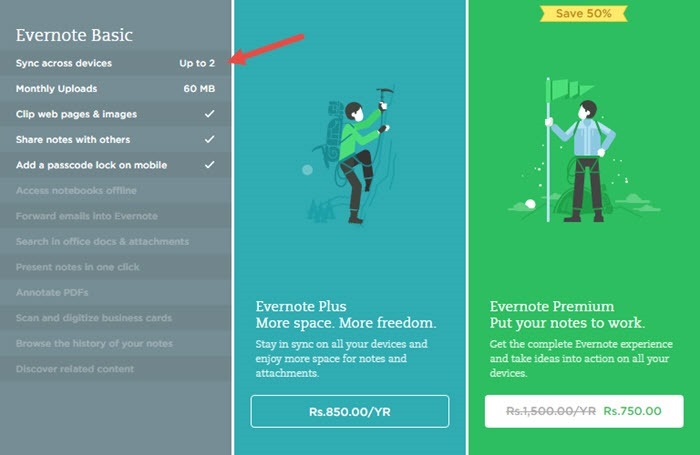 The only problem I think I am going to Face after this change is, the limit of using Evernote of just 2 devices.
I am currently using it on three devices, My Tablet PC, My MacBook Air and My Custom Built Windows Desktop PC.
I removed my Desktop PC from the list of devices, as I can still access my Evernote account in a browser.
But I would still love the ability to access my notes on any device without any limitation of using a browser for a third of the fourth device. Also, I am using Evernote on 2 devices because I am currently using my Tablet PC as my Mobile phones as well. And if I ever start using another phone, it's going to be tough to stick with Evernote because of its stupid limitation.
If that ever happens, I'll be forced to look for a better alternative, (currently I have this list in my mind) because I'll have to upgrade because of the device limitation. And I don't see myself paying $12 yearly just for that.
For now, I think I'll stick to Evernote just because it has all my important (scanned) documents, and Moving them to another app is a task in itself. But I'll still keep an every on the alternatives and post them on the blog as well.