Facebook is shutting down the trending section from the desktop site after having it introduced in 2014. Now when you are browsing the Facebook page you can see a notification stating that the 'Trending' would soon be disabled. The trending feature was available in only 5 countries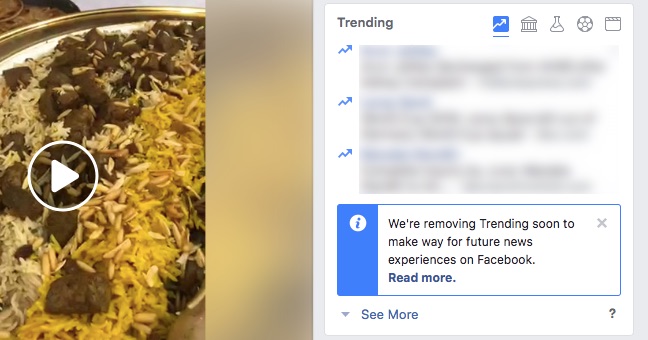 In a separate blog, post-Facebook has mentioned the reason for their decision to discontinue this feature. Facebook reported that only 1.5% clicks go to the news publishers through the trending section, and Facebook users consumption behavior has also changed since it has become more mobile-centric and everybody consumes content on their mobile phones.
Exploring new ways to inform people
With the trending section shutting down Facebook will be working on some other features that it has mentioned in the blog post, there will be a 'Breaking News Label' which consists of 80 publishers across North America, South America, Europe, India, and Australia, the publishers will put a breaking news indicator on their post in the news feed so that you could get accurate and actually news on your Facebook Newsfeed, even on smartphones.
There are few other features FB will be testing out where the News in video format will be shown to the Facebook users and will probably have a dedicated section on Facebook.
There will be another dedicated section in the Facebook itself called Today In, which will contain latest and important news from the local Publishers in their City.
Facebook specifically mentions that these all will be a test conducted on the Facebook page and me not become a larger part of their website in every country.
Also, in other news, several publishers have been reporting that FB popularity has been declining among the teenagers for home YouTube is the new social media platform they would like to hang out. An interesting Lee Facebook has been trying very hard to beat Facebook for quite some time.
It will be interesting to see whether Facebook is able to evolve their platform into attracting this certain section of the user base.