You may have heard this or read it somewhere that there is an app for anything,  and surely there is because, Play Store has listed thousands of apps, and more are being added on a daily basis.
Our smartphones are not capable to download all the applications available in the Play Store, this is why we bring you only the best apps that deserve space on your smartphone.
I am always in search for apps that make life easy, I have successfully found a lot of them, and today the app I am going to share with you is something I have been using from a couple of months.
I have actually drafted this article a few months ago but surprisingly I was not able to post it so here it is.
I am talking about the true balance app, and if you are a prepaid mobile number user then you must have this app installed on your phone.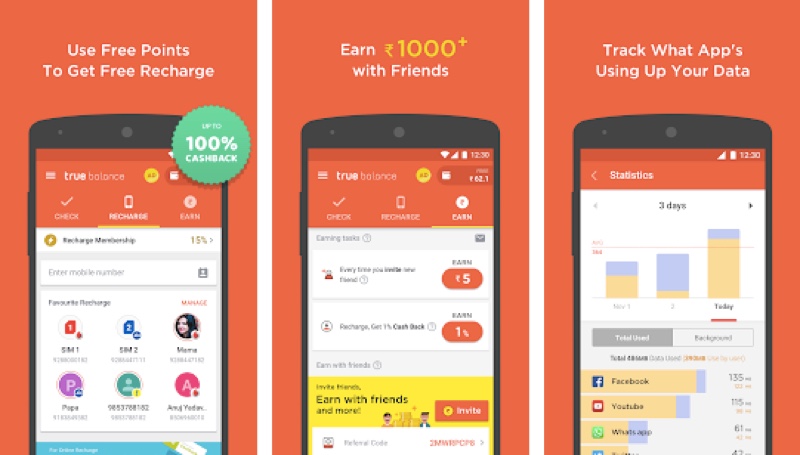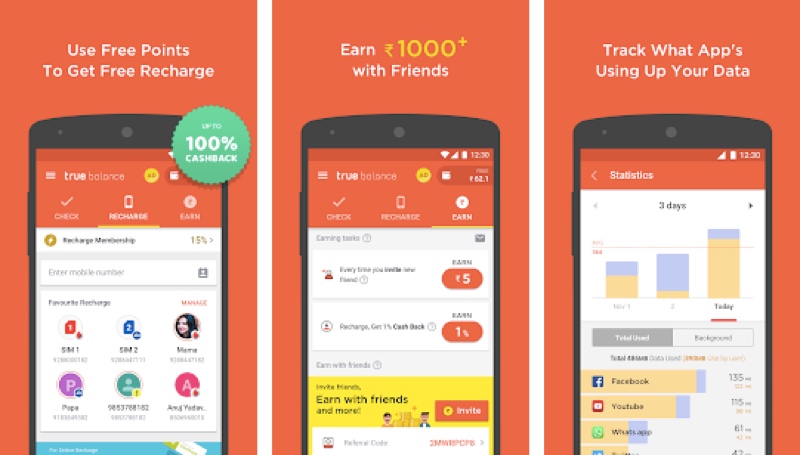 It is an amazing app which is more than just an app to check your balance but does a lot more things.
It is an app that lets you recharge your mobile number, for free. you can actually earn recharge credits by referring this app to your friends, for each signup via your referral link you are paid some amount.
For every referral, you get Rs 5, which means if you refer a hundred friends you will get Rs 500, I have so far earned recharge credits worth Rs 2000.
How to refer friends and earn talktime?
Install the app on your smartphone, You can generate your referral link from the 'EARN' tab.
Simply copy the link and paste it into WhatsApp chats or groups where people can download the app and install it on their phones.
For every installation, you get Rs 5,  which means if you are able to refer 50 of your friends you will get Rs 250, which can be used for recharging your mobile number either for the talk time or mobile data.
If the recharge amount is more than your free credit, you can add money from your bank account or debit or credit card.
Which means if you have earned the credit of Rs 250 and you want to recharge your mobile number with Rs 300 you can add 50 rupees from your bank account or Credit or Debit Card, and get your recharge done.
How to use true balance app as mobile data manager?
Apart from giving you the chance to earn free talk time this app also lets you manage your mobile data.
It shows the talktime balance as well as the mobile data used in a nice user interface.
There is an option in the settings that will make the app show your mobile data usage in the notification panel so that you can know how much data you have consumed and how much data is left.
For those who use Dual SIM smartphones, this app also supports Dual Sim and shows you your balance from both the numbers on the same screen.
You can install the true balance app from Play Store get started right away