Jio has finally achieved the staggering 100 million subscriber goal it had set when it launched their services officially on 1st October 2016.
Update: Jio has crossed 280 million marks for their userbase in early 2019. And is analyzed that the userbase is going to reach over 400 million by March 2020. 
150 days later, they have launched Jio Prime Offer, which is not really the offer that was rumoured, where each blog (and youtube channel) said Jio will be extending their free offer for another 3 months.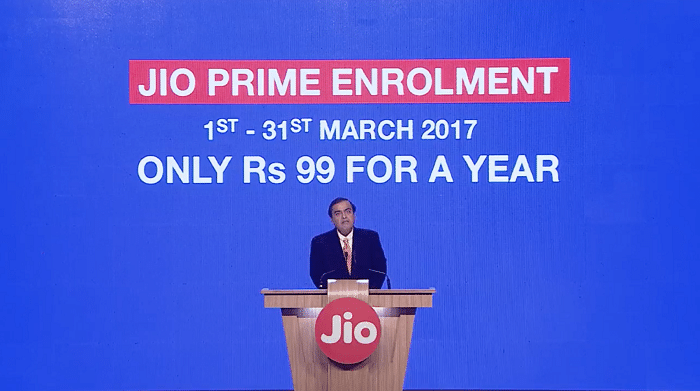 Though users will have to pay after 31st March, it will be more of a monthly charge of Rs 303 for which the Jio users will get the same befits they are getting in the Jio Happy New Year Offer, which is, 1GB of 4G High-Speed Data per Day (reduced to 128kbps thereafter), Access to Jio Premium Apps and Free unlimited Calls to Any Number in India.
Jio calls it Jio Prime Offer and it is available for people who have opted for Jio before 31st March 2017 or say the entire 100 Million Subscribers, people joining in after that won't be eligible for the offer.
How to Opt for Jio Prime?
Users will have to Recharge their numbers with Rs 99 from Jio's website, Jio Approved retail stores or from MyJio App to get the Jio Prime Membership Offer, and then there will be a subscription fee of 303/month to get the benefit which will be applicable for the next 12 months.
While Rs 303 is not a lot of money to pay, considering you will be paying only Rs 10/Day for 1GB, it is not Free, which was the whole point for a lot of people to use Jio SIM, it was FREE. It will be interesting to see how many people will opt for the Jio Prime Membership.
Jio is bringing 3 Month Offer with Jio GigaFiber
After revolutionizing the Telecom industry, Jio is now all set to revolutionize the Internet Broadband industry as well, with the introduction of their Jio GigaFiber.
The Jio GigaFibre is currently offered under a trial period which is similar to the initial offers by Jio, where users get three months of usage for free.
Since it was available in our area, we have opted for it and currently using the trial offer, we have reviewed it on our website in check out the review of Jio GigaFiber