If you are a regular visitor, you might have read my review of Reliance Wi-Pod which was published on the blog few days ago.
And just one day after the review went live on the blog, My Reliance Wi-Pod stopped working.
I tried connecting the devicd from the Relianc.Home website, but there was no signal. And there was an SMS that said the Reliance Wi-Pod CDMA services are being stopped. And to use the Internet further, upgrade to 4G LTE.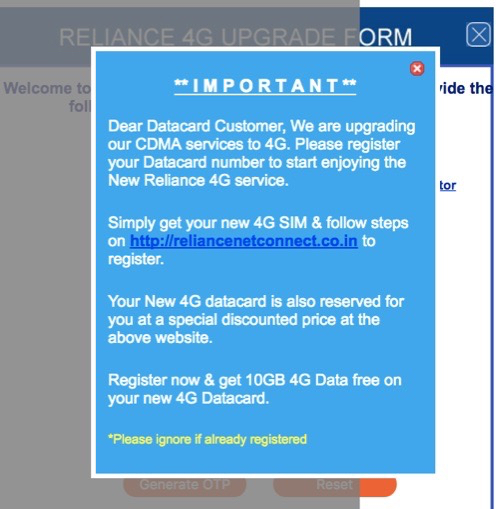 I was getting this mesage from last few days but didn't know that current devices are going to be stopped all of a sudden. Ideally there should be some kind of notification being sent to the registered Mobile number or the email. Not everyone checks the SMS sent to the Wi-Pod.
On the Reliance website I found that they are Migrating their CDMA users over to 4G. And the interesting part is, the 4G Network hasn't even been launched in all the Circles.
Anyways, If you are here to know what to do next? I am going to show you what I did to upgrade to 4G.
Now, as per the messages recieved by the Reliance Wi-Pod users, every user would get a Free upgrade to the 4G SIM with 10GB of data for Free. But there is a catch, continue reading to know what it is.
The current Reliance Wi-Pod
Devices won't work.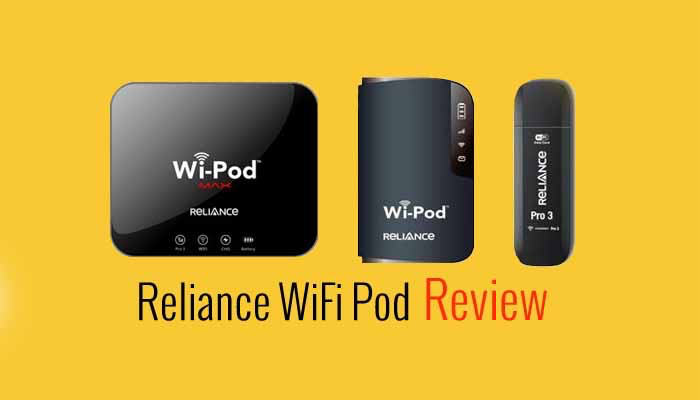 Reliance was offering 3 Wi-Pod devices on their website and none of them are going to support 4G Network. And you have to purchase the 4G Devce from Reliance website.
There is no Cash On Delivery options available and the Device gets Dispatched (not delivered) in 10 working days.
About the new 4G Device
Reliance calls the new 4G device the Wi-Pod 4G LTE. It is available for Rs 3,199 and with a discount of Rs 500, anyone can buy the device online at Rs 2,699.
The Reliance Wi-Pod 4G LTE has an inbuilt battery of 2300mAh which can run the device for up to 5 hours. This device can connect upto 31 users as once.
Though there is some benefit to the existing users as they can avail more discount when they update to 4G network.
My device was 6 months old and I got a 72% Discount on the 4G device. So the price I had to pay was Rs 899.
Also the device is said to get upto 150Mbps of Internet Speed which we will test once we get our hands on it. (Pretty soon). Their 4G partner, big brother's Reliance Jio says maximum speed would be 50Mbps.
Reliance 4G Plans for Wi-Pod Users
As reported by TelecomTalk, Reliance has come up with an Upgradation offer for boh Mobile and Data Card users.
For Rs 93, the Wi-Pod users can get 10GB Data (5GB – 3G Data + 5GB – 4G Data). Users can to a top up of Rs 93 to their number, once the 4G Services are launched, to avail this offer.
But this page on Reliance Website mentions that Recharge value for Wi-Pod users to avail 10GB data would be Re 1. (Make sure you verify this with Reliance Customer Care before recharging)
These are the regular plans for Reliance Wi-Pod 4G LTE users once the 4G services go live.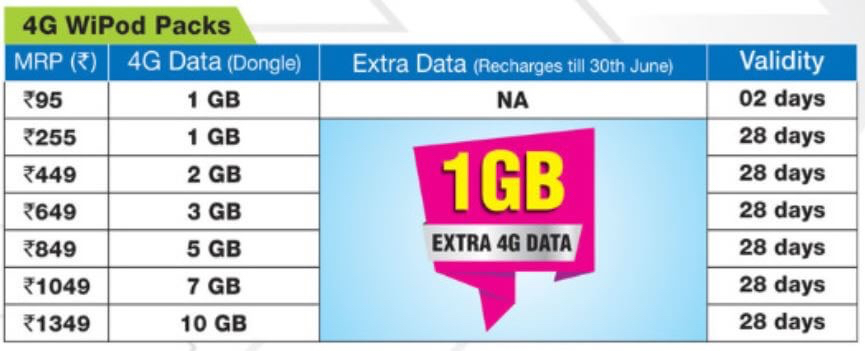 These data plans are similar for Reliance Mobile users who upgrade to 4G.
How to Upgrade to 4G Network
The Reliance website has given instructions for all the CDMA users (Mobile & Data Card) for Migrating to the 4G Netowok.
To update your Reliance Wi-Pod to 4G Network, go to http://reliancenetconnect.co.in and then Fill up the Upgrade form with the following information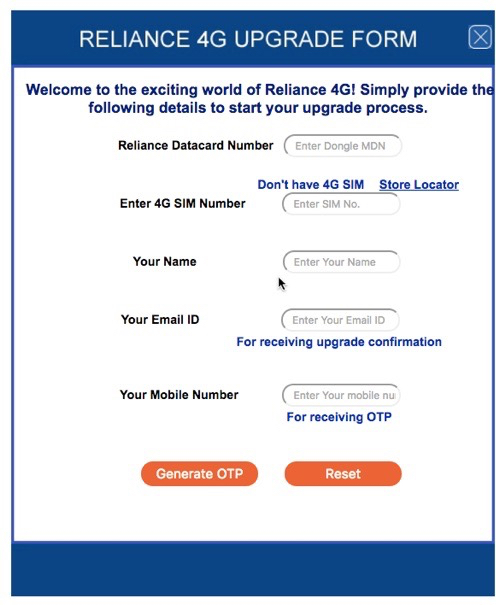 Data Card Numner (93xxxxxxxx)
4G SIM Number (You can get the SIM for Free at any Reliance Store)
Name
Moblle Number (the OTP will be sent on this number)
Once you've submitted the Form, you will get the message that you'll be notified by an SMS when the upgrade is done. (It will probably be sent when the 4G is launched in your Circle)
Then you can move on to purchase the Wi-Pod 4G LTE with the dicount you are eligible for (Like I got 72% Discount).
While the process of Upgrading to the 4G network is simple, one things that bothers me (and many other Wi-Pod users) is that they stopped the current devices even before the 4G services have launched properly.
There are so many people complaining about being stuck in a phase where neither their CDMA services are working nor their 4G servicers are working.
I am expecting to recieve the 4G device soon and write about it. Do come back to read it.