Ever found yourself in a situation where you are not finding your phone, and do not remember we have kept it.
We are talking about when you can't find it in your house, for your friend's house, or maybe, at the office. This trick will work unless someone has picked it up, and…..well, you know what.
But, if you sure that it is just misplaced, you can take the help of Google and ring it for the next five minutes.
And a good thing is, your phone will ring even if it is on silent. Which makes this trick even more useful, because if you were to use someone else's phone to call yourself, and if it is on silent, you never gonna find it.
Just a little note: Your phone needs to have internet data enabled in order for this function to work.
I think 5 minutes is quite sufficient time for you to find it in a building, if, it's not stolen.
Also, you need to have your Google account added to your Android smartphone, and you need to have login credentials of that Google account.
All you need to do is, do a search for 'Find my phone' on Google (where you are logged in using the same Google account). This could be your laptop.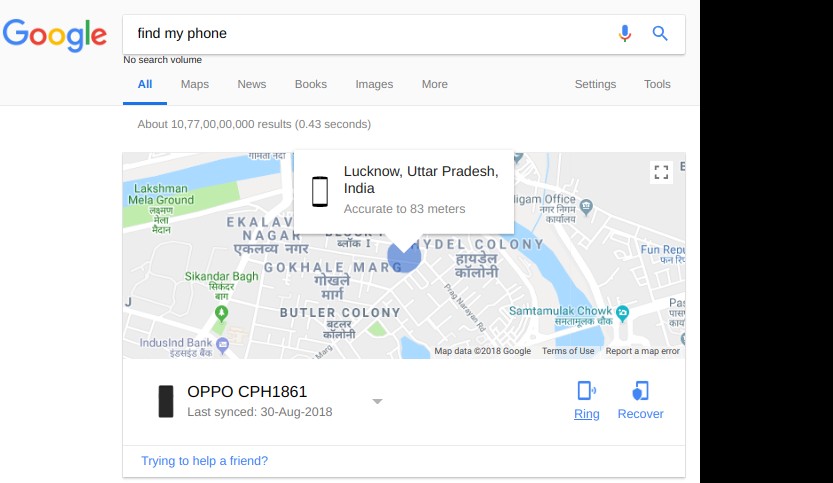 You will get the option to bring your smartphone right on the result page, click on a ring during it, obviously.
The feature also shows you the location of the smartphone, but it is pointless if you are at your home and you are certain that is the smartphone is in the same room or in the same building.
This feature is a part of the Android device manager, which is useful for tracking the location of the Android smartphone.
So, you should remember, if you will lose your smartphone anywhere you can use this trick to locate it. The feature also lets you lock your smartphone and delete all the data on it. Know more about Google Device Manager in this post.