If you are a Gmail user, you are certainly going to be happy about this new feature that is going to be rolled out by the end of February 2019.
Google has recently announced an update for Gmail where they have added some more functionality to the right click when you are inside Gmail.
Gmail's right-click menu is not actually much useful at this point of time as it provides only a handful of options. The options that you currently get are, delete, archive, mark as unread, and move to tab.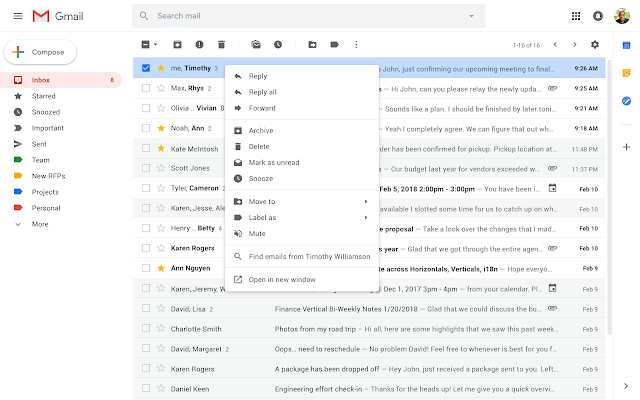 If you want to perform more action on an email, you have to select the email, then the options would appear at the top, but with the new update, you can simply right click on any of the emails and you will get all the options in the right-click menu.
This was announced by Google on their G Suite updates blog, and the G Suite Gmail users would be the first who will get this feature which will be enabled by default.
The free Gmail users will, however, have to wait for a while for this feature to be rolled out.
Hopefully, it will be soon and before the inbox by Google is retired which is going to happen somewhere in April 2019.
Here is a list of all the functionalities you will be getting in the right click menu once the feature is rolled out to Gmail users
Reply to the right-clicked email.
Forward the email.
Snooze the email.
Mute the conversation.
Add a label.
Move the email.
Use search to find emails by the contact.
Use search to find emails with the subject.
Open emails in new windows.
It is good to see Google making improvements to Gmail, I have recently shifted to the Gmail interface since I am trying to get familiar with the interface because my favorite, Inbox by Google, will be retired in a few months from now (or it may already have been, if you are reading this article after April 2019).