Microsoft has released the much awaited next version of the Office Suite, the Microsoft Office 2016.
The new version brings the ability to collaborate on documents right within the apps, a feature which was earlier available to only the web apps under Microsoft's Office 365 Subscription.

The Native apps now also have Skype for Business integration that gives the ability to chat (text, audio, video) and share screens right inside the documents. A powerful feature that lifts the limitation of launching the web app in a browser.
[su_youtube_advanced url="https://www.youtube.com/watch?v=0x3iA746WBE" width="640″ height="360″ autohide="yes" showinfo="no" rel="no"]
Like every version, Microsoft Office 2016 has some visual enhancements as well, with flatter, more crisp icons within the apps. This is something we are yet to explore as we will be using it more in coming weeks.
MS Office 2016 gets some new tools which Microsoft claims will help users get things done faster. The Outlook 2016 is now more intelligent with faster in-app search and it is now possible to attach files to your emails that are hosted on OneDrive.
The new version works seamlessly with Windows 10 and Windows Phone 10 making it a truly universal Office Suite that can run on different devices powered by Windows.
Microsoft is changing with times and we have seen that in the Windows 10 release, which is an extremely important step towards giving a unifying experience in the world of multiple screen and always connected devices.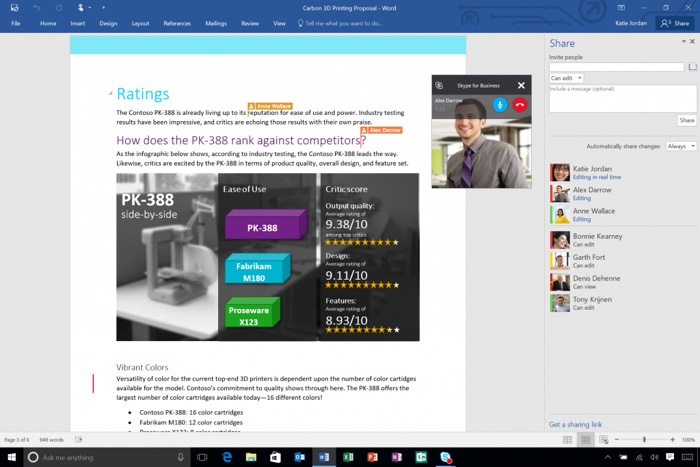 Microsoft Office 2016 is for collaboration, is cloud friendly, aims to be the ultimate et of tools to get things done and run seamlessly on different devices.
There is so much to learn about this new office suite and we will be doing exactly the same, so, stay tuned for the reviews.
Users can purchase Office 365 to get the new 2016 apps (click here)
The upgrade is also available to the existing Office 365 users, they can find the instructions here for (Home users) and here (for Business users).