So finally, the day has come when you no longer need to find ways to access country-restricted content from India, at least not for Netflix. Netflix opened doors for its content library to over 130 countries India is one of them.
Netflix is offering a one-month free trial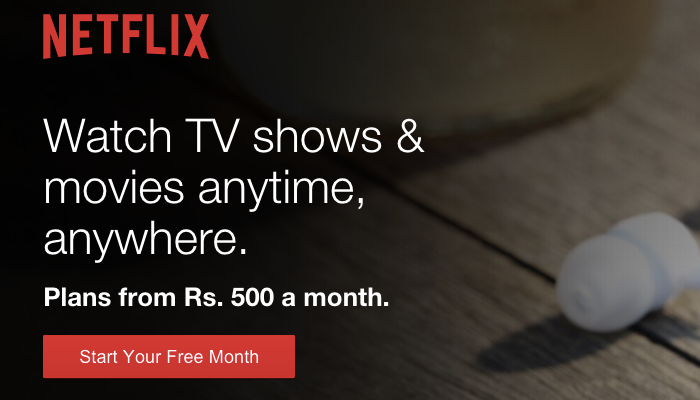 While it is a good move to offer a free trial to let everyone get a taste of their service, but it's not technically free.
You need to register with your Credit or Debit Card and will be Charged Rs 70 for it.  But users will be able to find it worth that money as there are some good American TV shows and Movies which are otherwise available via Torrents (which is piracy).
Pricing of Netflix is too high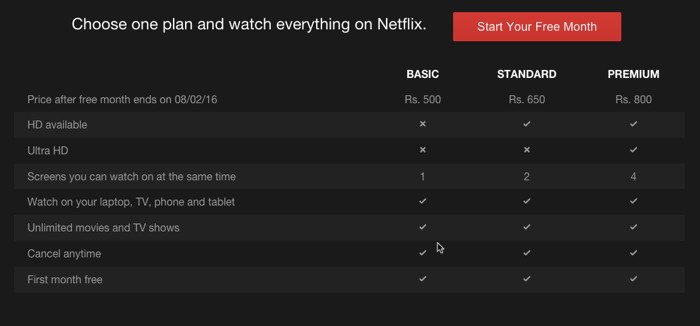 The base plan (Rs 500/month)  doesn't offer HD and lets users use only one device at a time. These two limitations make the second plan (Rs 650/month) more worthy of the money.
Netflix is also testing a Mobile-Only Plan for Rs 250 – Exclusively for Indian Audience – 03/03/2019
However, the highest plan (Rs 800/month)  which offers ultra HD content doesn't make sense to most of the internet users of India as the internet speed is still isn't up to the standards and then there is this FUP levied on every plan.
Limited Content Library Right Now 
Also, after paying this much amount, not all the shows are available on Netflix. There are few Bollywood movies in the Indian content section but most of them are either decade old or flops from the last few years. You won't get any desi stuff other than that.
And if we talk about the US TV shows, there isn't much either, at least not right now. According to the Medianama article, there are too many players in this space which didn't get much traction and people in India are just not ready to pay for what they can get for free (or at a much cheaper price).
There are Studios which have made peace with it by uploading their content on YouTube and monetize it with Ads.
People on Twitter gave some really funny reactions to the launch of Netflix. Some said they would still go the torrent way and some were crying about their slow internet connection.
Hopefully, Netflix will bring more content and the One Month trial period will make users realize if they really want to Netflix and Chill.
Can You Really Buy Netflix Accounts Online at Dirt Cheap Prices? PayTM Scams in India