Jio has introduced two new plans today for their subscribers, both new and old. They have also revised their two plans of Rs 309 and Rs 509. Read the article for further information.
Jio has been disrupting the Telecom market in India from last one year by offering high-speed 4G internet at throwaway prices.
And it seems Jio has no plans for stopping that, it continues to disrupt the market by introducing new plans for their old and new subscribers. These plans are introduced when their Dhan Dhana Dhan offer is about to expire.
Many Jio users opted for the 3 Month Dhan Dhana Dhan offer at Rs 309  (1Gb/Day for 84 Days) and Rs 509 (2Gb/Day for 84 Days) in April 2017 and the plans were about to end by July 2015.
Till now, Jio's website stated that these Plans can be opted by users just once and they would have to pay Rs 309 for one month (28Days) to get 1GB/Day data (or Rs 509 for a month to get 2GB/Day.
But today, they have revised these plans, Now,
Rs 309 plan will get Jio users 1Gb/Day for 2 months (28+28 = 56 Days)
Rs 508 Plan will get Jio users 2GB/Day for 2 months (28+28=56 Days)
Along with these two revised plans, Jio has also introduced two new plans, that is,
Rs 349 Plan will get Jio users 20GB for two months (28+28=56 Days)
Rs 399 Plan will get Jio users 1GB/Day for three months (28+28+28=84 Days)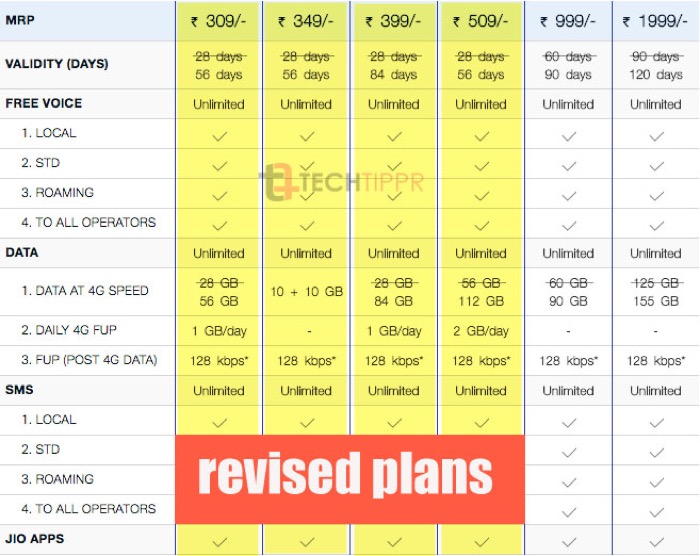 So, the Rs 399 plan makes sure you get another three months of high-speed 4G data.
Another thing to notice is, if you have recharged your Jio with Rs 309 or Rs 509, you will still get one month of 1Gb/Day and 2Gb/Day respectively according to your plans since Dhan Dhana Dhan Offer have 3 Extra months of Benefits on One Month Recharge.
For most people who recharged on April 15th, The Free benefits expire on 15th July but they will still be able to enjoy high-speed 4G data for another 1 month without any recharge.