Google has brought a small but useful change in the Play Store, in the My apps section, it has included different tabs to make managing apps easier than before.
It is more streamlined and easy to find the Updates available to the Installed Apps, A dedicated tab for Installed Apps, Library tab where you can see all the apps you have ever installed on your devices under the same Google Account.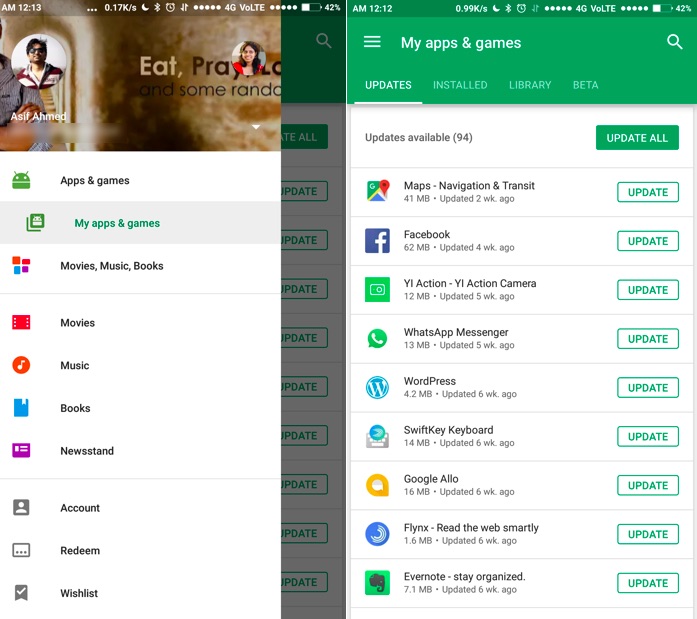 There is also a dedicated tab for seeing the *Beta Apps you have signed up for.
*Few apps offer Beta testing to bring new updates to a bunch of beta testers before rolling out to everyone. 
I usually keep the Auto Updates turned off because not every update is important for everyone, the dedicated Updates tab makes it super easy to find the Updates for individual apps.
The tab also shows the Update size, as well as time, passed since you last updated the app.
With the new update, you jut have to make a few taps and you get to update important apps at once. Although you also get an Update All button if you want to update all of them at once.
In the Installed Apps tab you can sort your apps according to Alphabetical order, Size of the App, Last time you updated the app or the last time you use it.
The sorting by size is quite useful for knowing which apps are taking the most space on your phone without having to use any type of third party App Manager.
The update is still being rolled out, so if you haven't got it yet, wait for a day or two, you are going to get it just like you got the Google Assistant feature (if you are on Android Marshmallow)