If you are looking for a single Earpiece Bluetooth headset that costs under Rs 1000/- The QCY Q26 Wireless Invisible Headphone could be one of the best choices.
QCY Q26 Wireless Invisible Headphones With Mic costs just under $15 (Rs899). They are actually pretty good to use.
Built Quality and Specs
The Single earpiece Bluetooth headset weighs over 5 grams with 12.4 cm of length with 7.6 cm of width. Doesn't really feel you have something in your ear when you are not using it actively.
You get a short micro USB cable to charge the device along with few buds to use according to the earhole.
The 45mAh of battery in the Earpiece can give over 3 hours of usage time, be it talking or listening to music. If you are using it on and off, then you may get to use it for the entire day. Charging it full takes 2 hours. Thanks to the Bluetooth 4.1 technology, it doesn't suck too much battery power of your smartphone either.
Sound and Mic Quality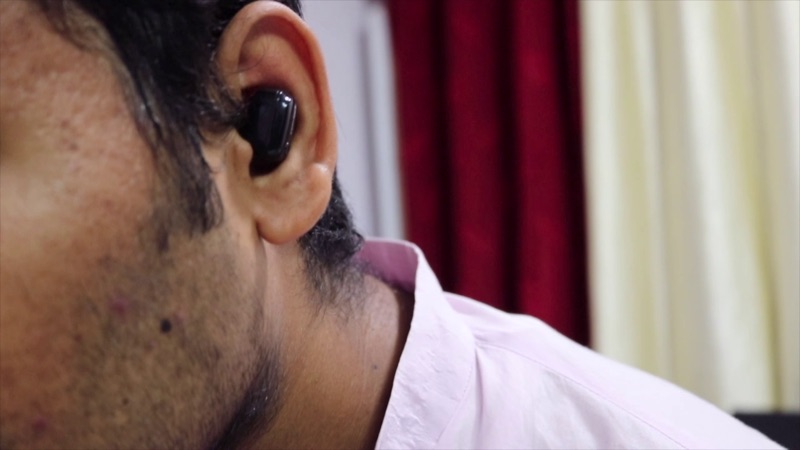 The Call quality is good, and it doesn't get cut in the middle of conversations, even when you are doing long talks, I am talking about 30 to 40 minutes of talk,
Although you might have to switch the earpiece between your ears since it get's a little warm because the battery is in there.
Same goes for the mic, it's great when you are in a quiet room, but when you are outside, with a log of background noise, the noise cancellation hardly does its job at giving the clean audio. I would give 3 stars out of 5.
These earphones can also be used for listening to music, it has the quality to offer, but I am not sure you are going to listen to music for a long period of time.
My best use case of using these single earpiece Bluetooth headset is while riding my bike. I have it in my ear and play music so that the commute doesn't feel boring.
My other ear is free to hear the honkings on the road, in case some dude is in a hurry to overtake me, it really helps not to die in an accident just because you were listening to music.
How to connect and use it
The QCY Q26 Wireless Invisible Headphones With Mic has a single multipurpose button. You can press it for a few seconds to turn it on and put it in discovery mode.
You can search and pair it with your Smartphone or Computer. Once it is paired, it doesn't take long to reconnect the next time, maybe less than a second.
The Bluetooth headset reads the phone number into your ear when someone calls. You can press the button to answer a call or long press to reject it.
Double pressing the button would redial the most recently dialed number and long pressing would turn it off.
Single Earpiece Bluetooth Headset
vs

Double Earbuds Bluetooth Headset

People get divided when a question like this appears, however, more people favor Double Earbuds earphones (wireless or not) in comparison to the single ones. Because they can also be used as a single earpiece, just wear one earbud out.

But again, we are talking about these mini Bluetooth earbuds, which will be inside your ear, not distracting at all. Plus, a good number of people use their earphones in one ear when doing casual browsing on Facebook or Other Social Networks.

Also, they are hardly any paired Earbuds available under $20 price range, at least not yet.

If you want choices as to which Single earpiece Bluetooth earbud you should buy, check out this list of Best Bluetooth earbuds to buy under 1000 INR.