So, a few months ago I posted this review of Reliance Wi-Pod that I was working to stay connected on the go.
And them just after posting the review, my Wi-Pod stopped working without any SMS or Email from Reliance.
There is a popup that appears on their website that was asking me to Upgrade to a 4G Wi-Pod.
I visited the nearest Reliance Store and got the 4G SIM and was asked to follow the instructions on the Reliance Website to upgrade to 4G.
The notifications to upgrade to the 4G network was all over their website, and it was also mentioned that the users would upgrade to the 4G network, will get the 10GB Free Data.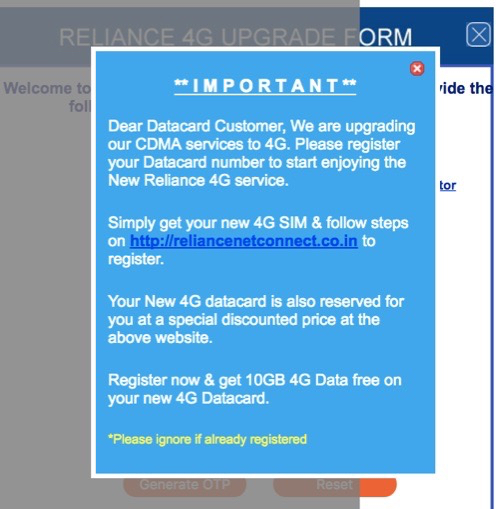 The Upgrade also Promised a 4G Wi-Pod at a discounted rate for several customers  and was only available for purchase online from their website.
I've written about the process of upgrading to 4G network on Reliance where you can see the popup message clearly mentioned 10GB Free data. (image posted above also)
And yes, No Cash on Delivery Available.
It was mentioned that the device could reach my address within 7 to 10 days but the 4G launch would happen on a later date, and I'll be notified via SMS or Email.
So I paid around 800 Rupees for the 4G Wi-Pod and the wait started.
Though I received the 4G Wi-Pod Device in 15 days, I still did not get any notification about the 4G launch in my city even after 3 Months.
The Wi-Pod, however, started getting the 4G signal by the 1st week of August (after two months)
At this point, the Reliance Jio SIM was available to everyone and their Welcome Offer gave Free Calls, SMS, and 4GB/Day 4G Internet till 31st December.
As I too got the Reliance Jio SIM with the complimentary Welcome Offer, I did not see any point in being sad about why Reliance ADA (Anil Dhirubhai Ambani) didn't notify me of their 4G network availability and the Free 10GB Data I was promised.
But since Reliance Jio is facing some serious speed issues after millions of Free Internet users have jumped on to clog the network, I thought I'll find out about how to start using the 4G Wi-Pod.
Mostly my intention was to use and write a review of it on the blog since my previous post about Reliance Wi-Pod got a lot of popularity. But this is what the customer guy told me.
The Promised 10GB Free Data after the 4G upgrade was discontinued.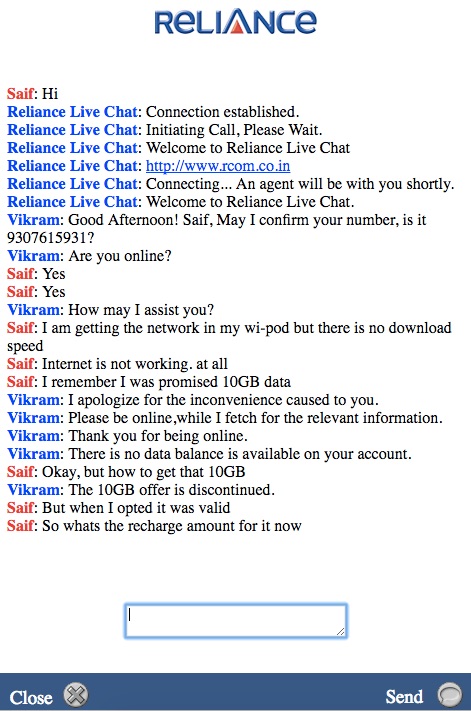 I did some Googling around and found that a lot of people was unhappy about this decision from the company.
The popup to upgrade to 4G Network still appears on the Rcom website, but the Free 4G offer has been removed.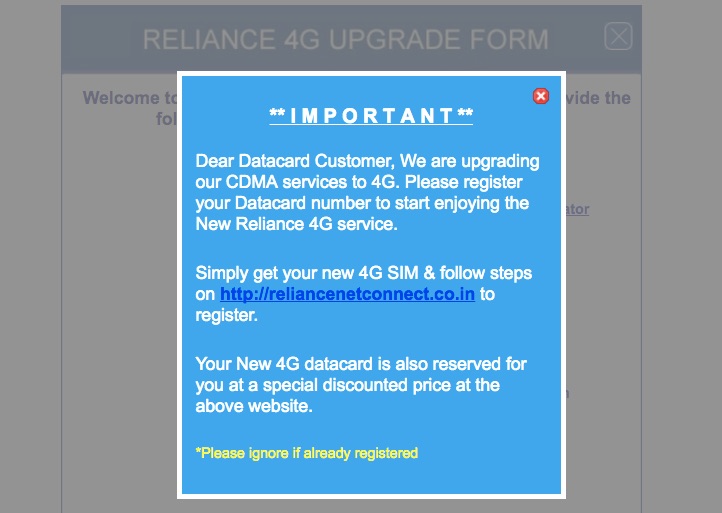 Though 10GB is not a big deal for anyone since Reliance Jio is currently giving unlimited data, but there were a lot of people, including me, who purchased 4G Wi-Pod just because they could at least use 10GB Free data and see if it's good enough to continue using it.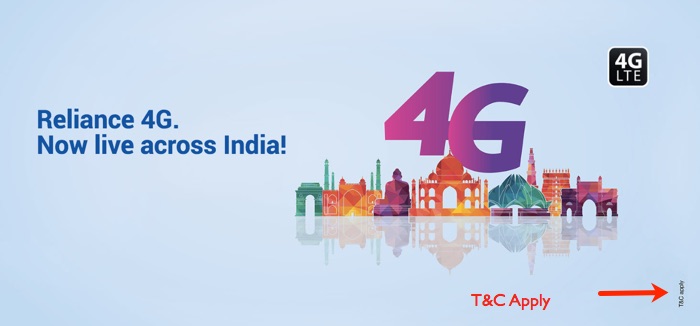 I know these companies have terms and conditions applied on every offer that is written at the bottom of the offers with the smallest text possible. This is not cool Reliance, not cool.
I don't think this company is going to stay in this competitive market, especially when Mukesh Ambani's Reliance Jio has already started dirupting the market.