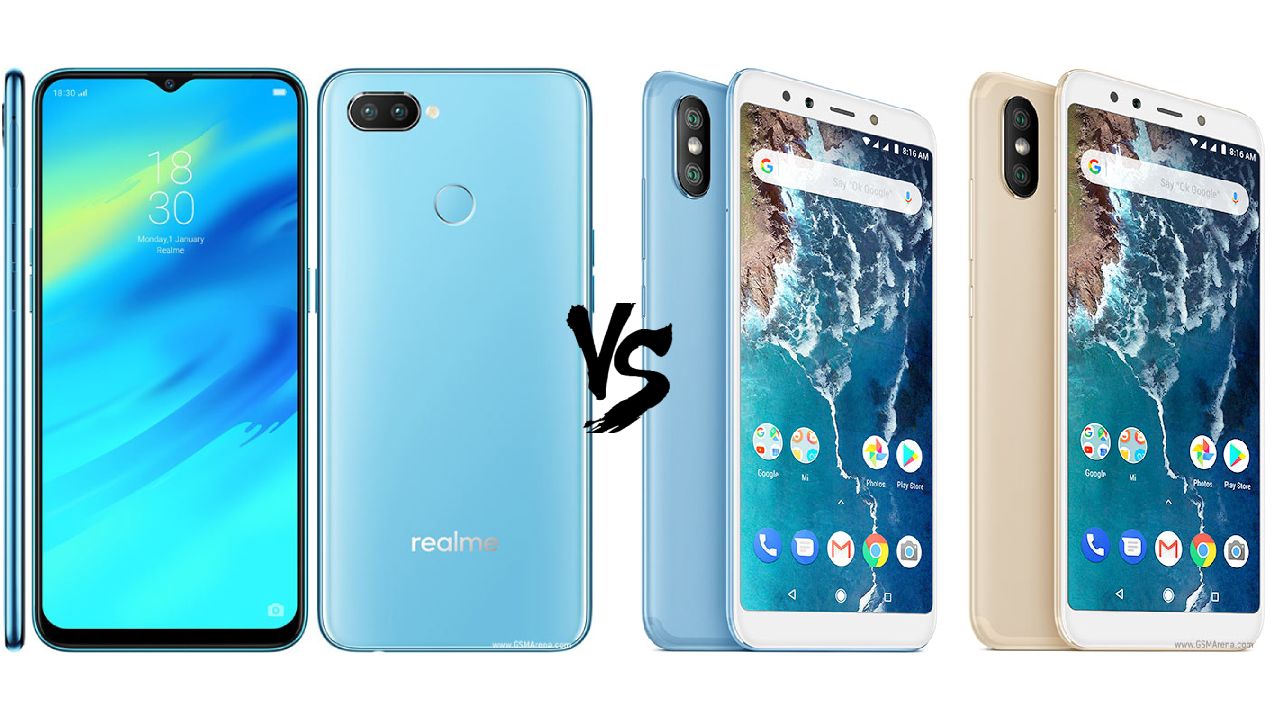 Competition to get the crown for being the best smartphone in the budget segment has always been interesting. It has gotten even more is testing with the launch of Realme 2 Pro.
We compared RealMe 2 Pro with Xiaomi Redmi Note 5 Pro and the Realme 2 Pro is a clear winner.
Though, it did not make sense to compare it with a smartphone that was launched months ago. It makes more sense to compare Realme 2 Pro with Xiaomi Mi A2 since both the smartphone supports the similar chipset.
Both smartphones are powered by Snapdragon 660, so it is interesting to see what else both the smartphones offer for their respective prices and which one is the best to offer that.
Let's talk about the design
Realme chooses plastic for the body of Realme 2 Pro while Xiaomi MI A2 has got a metal unibody design.
Design wise, the Realme 2 Pro looks more appealing with a water drop notch, which also enables the smartphone to get a higher aspect ratio of 19:9, and a 6.3-inch display, while there is no notch on Xiaomi Mi A2 and aspect ratio is also 18:9 and 5.99-inch display.
There has always been a debate about whether or not a smartphone should have a Notch, but in this case the waterdrop or dewdrop Notch isn't actually ruining the experience.
Let's talk about hardware and storage
Both the smartphones are powered by Snapdragon 660 processor and the basic variant of both the smartphones have got 4 GB of RAM with 64Gb of internal storage.
Both the smartphones are capable of handling heavy graphics games and memory heavy apps. Users are not going to face any kind of performance issues, thanks to the power for Snapdragon 660 processor.
Talking about other hardware, the xiaomi MI A2 comes with a 3000mAh battery with the support of Qualcomm Quick Charge 4.0 fast charging technology.
Realme 2 Pro, on the other hand, comes with 3500mAh battery, but it does not support any kind of fast charging, which means you will have to spend an extra hour to charge the batteries of the Realme 2 Pro
Let's Talk about software
There is a bit of difference in this department, the Realme 2 Pro runs on Android 8.1 Oreo with colour OS 5.1 on the top of it.
The Xiaomi Mi A2, on the other hand, comes under Android One, so it has got a stock Android experience without any bloatware.
The Android One is backed by Google, which means Xiaomi Mi A2 will be getting timely Android updates and security updates.
Let's talk about the camera
The Realme 2 Pro has got a dual camera setup of 16MP + 2MP, with 16MP being the main sensor with f/1.7 aperture and 2Mp being the depth sensor.
The front camera is also 16MP with f/2.0 aperture.
XIoami Mi A2, one the other hand, has got a dual camera set up of 12MP+20MP with f/1.8 aperture.
The Front camera is a 20MP with f/2.2 aperture.
There is an LED flash on both front and back while it's only on the back in Realme 2 Pro.
The back camera of Xioami Mi A2 can shoot 4K and Full HD videos in 30fps and slow-mo at 720p @120fps.
Both the camera work well for their category, the dual cameras on both the devices can produce good portrait images with background blur effect. And the AI works on the front camera for the same.
Let's talk about the price and availability
Xiaomi MI A2 is currently available at Rs 16,999 for the 4GB RAM and 64GB internal storage variant, while the Realme 2 Pro is available for Rs 13,990 for the 4GB RAM and 64GB of internal storage.
We have already talked about the specifications and features, and both the smartphones are pretty much at par in terms of the spec sheet, but the pricing of Realme 2 Pro makes it more appealing than in the Xiaomi Mi A2.
There is a price difference of Rs 3000, and you are also not getting the 3.5 mm audio jack on Xiaomi MI A2, which might add some extra cost for buying a Bluetooth earphone.
So, if you have got a budget and want to go for a smartphone under Rs 15000 and you have got a good quality earphone that you may want to use with your next smartphone, and then Realme 2 Pro should be your pick.
The real me to Pro is available on Flipkart the link is below in case if you want to order it.
Order RealMe 2 Pro on Flipkart