While writing about the 9GB Free Data Offered by Airtel to Samsung J Series users, my Twitter timeline was filled with tweets from people mentioning that Reliance Jio has extended their preview offer to more 4G enabled Samsung smartphones and have also included 4G Enabled phones from LG.
So now with this extension, there are more ways get the benefit of Free Data, Calls and SMS for 90 Days with the Preview Offer.
The way Reliance is aggressively promoting their services prior to their official launch sometimes by the end of this year, it was already assumed that Reliance Jio would do something like this in coming weeks. And it has finally done it.
Reliance Jio is giving the introductory Preview Offer in three ways.
LYF Jio Preview Offer – Reliance Jio is selling different LYF branded phones that have the preview offer enabled.
JioFi Jio Preview Offer – Reliance Jio is selling the portable Wi-Fi hotspot device with the Preview offer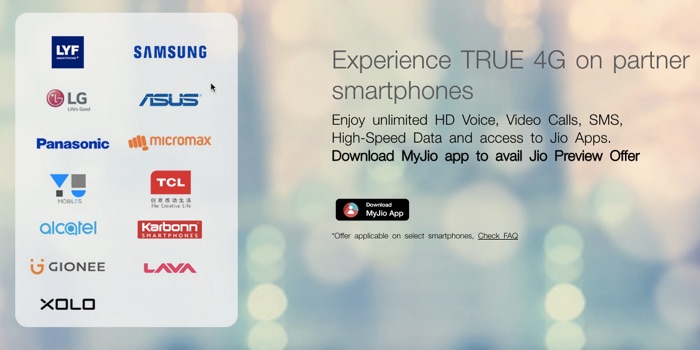 Partner Jio Preview Offer : Reliance Jio has partnered with Smartphone Makers to give the Preview Offer (Currently with Samsung & LG) —Almost every OEM is now offering their 4G Enabled Phons with the Jio Preview Offer from Samsung, LG, Asus to Micromax, Karbonn, Lava etc full list of phones is mentioned below.
So, if you own one of the phones mentioned below, you can avail the Preview Offer and enjoy the Free Unlimited Data, Calling, SMS and Access to Jio Apps for 90 Days.
Once you check your device you can read how to get the Reliance Jio SIM for your phone under Preview Offer 
I have been using it since last one month and it has been an amazing experience.
Samsung Mobile Phones Eligible for Preview Offer
Samsung devices:
Grand Prime 4G, Galaxy J1, Galaxy J2, Galaxy J7, Galaxy J5, Galaxy S5 Plus, Galaxy A5, Galaxy A7, Galaxy Core Prime 4G, Galaxy S6, Galaxy J3 (2016), ON7, Galaxy A8, Galaxy S6 Edge, ON5, Galaxy Note 5, Galaxy Note 4, Galaxy Alpha, Galaxy S6 Edge Plus, Galaxy Note 4 Edge, Galaxy Note 5 Duos, Galaxy S5 Neo, S7, Galaxy A5 (2016), Galaxy A7 (2016), S7 Edge, A8 VE, J5 (2016), J7 (2016), ON5 Pro, ON7 Pro, Galaxy J2 (2016), J Max, Galaxy A9, Galaxy A9 Pro, Galaxy C5, Galaxy C7, Galaxy J2 Pro, Galaxy Note 7.
Micromax devices:
Bolt Selfie, Canvas 5, Canvas 5 Lite, Canvas 5 Lite Special Edition, Canvas 6, Canvas 6 Pro, Canvas Amaze 4G, Canvas Blaze 4G, Canvas Blaze 4G Plus, Canvas Evok, Canvas Fire 4G, Canvas Fire 4G plus, Canvas Fire 6, Canvas Juice 4G, Canvas Knight 2, Canvas Mega 2, Canvas Mega 4G, Canvas Nitro 4G, Canvas Pace 4G, Canvas Play 4G, Canvas Pulse 4G, Canvas Sliver 5, Canvas Tab, Canvas Unite 4, Canvas Xpress 4G, Unite 4 Plus, Unite 4 Pro
Karbonn devices:
Aura 1, Aura Power, Quattro L45 IPS, Quattro L50 HD, Quattro L51 HD, Quattro L52 VR, Quattro L55 HD
Lava devices:
A71, A72, A76, A76 Plus, A88, A89, A97, Ivory s 4g, Lava V5 M, Pixel V2, V2s, X10, X11, X12, X17, X28, X38, X41, X41 Plus, X46, X50, X50 Plus, X81
Xolo devices:
Black-1X M, era 1X, era 2X, era 4G, era 4K, era X
LG devices:
K332 (K7 LTE), K520DY (Stylus 2), K520DY, H860 (LG G5), K500I (X Screen), K535D (Stylus 2 Plus), LGH630D (G4 Stylus 4G) & LGH 442 (LGC70 Spirit LTE)
Gionee devices:
E8, F103 Pro, F103(1GB), F103(2GB), F103(3GB), M4, M5, M5 Lite, M5 Lite CDMA, M5 Plus, P5L, S Plus, S6, S6s, S7, V6L
Panasonic devices:
ELUGA L, ELUGA Switch, ELUGA Icon, T45, ELUGA I2 ( 1GB ), ELUGA L2, ELUGA Mark, ELUGA Turbo, ELUGA Arc, ELUGA I2 2GB, ELUGA I2 3GB, ELUGA I3, ELUGA Icon 2, ELUGA A2, ELUGA Note, P55 Novo 4G, ELUGA Arc 2, P77
ASUS devices:
ZenFone 2 Laser (ZE550KL), Zenfone 2 (ZE551ML), Zenfone Max (ZC550KL), Zenfone 2 Laser 5.0 (ZE500KL), Zenfone 2 (ZE550ML), Zenfone Selfie( ZD551KL), Zenfone 2 Laser (ZE601KL), Zenfone Zoom(ZX551ML), Zenfone Go 5.0 LTE (T500), Zenfone 3 ZE552KL, Zenfone 3 Laser( ZC551KL), Zenfone 3( ZE520KL), Zenfone 3( ZS570KL), Zenfone 3( ZU680KL)
Yu devices:
Yu Yureka, Yu Yutopia, YU Note, Yu Yuphoria, Yunicorn, Yunique, Yuphoria, Yureka Plus, Yureka S
TCL devices:
FIT 5.5, Pride T500L, TCL 560, TCL 562
Alcatel devices:
OneTouch X1, Pixi 4 -5, POP Star, POP3, POP4