If you are a Movie Fan, here is a good news for you. Google has been running a promotional offer on Play Store where you can rent any newly released move for just Rs 20.
The prices of a newly released movie are usually in the range of Rs 100-150. Which means the offer is giving up to 90% discount.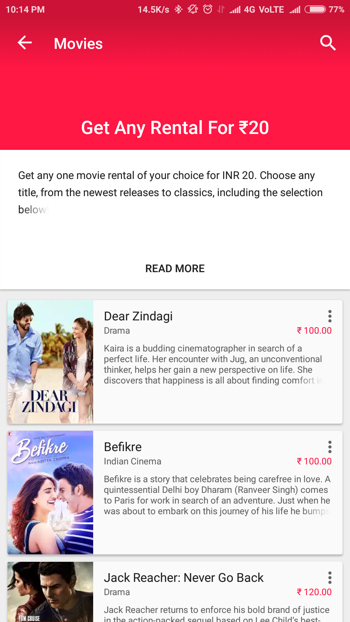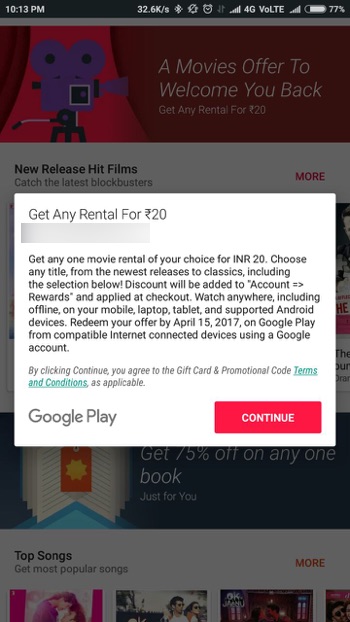 Before you jump the boat and start renting movies on Play Store, let me tell you that the offer is only available for just 1 movie for every account.
Now, you might have a question or two about why you should spend even Rs 20 when you can simply download the movie from Torrent for Free.
And it's just one movie? is it really worth to write about?
Maybe not, but, in the last few months, I have stopped downloading stuff from Torrent and have installed Apps like Hotstar and Jio Cinema.
I also got the subscription of Netflix and Prime Video.
And these apps list most of the movies I am interested in watching.
And the ones that I don't find there, are usually are available on Rent in Play Store.
And I am gladly ready to pay the full amount (i.e Rs 100-150) for that single movie that is not available in the Video Streaming Apps.
So, this answers both the questions.
a) I am happy to use this offer only once, and I think many will be happy.
b) With Jio offering Unlimited 4G Internet, and a Wi-Fi, which is not used much ( thanks to Jio) I prefer streaming the movies over downloading them and setting aside time for watching them.
How to Rent any Movie at Rs 20
Open Play Store and Tap on 'Movies, Book & Games' Section.
Scroll down to find the banner which says 'Get any newly released movie at Rs 20' Tap on it and select any movie in newly release section.
Tap on 'Rent Movie' then select Quality (You can select HD which is for Rs 150) The discount is applied at the time of Checkout.
If you don't  want to add your Credit or Debit Card to Google Wallet, you can get Google Play Recharge Codes from PayTm or Freecharge.