You may already know the benefit of installing a security camera at home or office. Apart from securing your home by other means, installing a security camera for CCTV adds an extra layer of security or at least peace of mind.
If you ever thought of installing a CCTV camera but do not know about the process or do not want to hire someone set up because of their shoe expenses or maybe you do not want a lot of cameras and all that professional setup.
All you want is a camera and the front door, for maybe indoors, so that you can take a look at it while you are away from home. This type of technology is now easily accessible and available for average consumers as well.
If you go to Amazon or any other e-commerce website, you will find a lot of listings for a security camera or CCTV camera which you can set up yourself.
It is because these home or office security cameras have Wi-Fi which can be connected to your home or office network and then you can install an app on your mobile phone, which lets you access the camera.
There is a range of security cameras available in different price segments, adding more features with increased pricing. So you can easily pick out the ones with the features you want it or within the budget you have.
My requirement was also quite similar. I wanted a security camera in the front door so that I can access it whenever I want when I am away from home.
SriHome SH029 3MP Ultra HD 1296p Wireless WiFi
SriHome is an Indian company that makes security cameras, and a bunch of them are listed on Amazon India.
I picked up SriHome SH029 since it was under my budget and offered the features I wanted.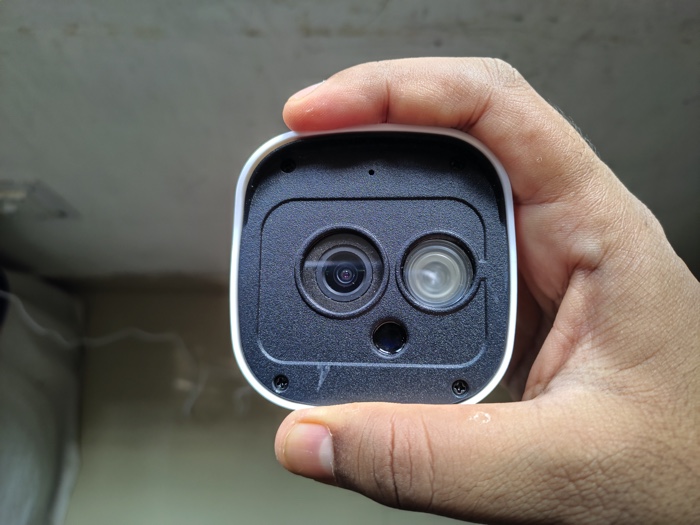 SriHome SH029 has a 3MP Ultra HD camera that can be connected to a Wi-Fi network.
Night vision is also enabled for the camera, which means the camera can view and record things in pitch dark conditions as well.
has a slot for putting Micro SD card which will do the continuous recording. 32GB micro SD card can record video footage for three days continuously; once the card is full, it will automatically start overwriting the previous recording, this will keep going in a loop. Which means you you will have video footage of the last day is if you use a 32GB micro SD card although the specs mention that it supports up to 128GB microSD
SriHome SH029 is a waterproof security camera which means it can be used outdoors as well. It has another exciting feature of two way TalkBack which means it has got a speaker and mic, and you will be able to broadcast your voice using the app installed on your mobile phone.
Plus you will be able to listen to the surrounding sounds as well, and you will be able to interact with someone using the camera which makes it useful in situations when there is someone on the door, and you want to communicate with them.
What do you get in the box
It is interesting to see what things you get in a box when you get a security camera. The more stuff you have, the more time it will take to set up.
But in the box, there is a security camera itself as well as the Wall mount, it with screws and buds provided with it.
The security camera has got it too long USB wire, and you also get a 5 volt USB adaptor with it.
Then there is a manual, which is in English, and you can quickly go through it to find out features and how to configure it to connect it to your Wi-Fi network.
As well as, link with your mobile using the SriHome, the app you can install from the Play Store or App Store for Android or iPhone respectively.
Does it work as intended?
There aren't too many features promised with this security camera that is listed on Amazon India for Rs 2600.
I tested out the features this security camera offers to see if they war or is this camera reliable as a security camera if you are planning to use it at your home.
The process of connecting it to the Wi-Fi network is secure, E and to do that you need to install the SriHome app on your mobile phone and after that start follows the instructions.
Make sure the Wi-Fi network has 2.4 GHz available because it only supports this frequency.
When the camera is connected to the power source, it makes some sound to let you know that it has been turned on. Once it gets connected to the internet, you will be able to access it from the app on your mobile phone.
From the settings area of your mobile phone, you can update the timeStamp on the camera along with the options to view the video in SD or HD
If you put micro SD the card into the camera, it will start recording the video right away and will continue to record as long as it is powered on. If there is a power cut, it will stop recording, and once the power is back, it resumes recording.
The limitation is you cannot view the recorded footage on the SD card, which means if you want to check the recording of the whole day, you will have to manually take that SD card out and access it on your computer or mobile by connecting it using a Micro SD card reader,
Some people complain that every time there is a power cut the time stamp on the camera is reset to default, but in my testing, I switch on and off the camera several times but the time stamp remained what I had set.
I also tested night vision which works as intended. When there is sufficient light available, it usually operates, and the moment no lights sources available, it switches to night vision mode. And when the light source is open again, it's which is back to the normal mode
Limitations of the security camera?
And the price of Rs 2680 is undoubtedly packed with features and can be trusted to work as intended. However, I found some limitations.
The first imitation is it has got a USB code, and since the court is only 2 meters long you would require a socket in its proximity, and it needs to be e beyond the reach of other people maybe if you want to use it outside your house try keeping the connection inside.
If you don't have an inverter at home, which will ensure that the security camera is connected to the power source 24/7, there could be a workaround of connecting the USB cord to the power bank.
And then keeping the power bank connected to a power outlet which would mean that the camera could run using the battery of the power bank. However, I haven't tried it yet.
Another limitation I came across is there is no way to access the footage recorded in the micro SD camera remotely. The only offers live view. Few models have this option that let you access the video saved on the micro SD.
At least there should be a way to view the footage on the microSD camera whenever you are on the same network which would mean there would be no data upload on a cloud network, use of internet bandwidth.
This limitation could easily be overseen looking at the price and the ease of set up, you will get with this security camera.
A professional team would set you back a couple of thousand rupees if you wanted to set up a few cameras.
With this do it yourself security camera setup, you can buy as many security cameras you want to use and then set them up on your own, add them in a single app, and have a peace of mind of having access to your home or office when you are away.
You can get home SH029 3 MP Ultra HD wireless Wi-Fi security camera Amazon for Rs 2600 (the price varies between Rs 2300 to 2800)