If ou is a Jio user then there is a Happy News just breaking out on the Internet. Jio has brought yet another offers under which their Free Happy New Year Offer will be extended for another 90 days. that is, till June 30 June.
MD of Reliance Industries, Mr Mukesh Ambani made an official statement which you can read at the end of this article.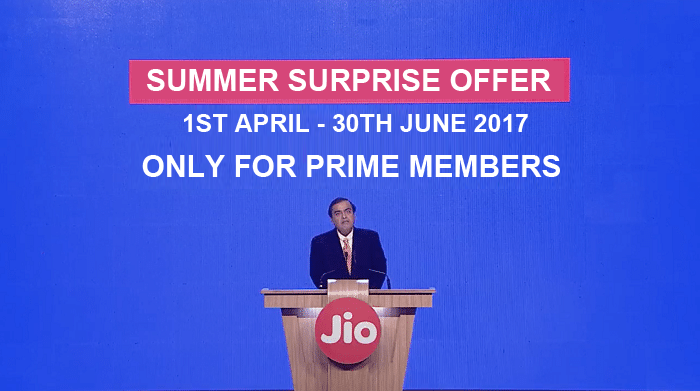 How to Avail Summer Surprise Offer?
Well, even though the Happy New Year Offer is being extended, users will still have to enrol for the Jio Prime Membership, which costs Rs 99/ Year.
And then do a recharge of Rs 303 to get the Extended Offer.
Prior to the Summer Surprise Offer, Jio brought the Prime Membership (Rs 99/ Year), under which users could enjoy the same benefits of Happy New Year Offer, that is, 1GB 4G Data/Day, Unlimited Calls, Subscription to their Premium Apps, 100 SMS/ Day, for Rs 303/Month (28 Days).
Now under the Summer Surprise Offer, Users will get the same plan of Rs 303 for three months, which comes to Rs 101/month for next three months.
Which means it's technically not Free, but you'll be paying Rs 101/month till June, then, maybe if Jio doesn;t bring another similar offer, you'll have to continue their Rs 303/month plan.
Earlier the Last date for Prime Membership Subscription was until 31st March, which has been also extending to 15th April.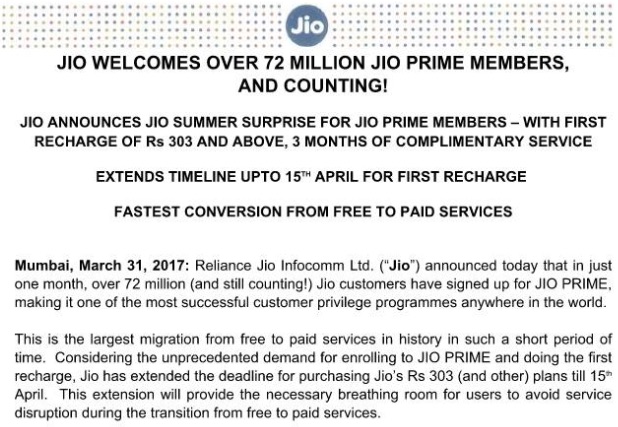 Things You Need to Know
Enrol for Prime Membership by doing a recharge of Rs 99, and do a recharge of Rs 303. To Extend Happy New Year Offer until June 30th.
The Last date for opting for this offer is 15th April 2017.
This Offer is only valid for Rs 303 Recharge or Higher Recharges
The Recharge of Rs 149, which offers 2GB 4Data/month, Unlimited Voice Calls, will not be eligible for the Summer Surprise Offer.
Summer Surprise Offer is basically getting two extra months for recharge of 1 month, which Mukesh Ambani calls a SHAGUN, read his entire statement below.
Dear friend,
In India, we have the fine tradition of SHAGUN – offering gifts on auspicious occasions.
For us, your first recharge is an auspicious moment. Therefore, we want to offer a token of our appreciation and gratitude to all JIO PRIME members… the JIO SUMMER SURPRISE.
Every JIO PRIME member – when they make their first paid recharge prior to 15th April using Jio's Rs 303 plan (or any higher value plan) – will get services for the INITIAL 3 MONTHS on a complimentary basis. Your paid tariff plan will be applied only in July, after the expiry of the complimentary service.
This complimentary period will also help to familiarise Jio customers with Jio's fully digital, self-service process of using the MyJio app to perform recharges and to set up digital payment methods for further purchases. The JIO SUMMER SURPRISE is the first of many surprises for our JIO PRIME members. Details of JIO SUMMER SURPRISE will be available on the Jio website (http://www.jio.com).
I invite all Jio customers to take full advantage of the extended timeline, as well as the JIO SUMMER SURPRISE, and complete the purchase of Rs 303 (or higher) plan well before 15th April.
All JIO PRIME customers who have already done their first recharge of Rs 303 (or higher) before 31st March will get the benefit of JIO SUMMER SURPRISE without any further action on their part.