Jamai has just released the latest version of their custom Android ROM the MIUI 10 and it brings a lot of new features to the OS.
In this article, we will talk about some of the best features that have been introduced in MIUI 10.
1. Welcome the new gestures
With smartphones adapting all screen display, there is hardly any room for navigation buttons and this is where the gestures come in handy.
Xioami has added support for gestures in MIUI 10, and it clearly shows that the company would be launching more smartphones with all screen display where gestures will play a crucial role in using the phone.
You can swipe up from any app to go to the home screen or swipe up and hold to axis recent menu justice.
You can also swipe from the left edge of the screen to go back, Which is inspired by the iOS.
You can swipe from the left or right edge of the screen and hold to go back to the previous app instead of going to the back page.
2. New UI for the recent menu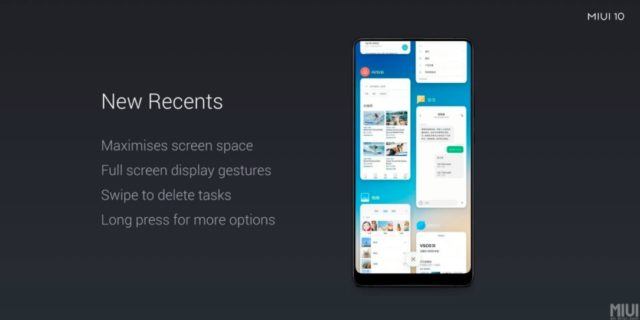 There have also been in changes in the UI of the OS, such as, the recent menu now showed all the recent apps in a mosaic pattern vertically, and you can scroll down to access all the recent apps, Saffron the one you want to relaunch.
3. New volume slider and Notification Shade
The volume slider and Notification Shade In MIUI 10 look pretty much like the Android p, perhaps heavily inspired from the same.
Increasing or decreasing the volume using same volume rocker will make the volume slider appear on the right-hand side so that you can easily control the volume by swiping up or down on the screen, there is also an on-screen button to turn the smartphone silent over in DND mode.
4. The Picture-in-Picture mode (PiP Mode)
Finally, the Picture-in-Picture more is available in MIUI 10 that was introduced in Android Oreo.
Xiaomi had somehow disabled this functionality in their previous versions, which was based on Android Oreo.
This picture in picture functionality was available in quite a handful of Smartphones and is really useful for multitasking, you can keep watching a video in PIP mode and do other things on your smartphone such as replying to a text message or checking your Facebook feed.
5. A well-thought 'Apps manager'
The MIUI 10 ATS new section inside the security app called manage apps. It will let you manage all the installed apps and you can check for updates for the apps or find out dual apps on your smartphone or check out what permissions you have granted to the apps.
You can also that delete apps in just a few tabs.
6. Improved screen recording
The MIUI had a screen recorder built right into the OS, which is quite handy for recording your screen for tutorial purpose or simply recording a gameplay.
The screen recording app will now record system files which means that sounds that are coming from an app when you recording the screen, which is pretty cool since the quality of audio will be much better since it will be directly recorded internally without the sound going through the microphone.
7. Autofill support in MIUI 10
Autofill support was it used in Android Oreo but the MIUI 9, built on top of Android Oreo, did not have the support.
For those who don't know about it, the autofill feature comes quite handy when you are login into an app senior since you don't have to type in your username and password manually, I remember your long unique passwords.
Finally, the xiaomi smartphone users will be able to enjoy this feature in MIUI 10
8. A bunch of new 'AI Features'
So almost every smartphone maker has been introducing AI features to the smartphone. And xiaomi has also done the same with MI Y 10 as it brings tons of power features along with its own personal assistant (though, currently the voice assistant only supports Chinese language.
The AI preload feature will reduce the app load times to zero by studying your behavior and anticipating your actions.
There is also an AI portrait mode which will use the AI to take pictures with bokeh effect, something Google pixel does weather.
Apart from these features, there are many more that have been introduced in MIUI 10 and we will talk about them in our future post as we discover them or find them useful.
You can like our Facebook page for getting instant updates related to technology or turn on the notification for getting notified for our articles by tapping the red button on the bottom right-hand side.
MIUI 10 update – Eligible devices
Several new and old devices will be receiving the MIUI 10 update. So check out this list to know whether your Xiaomi smartphone will receive the new MIUI update.
China Developer ROM (closed beta) 
June 1st
Mi 8, Mi MIX 2S, Mi MIX 2, Mi MIX, Mi 6X, Mi 6, Mi 5, Mi Note 2, Redmi S2, Redmi Note 5
China Developer ROM (public beta) 
Late June
Mi 8, Mi MIX 2S, Mi MIX 2, Mi MIX, Mi 6X, Mi 6, Mi 5, Mi Note 2, Redmi S2, Redmi Note 5
Late July
Mi Note 3, Mi 5X, Mi 5c, Mi 5s, Mi 5s Plus, Mi 4, Mi 4c, Mi 4S, Mi Max 2, Mi Max, Redmi 5, Redmi 5A, Redmi 5 Plus, Redmi 4, Redmi 4A, Redmi 4X, Redmi 3S/Redmi 3X, Redmi Pro, Redmi Note 5A, Redmi Note 4 Qualcomm/Redmi Note 4X, Redmi Note 4 MTK, Redmi Note 3 Qualcomm