If you are an Indian citizen you might be aware of the importance of Aadhaar card.
It has been made mandatory by the government of India to have an Aadhaar card to avail government schemes or do any kind of financial transaction.
Applying for an Aadhaar Card is quite an easy process.
You have to apply it online, then visit a physical centre nearby your area with the required documents to get it done. (More info on this below)
Similarly, rectifying something on your Aadhaar card or simply changing the address, if you have changed your location, is also as easy as applying for the Aadhaar card.
Just visit the local enrolment Centre to rectify the errors that have happened in your Aadhaar card.
According to the new guidelines by UIDAI (Unique Identification Authority of India), the change of Date of birth can be done only once at the enrolment centre, for making the change again you will have to visit the regional office (this can be found on the UIDAI Portal)
For other changes, such as change of address on the Aadhaar card, you can visit the nearest enrolment centre, how do it on the UIDAI portal.
The UIDAI will be sending a pin-based verification on the new address and the Aadhaar cardholder will have to enter the pin received by post to confirm their address on the UIDAI portal.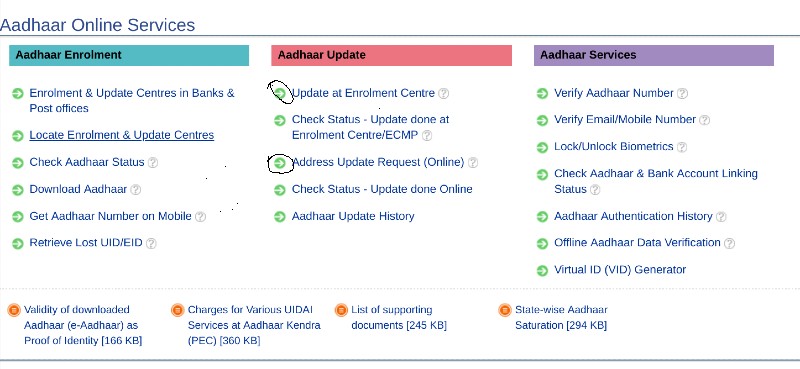 When you visit the UIDAI Portal, you will get the following options in the second column in the Aadhaar Online Services section.
The first link gives you information about making updates at the nearest enrolment centre.
The third link takes you to the online form to change address online.