If are worried about the recent policy change in the WhatsApp that will now share the personal data of users with Facebook. Do read this post and clear some confusion, get some relief and learn to opt out of it.
There are only three apps that have crossed the 1 Billion installs mark on Play Store. Facebook, Facebook Messenger and WhatsApp, and Coincidentally WhatsApp is now a part of the  Facebook company, so all three are from Facebook.
Why should the end user be bothered about it?
Facebook has always been known to be shameless about using user's private data to sell more ads.
For example, when you create an account on Facebook, it uses your personal data to show you more personalized ads.
A Teenager single girl who likes rocks music and lives in the US will see a different ad then a teenage girl in a relationship who lives in the US, or a 20 something guy, or a married man or a woman.
The thing is, Facebook knows what's your age is, where you live, what you likes (and dislikes) as when is your birthday, your engagement, whether you are single or married or divorced. Basically, it uses this data to serve the ads you would be interested in.
And now it wants to share your WhatsApp data with Facebook in order to understand you better and make those ads more personalized.
This is why they have now updated their privacy policy and asking you to agree with it.
If You Agree with it
Your WhatsApp number, contacts, chats may be shared with Facebook and it will give more options to the advertisers to make their ads more effective.
Now, don't assume there is some guy sitting in the offices of Facebook or Whatsapp, reading your messages day and night.
It can't actually happen, considering there are more than 1 billion active users on WhatsApp. The data will be analyzed using the algorithms and   categorized for the advertisers.
So don't worry, no one will know about your secret love affair unless someone Real will read your messages. (Well we can't help you on that).
How to Opt out of the WhatsApp-Facebook Data Sharing Policy?
I personally never found this issues big enough to care about, a part of my life that I put on Facebook is meant to be seen by people so I won't be offended if Facebook uses it to show my ads of product I would be actually interested.
But, there are people who hate it, and for them, there is an option to opt out, it's just neatly hidden by Facebook.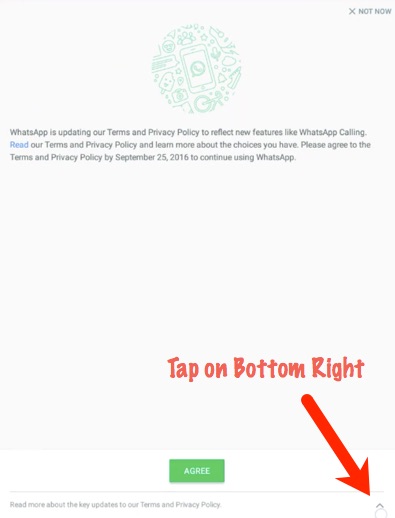 So, if you haven't got that popup telling you about the new policy, you will get it soon, and when you do, just tap on the bottom right to see more of it and un-check the box.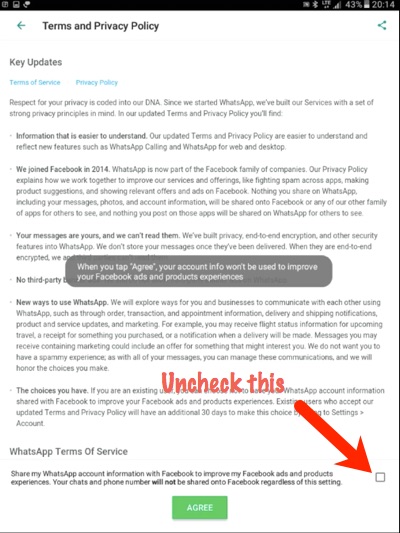 Refer to the video I shared on Facebook (BTW You can follow us on Facebook also #ShamelessPlug)
Hopefully, this will give you some relief and those worried souls can get a good night sleep.
That's all for this blog post, let me finish my Lemonade. :-)