Xiaomi has launched the second generation of their camera-centric smartphone this year, I am talking about the xiaomi MI A2
It is soon to be made available in India, which is a big market for xiaomi.
So much that a lot of people have been looking forward to its launch here in India. I have spent some good amount of time reading reviews on big Tech sites and everyone seems to have been impressed with the performance of the Smartphone, especially the cameras.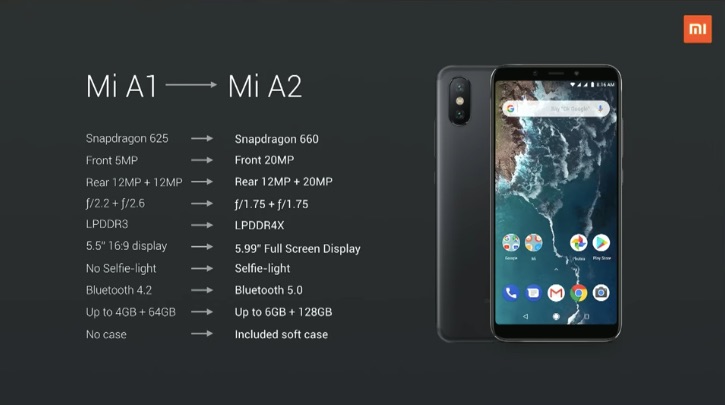 What makes this phone exciting, is its price. The phone belongs to the mid-range segment where hardly anyone cares about mastering one particular area in a smartphone.
With all the good specs and improvements in the camera department, the smartphone is quite a deal at a price of 249 euros for the 4GGB/32GB Model, and 279 euros for the 4GB/ 64GB Model (this will be roughly converted into Rs19,800) -> Official Pricing of the 3GB/32GB Model is Rs 17,499/-
The reason, I think this is an affordable Pixel that Google never gave us, is, specifically because of the improvements to the camera.
There are few other things that this Smartphone offers that has been exclusive to Google Pixel Smartphones for quite some time.
With xiaomi MI A2, all the users will be getting unlimited storage on Google photos to store their high-quality photos.
Google does offer unlimited Storage for photos if you let it optimize them, but if you want to store them in their actual size, it only offers 15 GB of Free storage.
It might be enough for a lot of people but not having to worry about the storage a bit of satisfaction.
It tells us that xiaomi wants us to use the smartphone to take a lot of photos. It knows that people who love to take photos from their smartphones and are on a budget would be getting this Smartphone. So, I think it is an added benefit to buying this Smartphone.
Apart from the unlimited storage, which is exclusive to Google Pixel phones, the xiaomi MI A2 comes under Android One, which is Google's initiative to bring timely updates two devices for at least 3 years after the launch.
Which brings me back to my point that it is indeed an affordable Smartphone that Google should have given us.
A smartphone that can take pretty good pictures, a smartphone that does not worry as about storage, and a smartphone that is one of the first devices in line to get the updated software from Android.
I am planning to buy this Smartphone when it launches in India, which is happening on August 8. In the smartphone would be available online on Amazon.in, maybe after a week or so. I may be updating this article once we get a particular date.
Check out this article for Spec, Price, and Availability
Xiaomi Mi A2 and Mi A2 Lite has Finally Launched, Check Specs, Price and Availability