Xiaomi has announced that Redmi Note 5 Pro will be available for pre-orders on their official website mi.com/in, where you will get the option to pre-book the smartphone which you will be getting a 2 to 4 weeks time.
Xiaomi's newly launched smartphone, the Redmi Note 5 Pro has been crowned as the best value for money smartphone in the budget segment, but sadly it's tougher to get your hands on the smartphone since the phone was primarily available in the Flash Sales, which usually last a couple of seconds.
They were controversies around the authenticity of the Flash Sale since a lot of users were unhappy seeing the smartphone out of stock even before adding it to the Carts.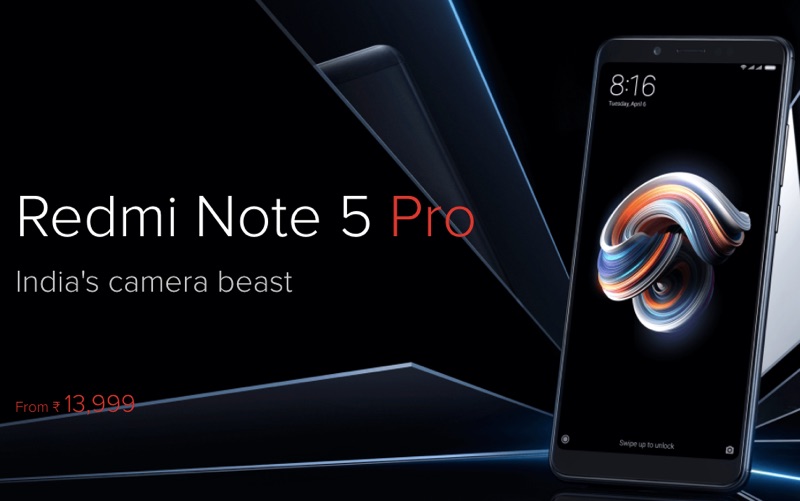 Looking at that situation Xioami has now finally announced that it will be making the phones available and will let everyone to pre-order them on their website.
Things you should know about the Preordering the Redmi Note 5 Pro
If you are interested in buying the smartphone, you will have to pay the full amount of the smartphone at the time of pre-order.
The cash on delivery option is not available for pre-booking the phone.
The phone will be shipped to the buyer in 2 to 4 weeks time span after booking it.
If you change your mind before the phone is not delivered, you can cancel the order and get the full payment back
This move came from Xioami after a lot of its fans complained the unavailability of the smartphone in the Flash sales, there were reports that the phones were being black marketed on a higher price, either offline or on classified sites like OLX.
To tackle the black marketing problem Xiaomi suspended the Cash on Delivery (COD) option on the Flash Sales, but it hardly made any difference since people were still not able to order it.
We have actually written a post about Redmi Note 5 Pro alternatives that you can buy right away without having to wait for the next Flash Sale, and looking at the number of people who are visiting the page, true Xioami fans will be happy that there is now some way they can get a hold of the Redmo Note 5 Pro without paying any extra.
While the Redmi Note 5 Pro will be available for preorder, the Redmi 5 and Redmi Note 5 are available in Open Sale, so if you want to avail the Cash On Delivery option and do not want to wait for weeks you can still go ahead and buy either of the smartphones.
Buy Redmi Note 5 from Flipkart 
Check out Redmi 5 on Amazon.in