OnePlus launched the latest flagship for 2018, the OnePlus 6 just a few weeks ago, and now xiaomi has also launched their flagship for 2018, the Mi 8.
Though the Mi 8 is currently available only in China, it is speculated that the smartphone will be available in other markets as well.
Since both, the smartphones have got high-end specs and available in the similar price range of $400-$500, it will be interesting to compare both the smartphones and see which one brings more value for your money.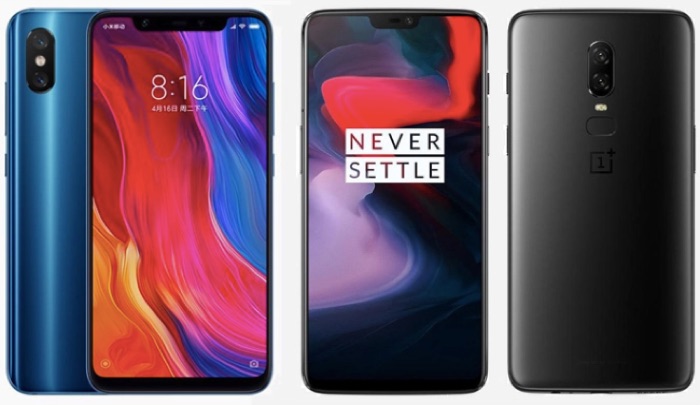 If you are in the market for buying a new smartphone that has got a high and spec then probably it this person will help you pick the best one for yourself.
Let's talk about the design
If you talk about the design, Budget smartphones have got the beautiful design since both are the flagship, in fact, has the tagline of OnePlus phase, the flagship killer. Because you don't really see such a carefully crafted smartphone at the given price.
Both are smartphones have got and all front screen with a knot on the top that hosts all the sensor and front camera, both the smartphones are near bezel-less.
Both the smartphones offer 19:9 of aspect ratio and a full HD resolution. And both the smartphones have an attractive glass back with the logo of branding respectively.
Xioami Mi 8 comes with super AMOLED display on a 6.2-inch screen, while OnePlus 6 has optic MI LED display on the 6.28-inch screen.
Let's talk about hardware and software
Good smartphones are powered by topnotch Qualcomm Snapdragon 845 which runs at a max frequency of 2.8 GHz. OnePlus 6 comes in three RAM and Storage variants, that is 6 GB of RAM and 64 GB of internal storage and 6 GB of RAM with 128 GB of internal storage, and 8Gb of Ram with 256GB of Internal Storage.
On the other hand, Xiaomi MI 8 has, 6 GB of RAM 2 offer with 3 different variants for storage, as 64GB, 128 GB, 256 GB.
Other than that Xioami Mi 8 has a slightly wider not then OnePlus 6 because it also contains iPhone X like infrared sensors for 3D facial recognition, which is not present in any other Android smartphone.
Both the smartphones have got custom ROMs build on the latest version of Android. OnePlus 6 runs on OxygenOS which is said to be almost similar to the stock Android experience with some extra features, while Mi 8 has got MIUI 10 out of the box. The MIUI 10 also brings some cool features which can no more about by reading this article.
Let's talk about the camera
It will be unfair to compare camera performance of both the smartphones without actually having to try it, so we will only talk about what is it there on the paper.
Both the smartphones have got dual camera setup. OnePlus 6 sums with 16 + 20 MP dual camera set up with f/1.7 aperture, while the Xioami Mi 8 has 12 + 12 MP dual camera setup with f/1.7 a f/2.4 aperture. The primary camera sensors of both the smartphones have got optical image stabilization and are capable of recording 4K videos.
Let's talk about the battery
Xioami is known for putting larger batteries in their smartphones, and this is true in the case of xiaomi Mi 8 as well, it has got a 3400mAh battery versus 3300mAh battery on OnePlus 6. So the difference is just over 100mAh, which is not so huge.
Both the smartphones are equipped with fast charging capabilities.
There is a comparison of the specifications
Xiaomi Mi 8
OnePlus 6
DIMENSIONS AND WEIGHT
154.9 x 74.8 x 7.6 mm, 175 g
155.7 x 75.4 x 7.8 mm, 177 g
DISPLAY
6.21 inches, 1080 x 2248p (Full HD+), 19:9 ratio, Super AMOLED
6.28 inches, 1080 x 2280p (Full HD+), 19:9 ratio, Optic AMOLED
PROCESSOR
 Qualcomm Snapdragon 845, octa-core 2.8 GHz
Qualcomm Snapdragon 845, octa-core 2.8 GHz
MEMORY
6 GB RAM, 64 GB – 6 GB RAM, 128 GB – 6 GB RAM, 256 GB
6 GB RAM, 64 GB – 8 GB RAM, 128 GB – 8 GB RAM, 256 GB
SOFTWARE
Android 8.1 Oreo, MIUI 10
Android 8.1 Oreo, Oxygen OS
CAMERA
Dual 12 + 12 MP, f/1.8 + f/2.4, OIS
20 MP f/2.0 front camera
Dual 16 + 20 MP, f/1.7 + f/1.7, OIS
16 MP f/2.0 front camera
 BATTERY
3400 mAh, fast charging (Quick Charge 4.0)
 3300 mAh, fast charging 5V / 4A (Dash Charge)
ADDITIONAL FEATURES
Dual SIM slot (No Storage Expansion Slot)
Dual SIM slot (No Storage Expansion Slot)
Let's talk about the price
Well, it is still unclear when xiaomi MI 8 will be launched in other markets, it will be costing somewhere around $420 which is a rough conversion of 2699 Yuan, the price it is available for in China right now.
OnePlus 6 is already available in global markets and is priced at around $500. So, Xioami's Mi 8 is $80 cheaper than OnePlus 6. But if you look at the specifications, there is not much of a difference that could justify spending that extra $80.
So, Xioami Mi 8 is definitely the most value for money smartphone considering it gets launched in other markets as well. There is only one reason anyone would want to go with OnePlus 6, and that is, 'Brand Loyalty'. But if it does not matter to you much then Xiaomi Mi8 should be your pick as well.