Opera has always been an underrated Browser, a decade ago, when smartphones who are only capable of opening wap versions of websites, Opera browser that made its entry to the Mobile World.
It was one of the first browsers to give complete browsing experience on mobile phones, especially Nokia.
But with the downfall of Nokia and rise of Android smartphone, Opera wasn't fast enough to switch sides to stay relevant.
It was too late when Opera made its entry into the Android ecosystem, it's really is for the iOS was delete the folder.
Despite having a delayed entry, the Opera browser has been working very hard to bring amazing features to it's Android. We have seen a lot of iterations of its Android browser over the last few years.
The current version that is available in 2018 looks matured and drinks features required in a modern mobile browser.
But, does having all that functionality, make it a suitable browser that can replace Chrome for Android? Let's compare them both.
Let's talk about the user interface
The look and feel of both the browsers, Chrome for Android might look more familiar to you in case if you are using it already, but if you look at Opera browser after installing it or maybe giving it a few hours of usage, you will realize that the user interface of Opera browser is actually better than Chrome for Android.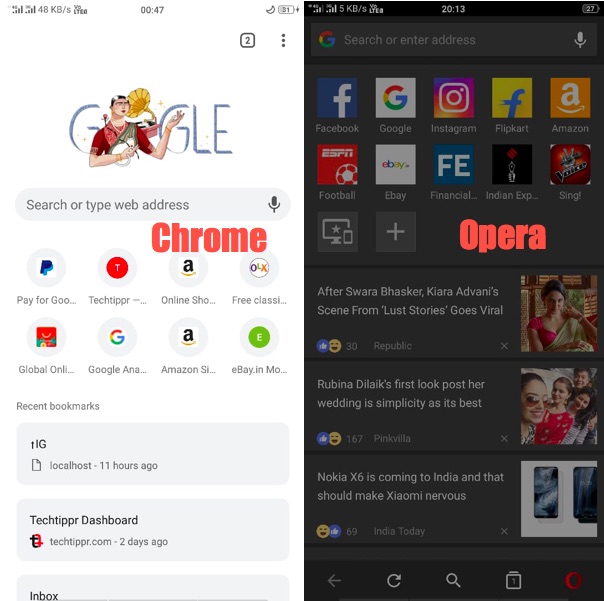 The navigation buttons in Chrome for Android or on the top while they are at the bottom of the Opera browser. Having the navigation buttons at the bottom makes it easier to switch between the tabs.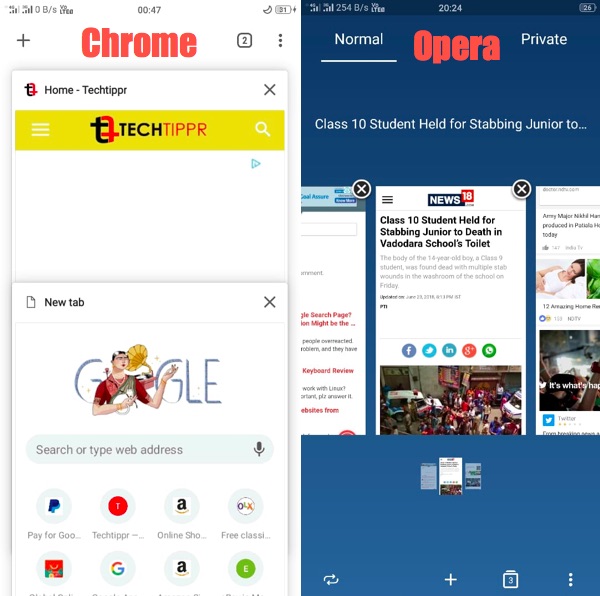 Though there is a workaround to move the navigation buttons in Chrome for Android at the bottom, which also brings the address bar town. It makes things easier especially when you have a smartphone with larger screen size, and mostly all the smartphones in the market these days have 6-inch of screen size on an average.
Both the browsers have personalized home page, with a reading section where news appears based on your browsing activity. In Opera, it also has a location-based section for articles.
Let's talk about exclusive features
Talking about exclusive features of Chrome for Android, the password manager is going to be really helpful if you use Google Chrome on your desktop as well. And it is perhaps one of the biggest reasons why people use Chrome for Android.
While Opera also has a similar type of feature where the bookmarks and login details on websites are synced across various platforms, we all know the market share of Opera on desktops, so you hardly be using this particular future if you are using Opera only on your mobile phone.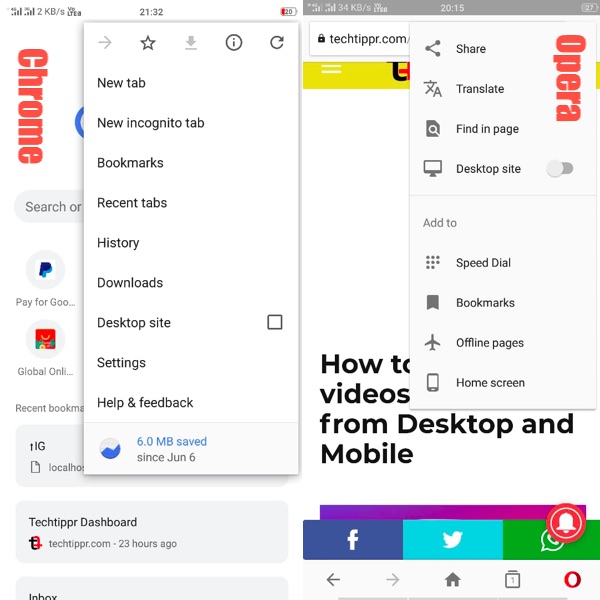 There isn't too much to talk about in both the browser since both are quite minimal and focus on giving a better browsing experience. However, the Opera browser has a night mode which is quite useful if you have a habit of browsing the web When The Lights Are Off.
Apart from the dark mode, Opera browser also supports themes and currently, it's Light, Dark, Red.
The browser also has a feature of blocking ads which can be enabled or disabled using a toggle button.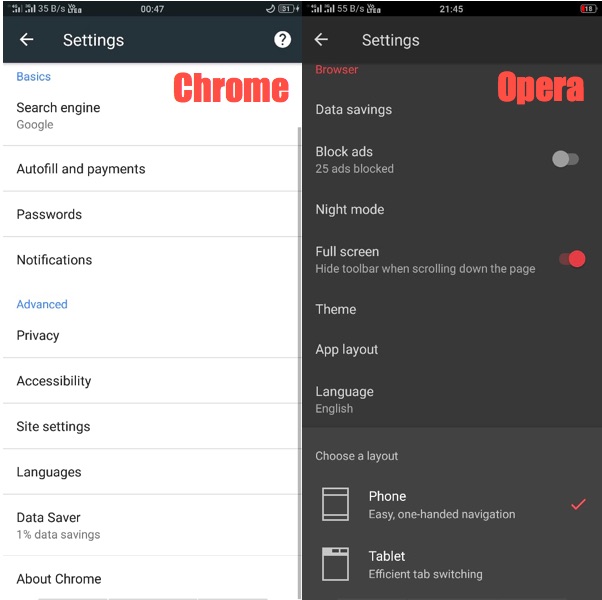 Other features include options to customize the way browser appears. Such as, you can choose to open tabs in background or foreground. You can also choose the app Layout, one will keep the navigation at the bottom and the address bar on the top and the other will stacks them together on the top.
You can turn on the full-screen option to browse pages in full-screen mode, with the notification bar is hidden unlike in the Chrome.
Final Thoughts
Despite all the similarities and differences between these Browsers, it all boils down to just one point. The choices aren't that tough to make, if you use Google Chrome on your PC, your pick should be Chrome for Android, and if you use Opera browser on your PC, it should be the Opera Browser on your Android.
If you are not dependent on Google Chrome to log you into several accounts, then I feel Opera browser brings more features for you to have a better browsing experience on your smartphone.
If I talk about myself, I rely heavily on Google Chrome's Password Manager and autofill, which makes Chrome for Android my primary Browser, but I have also kept the Opera browser just for the night mode and the full-screen browsing option.