Google, Apple, Amazon, three of the big tech giants play a significant role in our day to day life.
We pretty much leave and breathe products and services offered by these companies, from mobile phones to keeping our photos and personal data in the cloud, making the search for information, buying products.
These companies know us better than any other human being would know because we share so many personal things that we share with nobody else.
And when we read reports like these, where the employees of the company is to listen to the recordings, it is a bit scary.
If only there was a solution to delete our voice recordings whatever voice recordings these tech companies have of us.
Recording and saving our voice commands and other records is enabled by default on all these devices.
But, thankfully, these companies offer an option to delete other data as well.
So, in this article, we will be looking at how we can find these settings and delete our voice command history from Google, Apple, Amazon Alexa
Delete voice command history from Google
If you are using an Android mobile phone or dedicated Google Assistant devices, such as Google Home or Google Home Mini, Google has recordings of all the voice commands you have used on Google assistant.
It even records all the voice inputs used in Google search If you are using the microphone button to make searches.
Thankfully, Google also gives you an option to quickly delete everything, however by default it is set to 'Keep everything until you delete manually'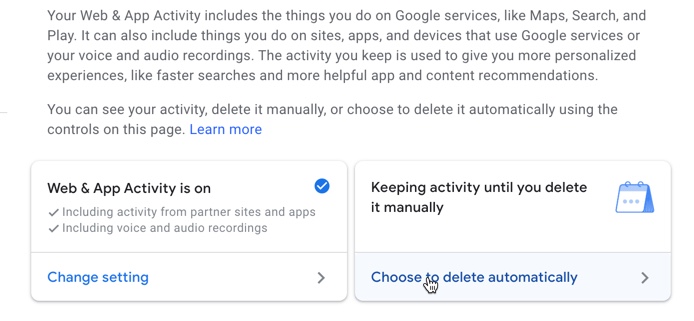 You can change it to delete every 18 months, hockey recording this for the next 3 months and delete it automatically.
You can do this by going to 'My activity' (either click the link to go directly or we can make a Google search).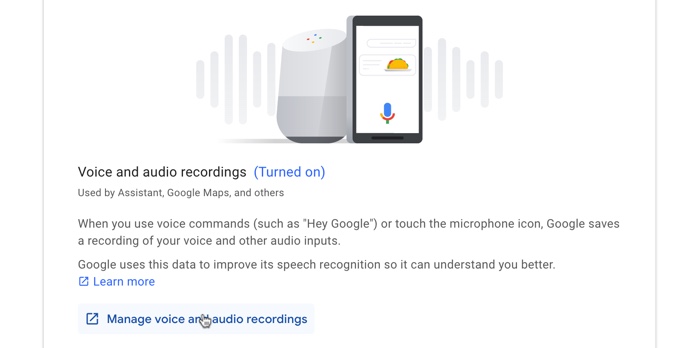 Once you are on the page, find voice and audio recordings, which is turned on by default.
Delete your voice command history from Apple 'Siri' devices
If you use Siri on your iPhone, MacBook, or iPad, Apple gives you an option to delete all your history by going to the settings area for Siri in your device.
For example, if you want to delete it from your Mac OS, you can go to 'System Preferences' and then find Siri, where you will have a bunch of options, along with Siri history.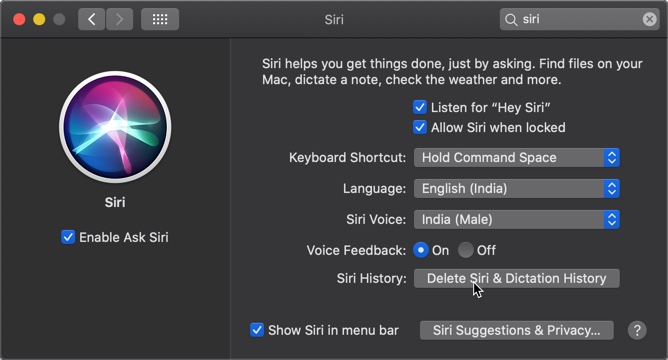 And you will be able to delete 'Siri & Dictation History' all at once from the Apple service.
You can do this from every device where you use Siri on.
Delete your voice command history from Alexa devices
On the Amazon website, you can look for Alexa Privacy deep under the settings of your account, here is the direct link if you have already logged in to your Amazon account.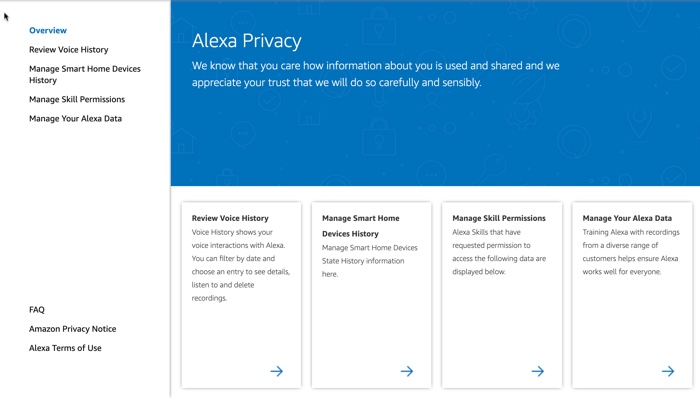 On the same page you can go to the the review voice history of Alexa, where you will find the the recording history of all your commands you have used on Alexa enabled devices.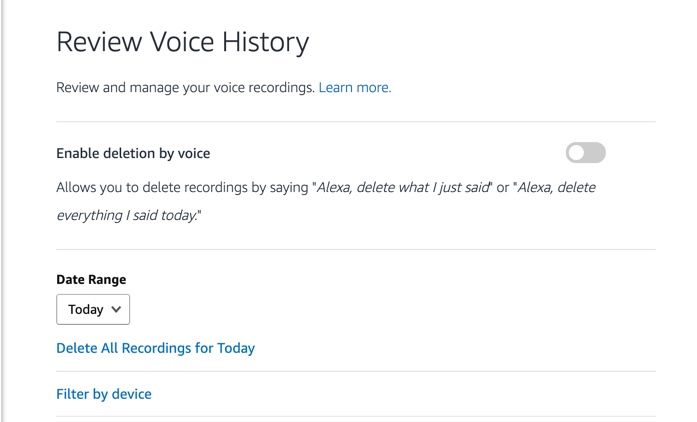 I get the option to delete all the recordings, or you can select them manually as well.
You also get the option to enable deletion by voice which means you can give command to Alexa to delete your voice recording history.