The Sony Z1 camera was launched in August 2020 at Rs 77000, and the international price was $799, although it was available for $749.
I bought it in October 2020, and the current price of the camera in India is Rs 59990, and the international price is still listed as $799. I found a listing on Amazon, which is selling it for a lower price. You can check the current price.
Subscribe to our YouTube Channel
And if you are from India, there is a festive season going on where the Sony Z1 camera is available for Rs 57990.
You can pay Rs 10,000 extra in India or $100 in the US to get the content creators' pack, which bundles a couple of other accessories, such as an additional battery and an all-purpose Bluetooth enabled Camera holder / Mini Tripod.
The accessory gets connected to the camera via Bluetooth and has dedicated buttons for recording videos and zooming in and zooming out.
Let's Unbox the Box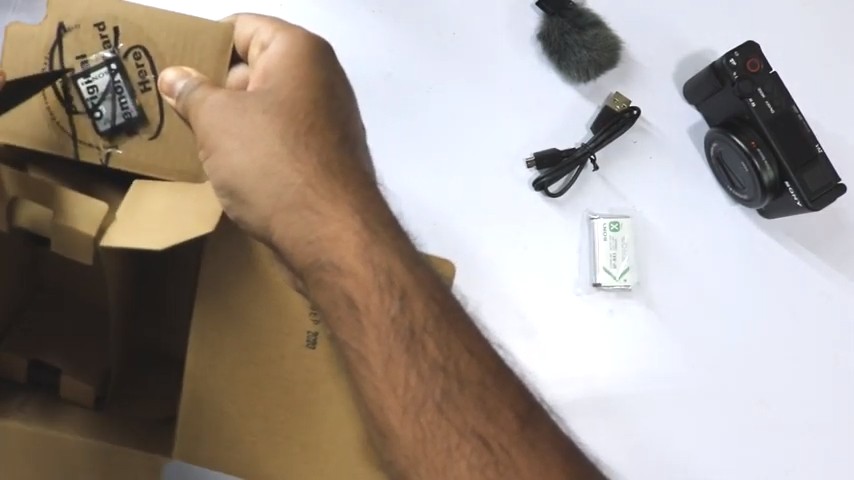 I did not get the bundle because of mainly two reasons. One is the price, and the other one is the compactness. It's a Point & Shoot camera that can shoot 4K videos and fit into your jeans pocket, and the accessories just another thing to carry. Besides, you can always get a tripod or selfie stick for 1/5th the price you will pay for it.
Fortunately, in the basic box, you still get a 64GB SD card and windscreen that goes on top of this camera's inbuilt microphone.
Other than that, it has a micro USB cable, which is not of excellent quality, but you may already have got a lot of micro USB cables around. There is no adaptor given, but you can charge the battery by plugging directly into the camera.
The battery included in the box is NP-BX1. It's pretty small and has a capacity of 1240mAh. If you plan to record 4K videos on this camera, it will not give you a lot of recording time.
But the good thing is that there are third-party supported battery is are available. I saw a listing where a pack of two batteries was available for just $15, along with the charger. You can check the current price on Amazon.com.
The inbuilt microphone on the camera is placed on top and is directional, but will have to test it out. There is a hot shoe mount beside it, where you can clip in the windshield provided in the box.
Sony has not given flash on this camera, unlike other Point-&-Shoot cameras, but that also gave them room to put on a hot shoe Mount and a better set of microphones that can be useful.
Let's talk about the Camera Body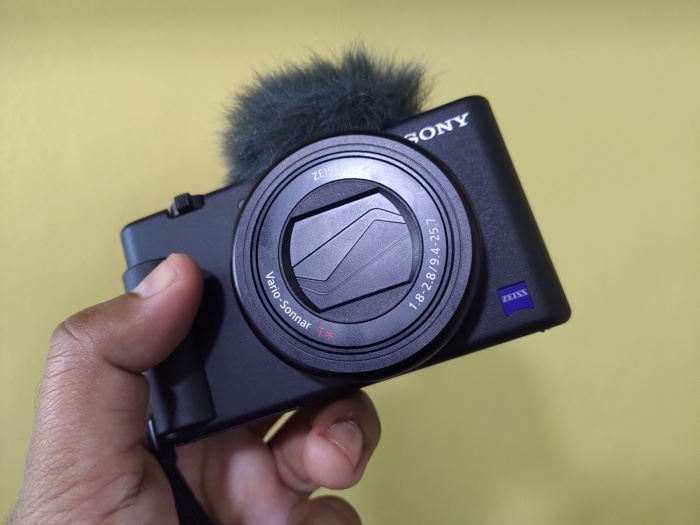 It has a plastic body. Comparing it to Canon G7X Mark II, a popular Point & Shoot camera, and pretty popular among YouTubers, even though the Canon G7X Mark II is almost three years older, it looks more premium the metallic built quality.
The metallic build quality also makes cameras heavier, Sony Z1 is lighter, and the Canon G7X Mark II feels more premium.
There are many more differences between both the cameras and since I have got both of them, I will be making a video comparing both the cameras.
There are many improvements in the Sony ZV1 camera, and many things have been addressed to make it the best camera for YouTubers. Sony is heavily promoting it as a camera for content creators.
One thing you will notice about the Sony ZV1 camera is that it does not have a flash. Also, there is no menu dial on top of the camera. What Sony Z1 camera does offer instead is an improved directional microphone and a Hotshoe mount.
Let's talk about the Output Slots on Sony ZV1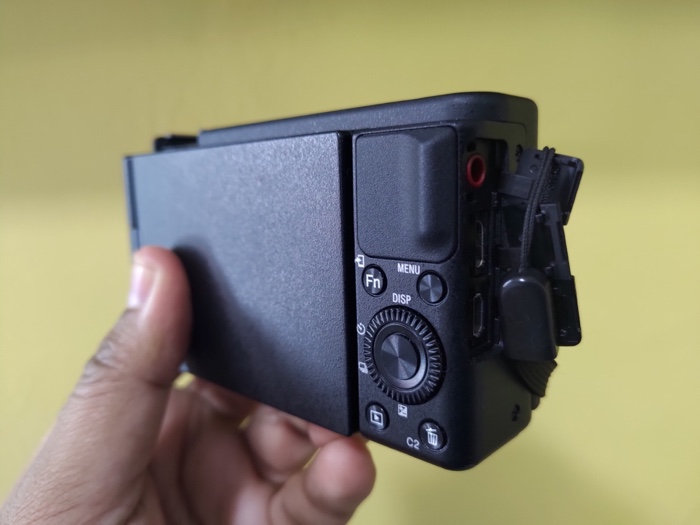 The fact it has an option to attach an external microphone makes it superior to any other compact Point & Shoot camera that does not offer an audio input slot.
Apart from the 3.5 mm microphone slot, the camera also has a micro USB port, which can charge the battery. The good thing about it is that the micro USB cable can directly power the camera, so you can use your mobile phone charging adaptor for power bank without having to worry about the battery getting drained out.
Micro USB slot can also be used for transferring data from Sony Z1 camera to laptop. And if you want to share photos and videos on your mobile phone for some reason, you can install the mobile app from Play Store or App Store for Android or iPhone, respectively.
The mobile app also lets you free your shorts and press the shutter button, which means it works as a remote for your camera.
Apart from these two slots, there is also a mini HDMI start available. You can use it to connect it to a monitor.
Sony Z1 can also be used as a webcam if you download the Sony app on your mobile. I will be writing a detailed article talking about using Sony Z1 camera or any digital camera as a webcam. Maybe I've already written (which depends on reading this article) to use the search box on the website to search for it.
Let's talk about the Buttons on Sony Z1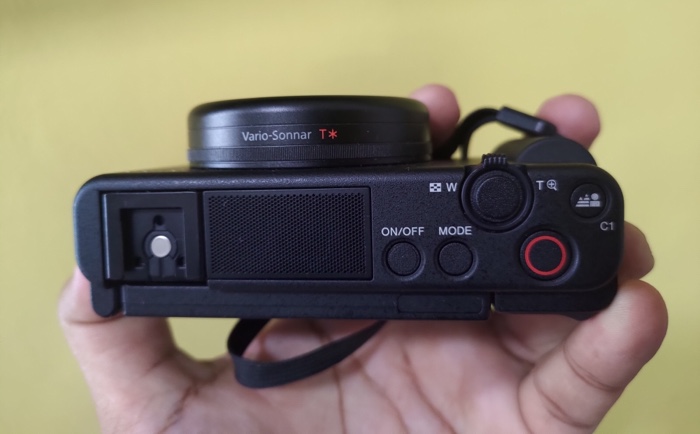 I'm not too fond of too many buttons on a camera because it makes things a little overwhelming. And the Sony Z1 buttons are not overwhelming. On the top, you have the shutter button, which also works as a record button for videos. The red ring on the record button makes it easy for you to understand what it will do.
There is an on-off button along with a button for changing different modes. And then, there is a dedicated button for activating Defocus mode.
The Mode automatically brings the settings in the camera that make the background blur, giving you a cool looking photo or video.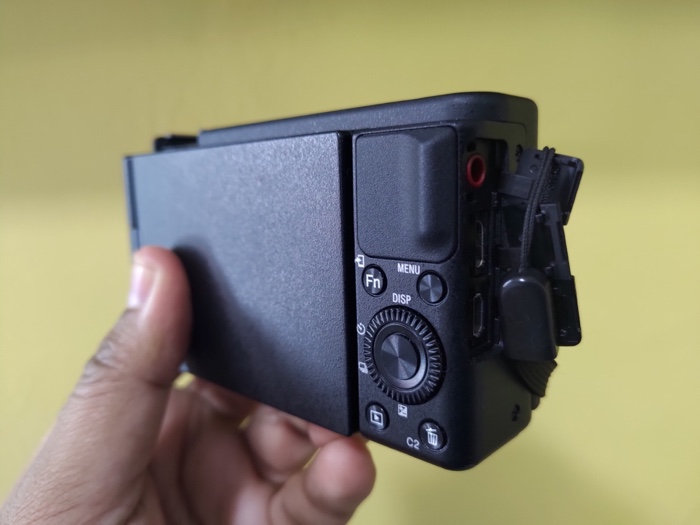 Then, another button has got a ring. You can move it left or right to zoom in and out.
There is a menu button on the back of a camera that takes you to the camera settings. And then, another button has a ring around it, and you can use the ring and the button to navigate through various settings and press the middle button to select the setting.
The same ring can be best like a joystick, which means top, bottom, right, and left, and these buttons can be set to achieve things like ISO, Aperture, Shutter Speed, or these buttons can be assigned to two other things as well.
There is a play button that takes you to the list of videos and photos recorded on the camera and plays them. Then there is a delete button and Doubles as a shortcut button to turn on product showcase mode, another nice feature of the Sony Z1 camera, which we will talk about later in the article.
Then there is a function button that gives you several settings of the camera on a single page. The settings on the page can be changed for one-button click access.
The function button also Doubles up as a shortcut button for sending photos or videos to a smartphone.
Let's talk about Key features of the Sony Z1 Camera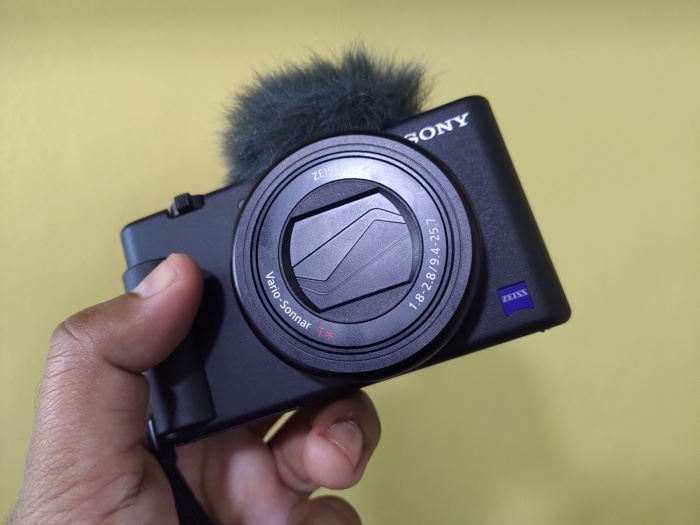 4K Videos
The number one feature of the Sony Z1 camera is that it can capture 4K videos, which is quite rare in a compact camera.
Product Showcase
2nd key feature is the product showcase mode, which has a dedicated button on the camera. When turned on, it will put anything you bring in front of the camera in focus, even if you are visible in the frame.
It is a big thing for a content creator because mostly all the cameras do active-tracking of the face. If you have to bring anything in focus, you will have to hide your face, which is not the case in the Sony Z1 camera when the product showcase feature is turned on. It saves a lot of time.
Defocus Mode
There is another dedicated button getting a blurred background to isolate the subject from the background. It makes any footage look more superior than the background is blurred in the subject is in focus and can be achieved with a bit of knowledge of camera settings and by using proper camera lenses. Sony Z1 gives you all this on a single button, which is again a big time saver for content creators.
External Microphone Support
It has got external microphone support, which makes it an amazing vlogging camera. The internal microphone is useful when you are indoors. You can record your audio correctly. But, when you are outdoors, it tends to pick up a lot of noise.
The unboxing and overview video of the Sony Z1 on our YouTube channel gives you a fair idea about how big of a difference you can expect when you plug in an external microphone into it.
Picture Profiles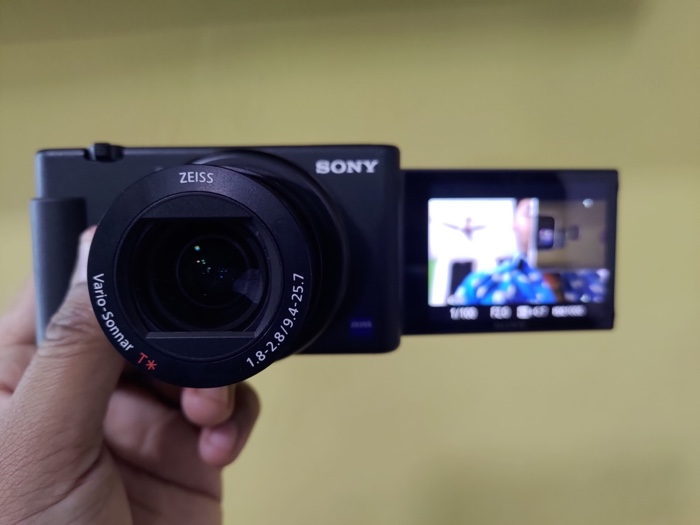 There are ten different Picture Profiles. Think of it as predefined settings for different scenarios. You can pick the most appropriate for or the kind of scene you are going to shoot.
Almost everyone customizes their camera settings to get the optimum footage possible. Still, it is also so pretty technical, and picture profiles make it easy for anyone to take advantage of the camera settings to get the optimum output without much effort. Some picture profiles also let you shoot in as a log, which gives you a high dynamic range to do better color grading.
As the name suggests, it's Point & Shoot camera in the real sense and gives you the best possible footage.
Things I don't like about the Sony ZV1?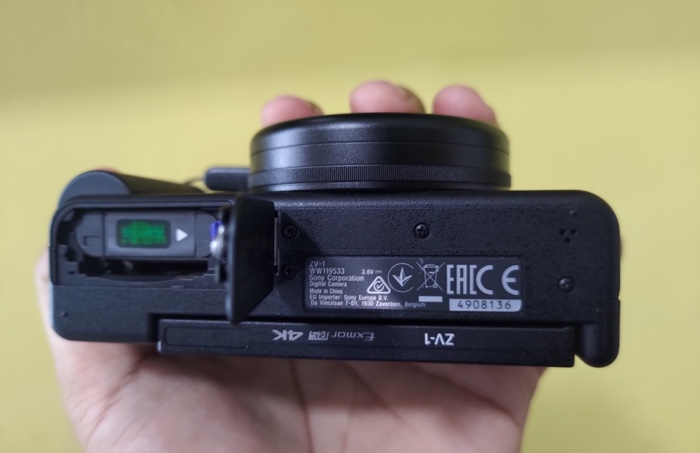 There is no perfect camera, and even though the Sony ZV1 check a lot of boxes, there are still a few things that I do not like about it.
If you plan to use it as your blogging camera or use it in a studio, you will be mounted on a tripod. The tripod thread at the bottom of the Sony Z1 camera is close to the battery compartment. So if it is mounted on a tripod, you lose access to the battery compartment, as well as the SD card.
This means you will have to remove the camera from the tripod if you want to take the battery out or get the SD card. However, I have found a workaround for it.
As I already mentioned at the starting of this article, it has a micro USB slot, which can be used to charge the camera battery and transfer photos and videos to a PC.
So if you are out vlogging, you can still juice it up using a power bank without having to remove the battery; you can also keep it connected so that you continue using the camera and the battery getting charged simultaneously.
The lens on it is fixed and has a focal length between 24mm to 70mm. So when you are holding the camera and talking into the camera, it is an arm's length away from you, and for some people, 24mm would be a little too close to them.
And when you enable the active studying mode, which crops your footage a bit, the framing feels like 30 mm, it becomes too tight, and it's just your head in the frame, which looks a bit awkward.
Considering Sony Z1 is targeted towards bloggers and content creators, a little wider lens would have been appreciated,
The workaround to it is to use a Gorillapod, which will help you take your camera A little far from your face and will allow you to free yourself properly.
And since it is a lightweight camera (294g), a selfie stick can also hold it nicely and will give you more room to frame yourself and even show things in the background.
So despite having something that I do not like about the Sony Z1, the unique features it offers make me use this camera more. And if you are a content creator looking for an upgrade from your smartphone.
Maybe you already have got a bulky camera, but you want a compact camera you can take out with you without much effort, then Sony ZV1 is quite a fit for you