What are the best part of owning an Android device is, you can change the look and feel of the user interface by simply installing a third party app launcher.
In the past, we have talked about several third-party app launchers that enhance your experience of the Android device.
In this article, we are going to talk about AIO launcher and the future it brings to your smartphone.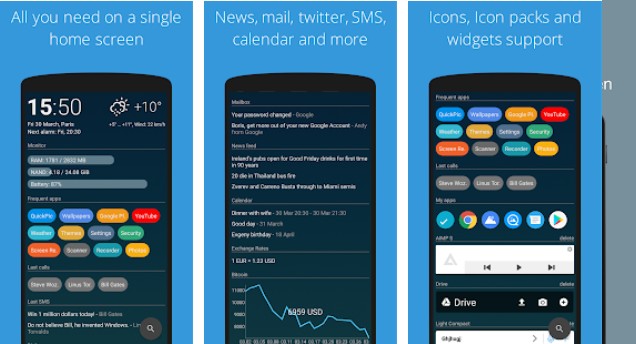 Before we start talking about the app launcher, it is important to mention that it is not one of the most beautiful looking app launchers you can get for your Android smartphone, but it can definitely be most useful.
It is not one of the most beautiful looking app launchers you can get for your Android smartphone, but it can definitely be most useful.
We live in an era where there is an app for everything, and with smartphones of linked more Ram and more storage options, we have only started installing more applications on our phones resulting in information overload.
The home screen of your Android smartphone can fit a number of app icons, this is why we tend to have multiple home screens so that we have to swipe left or right to go to the particular home screen and search for the particular app we are looking to launch.
Wiley can be clever, and carefully place the app icons on your smartphone categorised in different folders according to their use cases, it is not what everybody does.
Also, it takes a lot of effort to solve the apps on the home screen according to your usage patterns, it gets even more tricky when you use it pattern changes from time to time.
What AIO launcher does is, it puts maximum information on a single screen so that you don't have to sleep to another home screen to find the information you are looking for, or the happy want to open.
It is also quite an odd app launcher that is unlike every other launcher, that tries to beautify your home screen rather than making it usable.
And like I said, it is not for pleasing you with great design, you might find it little tough to use it initially.
But if you give it a few days you might actually like the ability this app gives you to customise and put the information on a single screen.
Here is a list of information you can put on a single screen
* Weather – current weather and forecast for 10 days;
* System monitor – RAM and NAND usage, the percentage of battery power;
* Notifications – Standard android notifications (paid);
* Player – when you turn on the music, playback control buttons appear;
* Frequent apps – frequently used applications buttons;
* Frequent contacts – the list of recent contacts;
* Your apps – the icons of the selected applications (paid);
* SMS – recently received SMS;
* Dialer – numpad for quick calls;
* Timer – timer start buttons;
* Mail – list of received emails;
* Notes – list of your notes;
* Telegram – last messages (paid);
* RSS – latest news;
* Twitter – all tweets or a single user tweets;
* Calendar – upcoming events in the calendar;
* Exchange rates – currency exchange rates;
* Bitcoin – the bitcoin price;
* Android widget – standard app widgets.
Install the app from Android Play store
If this isn't what you are looking for then check out these app launchers you can use on your Android smartphone.