When you're looking to buy a refurbished Apple Watch, there are a few things you should know first.
Refurbishing is the process of restoring a product to its original condition. This means that the device has been used before and may have some minor scratches or wear and tear.
Don't be surprised to see these scratches and signs of wear. Even your brand new Apple watch would eventually get it after a few weeks of usage. However, items returned to the company even just after opening the seal packaging is resold as refurbished item. Which means, it would also be brand new, and just that you didn't open the box first.  Personally I had a good experience with refurbished items.
Also, there's isn't much to find defect in the Apple Watch as long as the display is working and the connectivity is okay. it is an excellent choice for those looking for a cost-effective way to get an Apple Watch.
Before buying a refurbished Apple Watch, make sure to check the warranty. Many companies offer free parts and address any issues that may arise during use. Even with a refurbished watch, you can still get the best out of your device. Be sure to read all the details of the warranty before making your purchase so you can be confident in getting the most out of your product.
What is a refurbished Apple Watch?
A refurbished Apple Watch is a device that is pre-owned and has been given new parts and repairs to ensure it works as good as new.
It is the best way to get a great product at a discounted price, and even though you won't be getting a brand new device, you can still find one in excellent condition. The warranty for refurbished Apple Watches may vary from case to case, so make sure to check before you buy one.
Are refurbished Apple Watches good?
If you want an Apple Watch but don't want to pay full price for a brand new watch, then buying refurbished is the way to go. You are guaranteed to get a great product with all the features of a new watch, at a fraction of the cost.
Buying a used Apple watch vs Buying A Refurbished Apple Watch?
When it comes to buying an Apple watch for cheaper price than the newly launched Apple Watch prices, there are two main options. You can buy a used Apple watch or a refurbished Apple watch.
A used Apple watch might be cheaper, but you don't know the exact condition and if all components are working properly. However, with a refurbished Apple watch, you can rest assured that it has been tested, serviced and cleaned by authorized professionals and it is in perfect working order.
You will usually receive a warranty with the purchase of the refurbished device which provides peace of mind in knowing that if something does go wrong then you have some protection. Ultimately, both devices have their pros and cons but for most people, the added security and assurance of quality when buying a refurbished Apple watch makes it the better choice.
Where to buy a refurbished Apple Watch?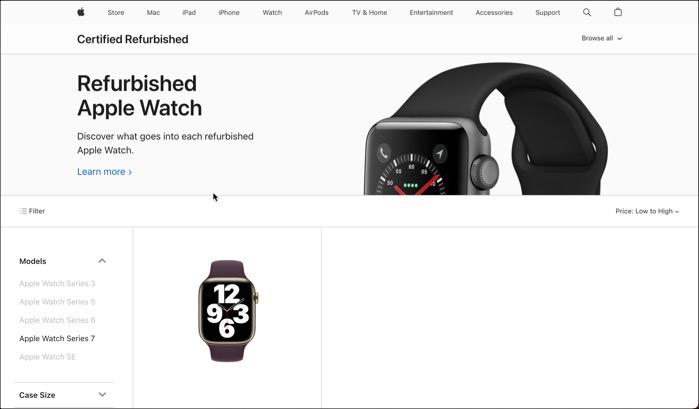 If you are looking to buy a refurbished Apple Watch, there are several great places to get the best product at an amazing price.
Apple offers refurbished Apple Watches of all Series. You can get up to a 15% discount off the new price, and also come with a free 1-year warranty. Not only do they offer discounts on their own products, but they also have 3rd party sellers that let you find even better deals on the same device.
Sale websites like eBay and Craigslist also have great prices for refurbished Apple Watches. On these sites, you can find different versions of the smartwatch with varying discounts and free shipping options. Plus, these websites make it easy to come back and compare prices from multiple sellers before making your purchase.
The Benefits of Choosing a Refurbished Apple Watch
When you buy a refurbished Apple Watch, you are taking the chance to get the same product as if it was brand new.
Refurbished Apple Watches are pre-owned watches that have been inspected and tested to make sure they are functioning properly.
This gives you the chance to find an Apple Watch at a lower price than what a brand new one would cost, and also gives you peace of mind knowing that your watch has been checked for quality assurance.
Even though it is not brand new, there is no reason why you can't have the same experience with a refurbished Apple Watch as you would with a new one. Not only will you be able to save some money by choosing a refurbished watch, but you'll also be able to make sure that your product is reliable and high-quality.
If you're looking for an affordable way to get an Apple Watch, then buying a refurbished one is definitely worth considering.
How and Where to shop for refurbished Apple Watches
When shopping for a refurbished Apple Watch, it's important to do your research. The best place to start is by checking the official Apple website, as they offer certified refurbished watches that come with the same 1-year warranty as a new watch.
Amazon is also a good option when it comes to buying a refurbished Apple Watch as you can also get refurbished Apple Watch deals on the website. You can often find great deals on pre-owned models, and you have the added benefit of accessing reviews from previous buyers.
Other reputed ecommerce sites such as eBay and Overstock are also worth looking into for finding a reliable refurbished Apple Watch. When shopping for any kind of pre-owned product, always make sure to read any descriptions or warranties carefully before committing to buy.
I am myself using an refurbished Apple Watch series 5 and it's awesome. The fact nothing huge changes in Apple Watch every year, you can go for a model launched in previous year rather than buying the newly launched one.