This article shows you the easiest options to use multiple Instagram account on a single Android smartphone.
Maybe you have a personal Instagram account as well as a business Instagram account, or maybe you used to personal accounts. We won't judge you, we are here to let you know that there is a way to use multiple Instagram accounts on a single Android smartphone.
Method 1: Run multiple Instagram accounts without any third party app or tool
If you are not already aware of it, Instagram itself gives you the option to add multiple Instagram accounts, right inside its app.
It is one of few social networking apps which gives you the option to add more than one account in a single app and keep it isolated from each other.
Open the Instagram account, go to the settings and scroll down to the bottom, you will find the option 'Add account' tapping which will give you another login page for the Instagram account, you can log in using the existing credentials or you can also create another account.
Once you have added the account, you can go to the homepage, in you will be able to switch between the accounts by tapping on the top left-hand side, where the username appears.
This option is enabled once you have added more than one account and you can also add more accounts right from this screen.
Another way to switch between the accounts is, long pressing on the profile picture icon that appears on the bottom right-hand side.
The good thing about using multiple accounts in the same Instagram app, it doesn't take a lot of space on your phone, Unlike the third party apps used for cloning the Instagram app.
You also get push notifications for each account, if you have enabled it, and tapping on the push notification of particular account will automatically switch you over to that particular account.
There is, however, one limitation of the app, which is, you can only directly share anything with the Instagram account which you are currently using.
For example, if you have switched over to your personal account, and you want to do share directly something to your business account, you will first have to switch over to your business account in order for the direct share feature to work.
This is why you might want to use the second method to use multiple Instagram accounts
In the second method, you can use apps like Parallel Space, that will easily let you close the Instagram app.
Method 2: Cloning Apps to Clone Instagram App
You can differentiate between the original app and the clone app by choosing a different color for the icon or simply by renaming it.
Parallel Space app gets the job done but if you are looking to use it in the long run, I have found parallel space to be filled with annoying ads, and I have found myself on installing the app several times just out of frustration.
Thankfully There are several other apps that will let you clone any app you have installed on your Android smartphone without throwing annoying at in your face.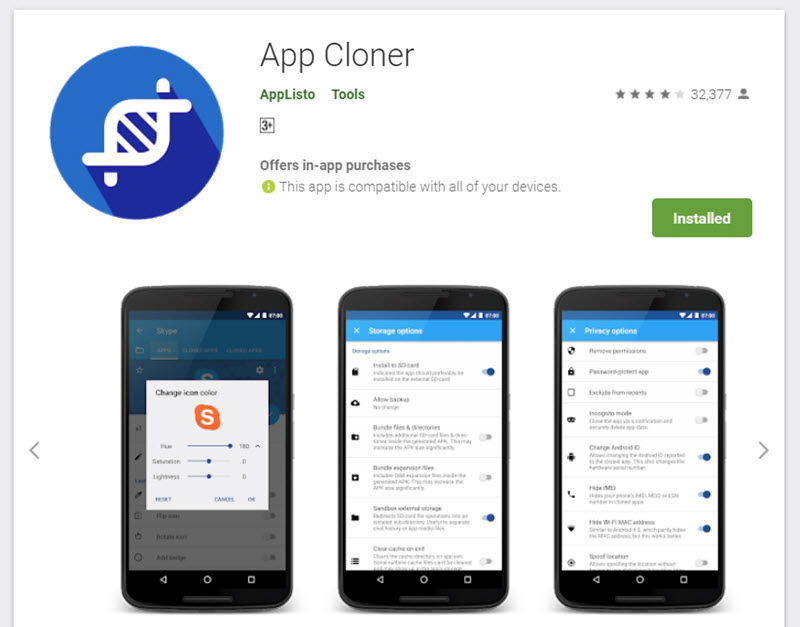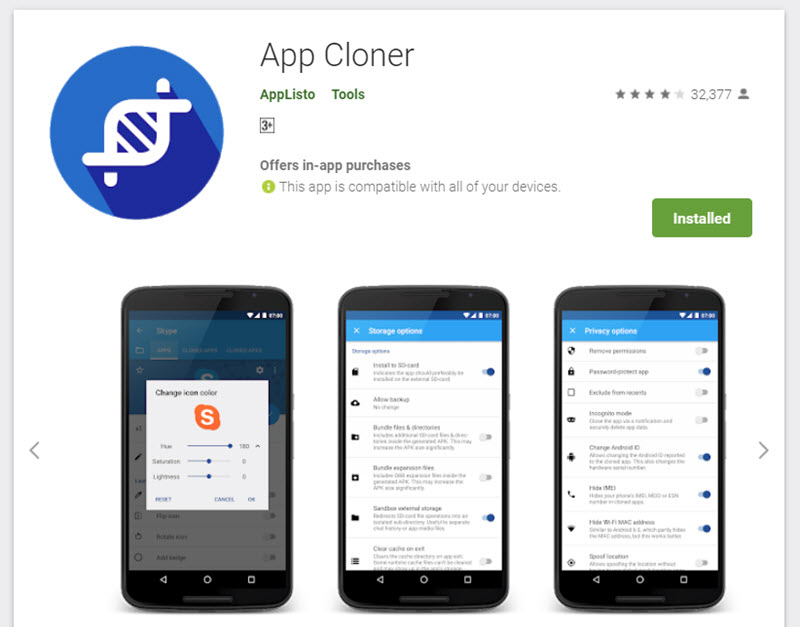 One such app is App Cloner, it works really well, and gives you all the options to differentiate the cloned app with the original one by changing the color of the app icon size and other factors.
App Cloner vs Parallel Space – Best Option to Run Dual Apps on your Smartphone?
Method 3: Using a Moded version of the Instagram app
There is another method to add and use multiple Instagram accounts on a single Android smartphone. There is an app called Instagram Plus. If you have ever heard of WhatsApp Plus, Instagram Plus is basically the same for the Instagram app.
It is a modified app that gives you more options and more control over your Instagram account. But you can simply use it for using your other Instagram account so that you can use multiple Instagram accounts and still be able to use the direction figure to share something on both of your accounts.
Since it does not comply with Google's policy for apps, it is not available in the Play Store.
Install from Play Store, which is a trusted source to download APK files of Android apps.
So, these were three of the best ways you can use multiple Instagram accounts on a single Android smartphone.
The second method app cloner allows you to use multiple instances of any app you want I'm not just limited to Instagram.