Do you want to know how to make your audio quality better and remove background noise from it? Keep reading the article to know how it works.
This is an article for all the content creators out there who create video content or Podcasts. Being a content creator myself, I know the struggle. You are always on the lookout for the best gear to improve the quality of your content.
To produce professional-quality videos you need professional-quality gear, but you cannot improve everything from day One. If you have to improve one thing about your content your priority should be good audio.
But even then, you don't really need to invest a lot of money in microphones. Thanks to AI, there are technologies available that can enhance the audio recorded in not-so-great environments.
The website I am going to mention in this article is going to enhance the audio quality from even the internal microphone of your mobile camera to sound like studio-quality audio.
Adobe Podcast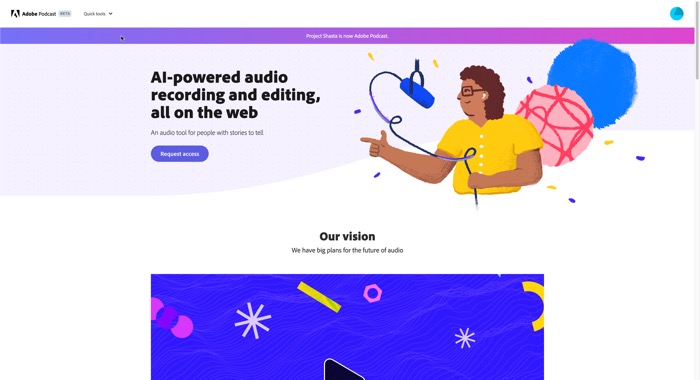 Adobe has actually been working on this for a while. It was previously known as Project Shasta, which got a lot of coverage from tech media.
Adobe Podcast is more like the Descript web app which we have covered in a separate article. Along similar lines, Adobe Podcast will simplify the Podcast recording and publishing process by allowing users to edit the Podcast using a text-based editor.
One of its features is simply editing. It will transcript the audio, and then will give the option to remove the words, even sentences from the recording to keep the things you actually want.
The other feature is to make the audio quality better, if there's one person, it will work on that person's mic and enhance the audio, or if there is more than one, it will enhance the audio from sources that has bad audio.
The interesting part, for now, is exactly this feature in Adobe Podcast which is known as Enhance Speech. As the name suggests it enhances the audio using a algorithm and makes it sound like it is recorded in a studio.
Apart from editing podcasts in the Adobe Podcast web app, you can also use Enhance Speech for external audio for your videos.
There is actually sample audio on the page itself which gives you an idea of what the application is capable of.
How to use Adobe Enhance Speech?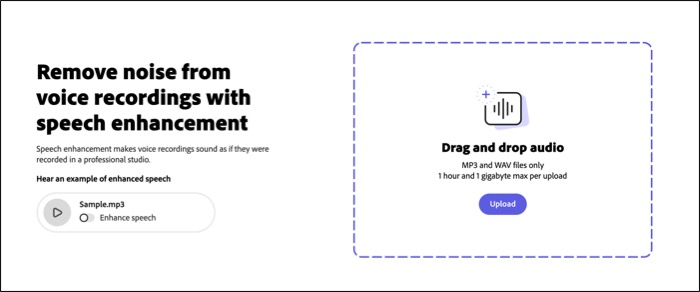 Although Adobe Podcast is still in beta you can sign up and start using it. The platform is a web application that can open in a web browser. You can drag and drop the file or upload it by going to the file path.
Currently, the supported formats are .mp3 or .wav with a duration limit of one hour and a size limit of 1GB for a single upload.
So, in case you want to improve the audio quality of the video that you have recorded using your smartphone, you first need to separate the audio. It can easily be done with any video editing software.
Here is my workflow which I think is fast and straightforward.
Put your video in the video editing software and edit out the parts you don't want in it. Once you are done with your edit, export in audio format. Mostly every software is going to let you do that, you can export your video in .mp3 format.
Then drag and drop the audio file into the Adobe Speech Enhance application. The upload time will depend on the size of the file. Once it is uploaded, it might take a few minutes for the application to give the option to download the enhanced audio.
Once you get the enhanced audio, you can import it back into your video editing software and then replace the original audio with the enhanced audio. And then export your video.
In my usage of this software for removing background noise, I have found it does the job fairly well. Although it would have been great if there was an option to make adjustments to the amount of effective want on the audio.
But then again, it is targeted toward people who are not too technical and don't want to get into the technical part and just want to focus on the creative part of creating videos or podcasts.
You can check out my reel on Instagram to see this AI technology in action.