You are looking to know how you can view someone's Instagram story anonymously? This article might be helpful. Please continue reading to learn more about it.
Instagram stories have become quite popular who was the years. And the fact that the stories appear after 24 hours makes a lot of people comfortable sharing their lives online because there is no worry about having it documented forever.
And because of that fact, it has also become one of the easiest ways to keep a tab on someone's life. If they continuously share their life on Instagram stories, it is pretty easy to know someone.
And if you belong in the category of people looking for a way to view someone's stories on Instagram anonymously, I think this trick will be pretty useful for you.
Easiest way to view someone's story anonymously?
The no-brainer way to watch someone's stories on Instagram would create a dummy account and follow them. If you want to see someone's Instagram story anonymously, it's because you don't want them to see your Instagram profile.
So what better way would be to create a dummy user account on Instagram. The fact that Instagram has Android and iPhone allows anyone to log into multiple Instagram accounts and quickly access them both. Also, creating an Instagram account is free.
However, it would not work if the user's account types it as they will have to give access to each account that follows them. Maybe this is where the second method can be helpful.
You can use storieswatch.com, which also let's you view anyone's public instagram stories without them knowing about it.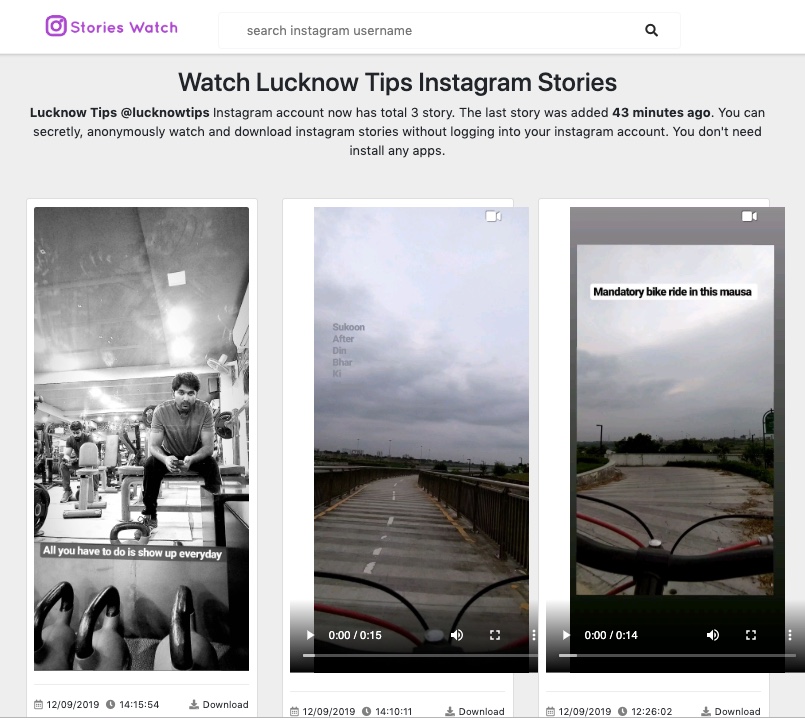 You are get the option to download free stories, both videos and photos. And the good thing is that it is mobile friendly so you can open it in Chrome for Android, for Safari on iPhone, it will work on both the Mobile platforms.
Watch the video tutorial
Check out more Instagram Tips and Tricks to make the most of the Social Networking platform