There is no doubt Instagram has become the fastest growing Social Network on Mobile. One of the reasons for its crazy growth is that it is highly visual, there are aren't too many actions to perform.
You either like the post, comment on it or you scroll through it. None of the posts let you leave the app, and there are no relatives to worry about, at least for now.
You can share photos or video on this visual Social Media, I personally love the time lapses people share on Instagram. You can tag people, search history of people, the photo map features lets you see Instagram photos location wise. The Instagrams filters are quite popular with the millennials. And in this post, we share a lot of Instagram tips and tricks to up your social media game.
And their newly Snapchat Stories like Feature, the Instagram Stories is getting a lot of traction lately. We have compiled some of the best tips and tricks for you to up your Instagram game. Check it out below.
Archive Photos
The updated version of Instagram lets you Archive Photos you have posted on your account. Sometimes you don't want to delete the photo and also don't want anyone to look at it. Archive serves that purpose.
To hide photos, visit your profile,
Simply Tap on the opposite side of the username, those three dots, and you get the option to Archive the photo.
Block Comments
Part of the reason Instagram is growing is that it's majorly a happy social network, which has been made possible by keeping the trolls and spammers at bay, you can filter out a few words that let the Instagram's AI-powered comment blocker to check the comments for authenticity and block inappropriate comments.
The Instagram is all about #Hashtags, but if you are one of those likes to keep their posts clean, then this tip is for you.
Write all the hashtags you want to use, then cut them and post the photo with just the caption, then go to comment and paste all the hashtags.
Your photos will still be found via the hashtags, and your posts will still look clean since there won't be any visible hashtags there.
Reorder Filters and Get More
Filters have been made popular by Instagram, and now you can see a lot of them, but did you know that you can actually manage them, reorder them accordingly so that it's easy for you to apply, you most used filters.
You can also get a few more filters if you want, just swipe all the way to the end of the filters where you get the option to manage them, tap on it and reorder the filters.
Slideshow Posts
Instagram has started allowing posting multiple images in one post, this has been creatively used by a lot of people in posting Panoramic photos, skylines, beaches.
There are apps like Swipeable for iPhone and Instaswipe for Android that make it easy to post panoramic photos.
You can also use the slideshow feature to tell stories, either photos or graphics text.
Save Data while Browsing Instagram
With all the Visual media, i.e, Photos and Video, Instagram can be a real data hogger, if you are on a data plan, there is a setting for you in Instagram that will save some data by downgrading the quality of photos and video.
You can turn on 'use cellular data' from the settings. And you are good to go.
Apart from beautiful selfies, Instagram is also a place for MEMEs, and I've seen people sharing the Memes from Instagram with their friends.
There is a direct option beside the comment to send the photo to a friend, however not every friend is on Instagram. So, another best option is to take a screenshot, make edits and send it on WhatsApp or Messenger.
But if the photo is shared publicly, i.e, not shared from a Private account, then it can directly be shared to WhatsApp and Messenger, not just the link is shared but the entire picture is sent so that your friend can see it without opening Instagram. It's better than taking a screenshot.
Pin Moving Objects in Story
While posting a video in the story, you can actually long tap on a particular object in the video and pin anything to it, be it an Emoji, a heard, anything, you can do it multiple times to tell a story and put emphasis on a particular thing.
You can also tag user accounts in your story by typing '@' and the username. They are clickable and direct your followers to visit the user profile
Hands-Free Story
One annoying thing about post a video in Instagram stories is that you have to keep the Record button pressed till the time you want to record the video.
Very few people know that you can actually record videos hands-free, just keep swiping to the right to find the option 'Hands-Free'
The Hands-Free feature lets you record video performing something or doing an action that required both your hands.
More Colours in Story
Instagram shows only a set of colours to use in the Stories by Default, but you can use any colour you want, just long tap on the colour you want to use and it will show you the colour slider to choose an exact colour palette.
Solid Colour Backgrounds in Story
Not just photos, people use Stories to write text in it. What many people do is, click a black photo by placing a finger on the camera then write on the black image.
The better way or I shall say the right way is, to take a photo, then tap on the pen icon, select the colour and long tap on the screen, the entire screen gets filled with the colour you select.
You can then tap on the text icon and start writing, and choose any colour for your text.
Turn On Business Profiles
This tip is for Instagram accounts that want more than just a few likes, A business profile has many features like the Insights, ability to boost the posts by connecting the Instagram account to a Facebook Page and much more.
Enabling this gives you insights on the posts, you can see the reach of your posts so that you can know which type of photos are liked and what is making people follow your profile.
You can turn on Busines profile from settings.
Enable Links in Stories
you may have noticed some famous Instagram accounts showing stories where they ask their followers to swipe up to open a page related to the story.
This feature was only available to verified Instagram Profiles but Instagram is rolling it out to other Instagram account with a following of more than 10,000 people.
So if you have got over 10000 followers, you can try getting it by turning on the Business profiles.
Add Location in Stories to Get More Views
Instagram has recently added the feature to enable locations in the Stories, and the app has a dedicated section where the stories get curated location wise.
People who decide to view stories from a particular location can view your story as well, and if they find it interesting, they can even follow you.
I've once got over 15k views on my story whereas my average views for stories is 150-200.
Just adding location to the stories, helped it achieve 10x more views than usual.
Watch Instagram Stories on Desktop
Curious to watch the Instagram stories on the desktop? I really wish that Instagram added this functionality to its website, but it hadn't. Thankfully there is a third party Chrome extension that lets you watch Instagram stories on your desktop.
The feature might have been ripped off from Snapchat stories but it is quite popular among Instagram accounts.
Add the chrome extension to your Google Chrome
View full-size photos on Instagram
We all know that we can access the photos on Instagram on the web by following the link. However, the photos appear in a lightbox, and that too in a fixed size.
But there is a neat trick for you to view the original photo size.
All you need to do is, make some changes in the URL. remove the string ?taken-by=username from the URL and add media/?size=l to it and hit enter, You will be able to see the original sized photo.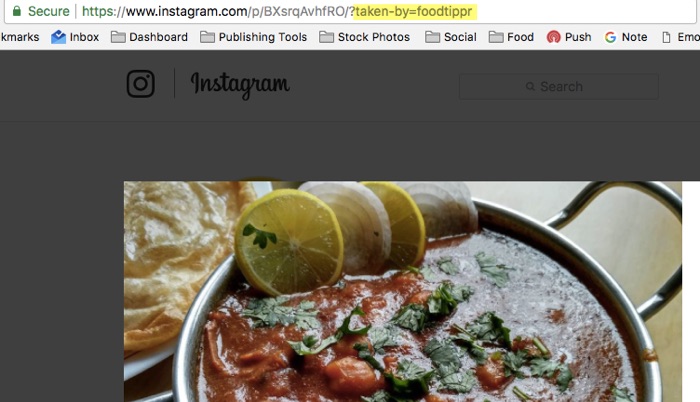 Person icon takes you to the profile of the user, you can choose to perform a number of actions there, like follow, message, view images, and videos shared by them or you can again tap the person icon to see the stories if they have posted any.
Arrow icon, on the top right corner, tap the arrow and you are taken to the messaging area of Instagram.
This is quite unknown ot many users that Instagram messaging system in is used by many people to share photos privately, images and videos with one or multiple friends.
You can also 'Unsend' a message, which is pretty cool to take back those embarrassing messages you send. The direct message is also used for sharing disappearing photo
Bookmark icon lets you save the particular photos for viewing later. You can do it with images and videos, a single image or multiple photos.
Threedots button gives you more options to perform an action on an account. You can find this at the bottom of the screen.
Add Instagram Posts to Your Stories
Instagram brings more opportunities for content creators to promote their content, if you want people to check out your or anyone else's Instagram post, you can add it to your stories, the post will be clickable, so people can actually tap on it to visit the original Instagram post and interact with it.
Here is how you can add Instagram posts to your Instagram stories. 
Use Instagram as a Live Photo Editor
You can also use Instagram as a photo editor for a quick edit to your photo, it does save originals in the camera roll and also gives a stunning too to your photos by applying filters. You don't have to post it to get the edited photo, just save drafts and Instagram will save the original photo as well as the edited one in your camera roll.
So these were some amazing Instagram tricks and tips you can apply to become an Instagram master. You can post a single image, multiple images, video and multiple videos, view them on mobile devices or on the web as well, the view any photo on the web that has been uploaded by Instagram users.
The home screen only one element of Instagram, there is more beyond that area, you can explore an entirely new universe residing in this tiny app available for various mobile devices, hopefully, this guide will help you get started.
The heart icon means you liked photos and video, you can also double tap on Instagram photos to like them (this functionality has been disabled), which will result in the photos and video getting the heart icon.
You can print your Instagram photos in bigger sizes, many people actually have been doing that, and many artists were able to sell the printed Instagram photos for thousands of dollars.
Upload Longer Videos on Instagram
A lot has changed since this article was written in 2017, Instagram has launched IGTV, which lets you upload videos that can be longer in length. Currently, the users are able to upload one hour long videos which are quite sufficient for 99 % of the people.
These videos are in vertical format, which is the natural way you hold your smartphone. You can check out more information about IGTV.
I will keep adding Instagram tips and tricks to this page, so make sure you keep it saved and keep checking it from time to time. I'll also come up with more such posts about Instagram.