The technology has finally arrived that now we can carry one charger for all other devices. And when I say devices, I mean Laptops, Tablets, PCs, and Mobile phones.
A few months ago, I wrote an article about GaN Chargers and how they can solve the problem of having to carry multiple chargers for different devices.
Watch the Video Review
Continue reading the Detailed Review
What are GaN Chargers?
In the last few years, a type of charger called a GaN charger has gained popularity in electric vehicles. The GaN charger, which uses gallium nitride technology, is designed to reduce the size and weight of the charging system and increase safety and efficiency.
And thanks to this technology, charges of smaller sizes are capable of charging big devices like laptops to their full capacity.
I am currently using this 120-Watt GaN charger from KOVOL for charging my MacBook, iPhone, and iPad when I am away from my Home Office. The original chargers are in their place in my Home Office, and the 120-watt GaN charger is in my backpack all the time, along with a cable with three different connection types, a Type C, A Lightning, and MicroUSB.
What's in the Box?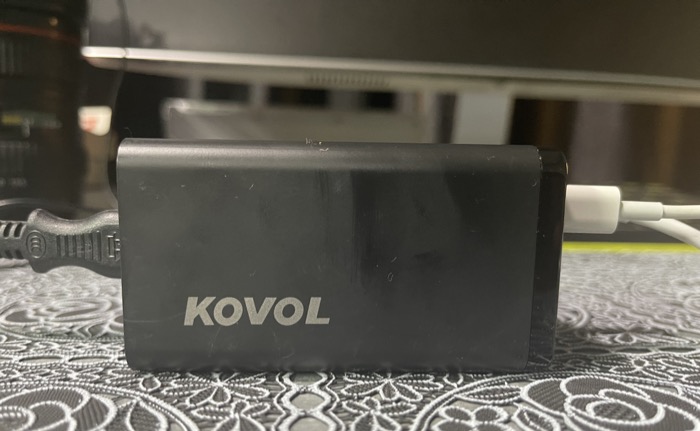 I received the KOVOL Sprint 120W GaN Charger in the mail directly from the company a few days ago and I have been using it since then. Here is what you get in the box.
1 x KOVOL Sprint Charger 120W
1 x 4.9ft AC Input Cable
1 x User Guide
1 x Thank You Card
I got a Type A Plug unit, which isn't useful in India as we have Type C plugs here. (image embedded below for reference).
The good thing is, it's compatible with a range of 100-240V, which makes it compatible globally, and you only require a converter plug.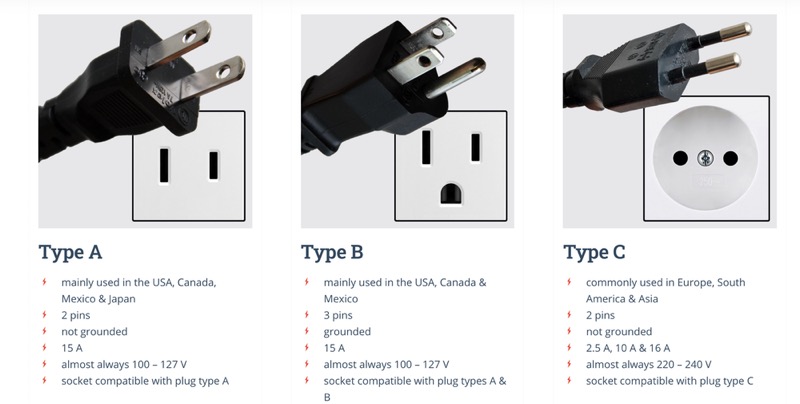 It is no issue for me since I have a spare chord, and converters are easily available in the market as well. But you should be getting the right cable if you purchase it from your respective market; price and availability details are mentioned in the last section of this article.
KOVOL also has a lower output Sprint 65W GaN charger that retails for half the price. It also has four ports, 2 PD and 2 QC.
Performance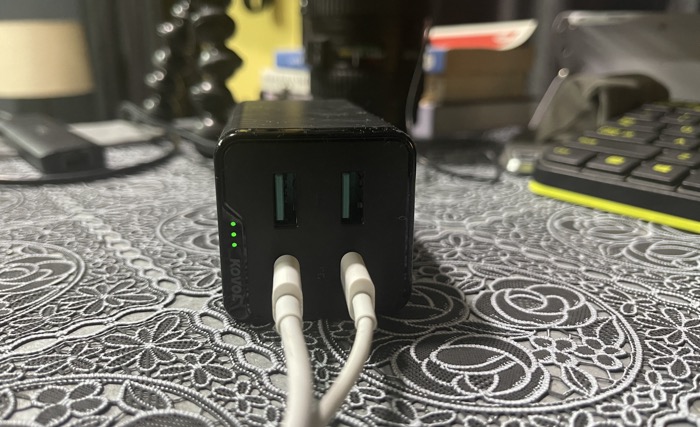 The KOVOL Sprint 120W charger has four ports, 2 Type-C (Power Delivery) and 2 Type-A (Quick Charge).
What's the difference between power delivery and quick charge?
To quickly sum it up,
the Power Delivery can run high voltage with high current, resulting in higher output, to charge devices that require more power.
the Quick Charge has the capacity to run high voltage but at low current, resulting in lower output comparatively to Power Delivery.
So, since Apple devices, the iPhone, Pad, and MacBooks come with a Type C to Type C cable supporting PD, cables can be used with the charger since no cable is provided in the Box.
As for the Type A power, it gives a maximum output of 18W- which is still good for many devices you'll have. You can even use all four ports at once, and the power distribution will be something like 45-watt on both Type C and 18-watt on both Type-A.
Comparison with MacBook Pro's 61-watts and iPhone 12 Pro's 18-Watt Charger.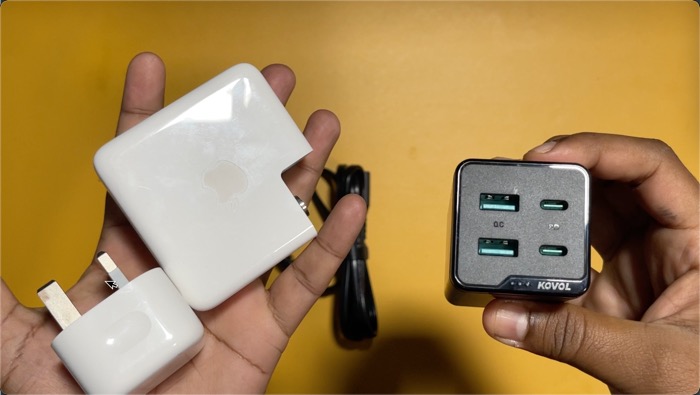 The 120-watt GaN charger is a little heavier than both the chargers but is smaller in volume. And it gives twice the output charge than MacBook Pro's charger.
For example, my MacBook shows it is connected to a 100-watt charger when it is the only device connected to the charger using the provided Type C to Type C cable.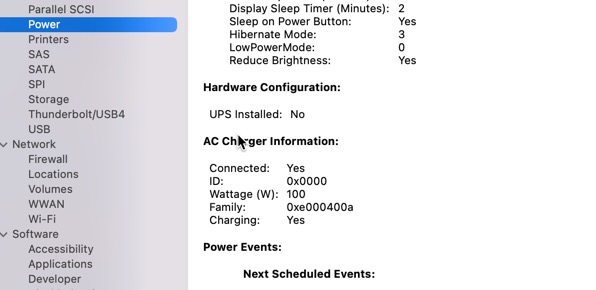 And it shows it is connected to a 60-watt charger when iPhone and MacBook is connected to the charger at once.
Also, if you have got an iPhone 12 or above model, buying an 18-watt charger won't give you fast charging on iPhones, while this 120-watt GaN charger provides the maximum with an iPhone can get, which is around 30-watts (I checked with several sources).
I'll put the charging stats got while using it with my devices.
Charging the iPhone 12 Pro Max
at 5% Charging at 3:05 pm
At 65% Charging at 3:30 pm
At 85% Charging at 4:00 pm
At 95% Charging at 4:30 pm

 
*I've enabled Optimize Battery Charging which slowss down charging after it reaches 80%.
Charging MacBook Pro (while in use)
At 1% at 3:40 pm
At 30% at 4:10 pm
At 60% at 4:40 pm
At 85% at 5:10 pm
At 98% at 5:40pm
Although my MacBook does say it is connected to a 100-watt charger, I think Apple is limited it's charging to 60-watt only, eucase it roughly took 2 hours to charge fully, while I was working on it.
So, the 120-watt charger does not give its maximum output to my devices, I found that I can simultaneously charge my iPhone and my MacBook Pro with their maximum charging input, which is 60-watt for MacBook and 30-watt for iPhone.
I've also found that the charger doesn't get heated too much and just gets warmer. I checked the temperature and it was 96 degrees Fahrenheit. It was charging both my iPhone 12 Pro Max and the MacBook Pro.
Price and Availability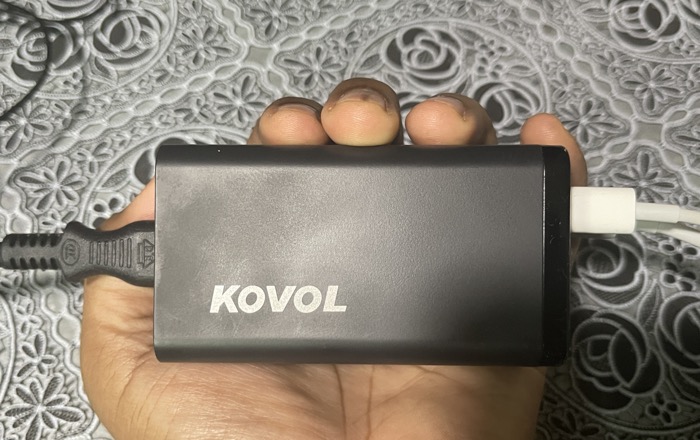 The KOVOL Sprint 120W is available on Amazon for $99 at the moment. I think currently some promotion is going on, where you can get $20 off by applying coupons available on the listing page itself.
KOVOL also has a lower output Sprint 65W GaN charger that retails for half the price. It also has four ports, 2 PD and 2 QC.
If you have got multiple devices and you always have to carry various chargers with you, this can be a great solution for you.